ConstitutionDAO aims to buy rare copy of founding US document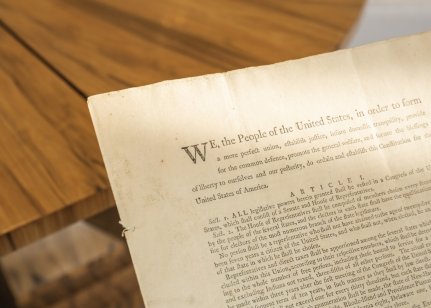 What started as hypothetical pondering over Twitter to buy a rare copy of the US Constitution up for auction this week has developed into the creation of a decentralised autonomous organization (DAO) with nearly $3m (£2.2m) in crowdsourced funds in the cryptocurrency Ether and what appears to be a longshot plan to democratise democracy.
ConstitutionDAO, which has raised ETH 727.921 ($3.35m; £2.5m), plans to "put the Constitution in the hands of the people," notes the organisation's website soliciting funds. Investors who buy into the DAO's fund will collectively decide the Constitution's eventual destination, likely a museum, such as the Smithsonian.
Birth of an idea
"It started as a 'how amazing would it be if'…" Julian Weisser told Capital.com. Weisser is one of the roughly 30 contributors of ConstitutionDAO. "There's something amusing and slightly ridiculous about the sheer audaciousness of pulling this off."
"Decentralisation and cryptocurrency have created structures that allow people to self-govern with unparalleled levels of autonomy and freedom," the website reads. "It's fitting that we use this technology to honour and protect the greatest historical tool for human governance: the US Constitution."
Should ConstitutionDAO fail to win the bidding, investors will be refunded, Weisser added, as noted on the DAO's Discord forum. Gas fees are not reimbursable for failed transactions. "Gas fees are sunk costs," Weisser said. With current estimates in a $15–$20m range, barring a massive capital inflow before Thursday's bidding, ConstitutionDAO will likely fail to even meet reserve prices.
What is your sentiment on ETC/USD?
Vote to see Traders sentiment!
$20 million
"But let us not forget, we must raise $20,000,000 to purchase The Constitution of the United States on [Thursday]," the group said in a Tweet.
At a current price of $4,619.95, it would take 3246.78 to 4,329.05 Ether to raise the $15m to $20m to reasonably bid on the 234 year old document.
The rare document, one of only 11 known to exist, was originally distributed to delegates during the 1787 Constitutional Convention held in Philadelphia. The only copy held privately was purchased in 1988 for $165,000 by the late S. Howard Goldman, whose estate is now the seller.
Historic collection
Part of the Dorothy Tapper Goldman Collection, the first-edition printing is part of approximately 80 historical documents being auctioned by Sotheby's through 2 December.
"The Goldman Constitution ranks as one of the most rare and coveted historical documents that has ever come to auction, said Selby Kiffer, Sotheby's International Senior Specialist in Sotheby's Books & Manuscripts Department in a statement announcing the sale. "I handled the sale of this very document in 1988. To present a document of this significance in an auction…spotlights how critical the Constitution remains as a foundational source for our understanding of democracy and the American spirit."
Big week for Sotheby's
The US Constitution is just part of when is expected to be a historic week for Sotheby's, with sales expected to top $1bn over seven nightly auctions. Works from artists such as Jean-Michel Basquiat, Salvador Dali, Frida Kahlo, Andy Warhol and Banksy are all slated to go under the gavel.
Beginning Monday at 18:00 ET (UTC-5), separate daily auctions will offer roughly 680 individual lots throughout the week. "Carrying a combined estimate in the region of $1bn, the exhibition and sales will be anchored by the celebrated Macklowe Collection," a Sotheby's spokesman said. "One of the greatest collections of any kind ever to come to the market."
Read more: Bored Ape NFT lots sell at auction for .4m, Read more: Bored Ape NFT lots sell at auction for $24.4m, $1.8m.8m