Coinbase expected to report sharp drop in revenue amid crypto market downturn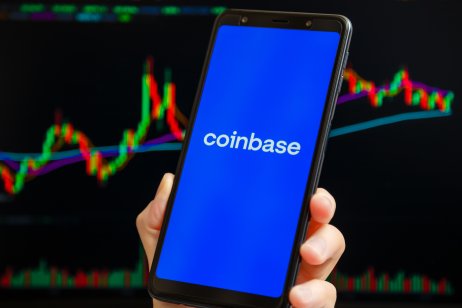 The world's biggest quoted cryptocurrency exchange, Coinbase (COIN), is expected to report a sharp drop in revenue amid the crypto market downturn, with some Wall Street analysts suggesting a 61% slump year-on-year.
The $20.6bn ($17.6bn) firm went public on Nasdaq (US100) in April 2021 in a momentous move for the crypto market. At the time, a boss at Crypto.com - COIN's competitor - called the listing 'a watershed moment for the industry' and predicted it will 'suck in big-name investors'.
COIN's share price is now $93 - down from $328 at its market debut. As the company is set to publish results for the troubled second quarter of 2022, could the share price be in for more volatility?
What is your sentiment on COIN?
Vote to see Traders sentiment!
Coinbase Global (COIN) share price chart
Crypto winter Q2 2022
Quickly after its IPO, the digital asset bourse went on to profit from the cryptocurrency jubilee era, which culminated in November 2021 with bitcoin (BTC) hitting an all-time high and the whole market surpassing £3trn capitalization for the first time.
But the second quarterly report of 2022, which will be published tomorrow, will include May and June 2022 - months that were tragic for the digital assets market.
BTC to US Dollar
In May, the failure of the Terra network, which hosted two of the top 10 biggest cryptocurrencies, sparked a wider sell-off of virtual tokens.
BTC and ETH trading volumes were 50% down from the November heights.
And in June, BTC had the worst monthly close in 11 years, and the whole market capitalization slipped below $1trn.
This market environment is bound to be reflected in the results of the cryptocurrency trading platform. Analysts at Zacks predict that COIN's revenue will come in at $877m for the reported period - or 61% below the firm's revenue for Q2 2021 at $2.23bn.
SEC sends COIN shares down, BLK up
COIN's share price has been on a rollercoaster lately.
At the end of July, COIN shares fell 20% after the company became a target of the Securities and Exchange Commission's (SEC) investigation for insider trading. Cathie Wood, chief investment officer at Ark Invest and a famous cryptocurrency bull, dumped $75m worth of COIN shares from her flagship Innovation ETF (ARKK).
But COIN rallied shortly after on the back of its partnership with the world's biggest asset management firm BlackRock (BLK). COIN surged as much as 19%.
Jim Cramer COIN U-turn
COIN's quick turn of fortune saw Jim Cramer, CNBC's host and financial guru, become a subject of Twitter's mockery mob.
At the end of July, Cramer wrote on Twitter that the SEC investigation was 'very bad news'. But COIN then went on to gain 50% over the span of eight days.
Cramer's call did not go unnoticed, with Twitter users sharing Cramer's recent prediction side by side with a chart depicting COIN's rally that followed.
COIN shares are now down a whopping 71% below their IPO debut.