Business news: Covid chaos, Black Friday supply issues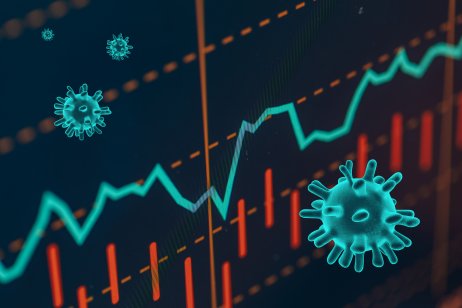 Key points
Investors were on edge today after the discovery of a South African variant of the coronavirus. It caused global equities and emerging market currencies to fall sharply on Friday. After an hour of trade in Europe, the FTSE 100 was down by 212 points, or 2.9%, at 7,097, while the Euro Stoxx 600 fell 2.7% to 468.9.
Commenting on a fall in global equities due to the new coronavirus variant, Rupert Thompson, chief investment officer at Kingswood, said: "Covid is once again top of mind for markets. The extent of the threat posed by this new variant is far from clear and equities are likely to remain skittish until there is further clarity on this, which may not be for a few weeks. "Market nervousness is likely to be heightened as this latest development occurs just as the US Fed had begun talking of speeding up the pace of its tapering, paving the way potentially for a rate hike as early as the spring."
Black Friday has finally arrived but the fear of short supply was on everyone's minds. Many US retailers opened their doors to shoppers at 05:00 on Friday, as early risers ventured out, hoping to find gifts to tuck under the Christmas tree before products sell out.
UK car production declined for a fourth consecutive month in October, by 41.4%, marking the weakest level for the period since 1956, as firms battle with the global shortage of semiconductors, resulting in output stoppages.
What is your sentiment on BTC/USD?
Vote to see Traders sentiment!
A friend arrived in London this morning on one of the last flights from South Africa.

Health officials met the plane, but no additional precautions are being taken for the hundreds of passengers.

The flight came from Gauteng - the province where the new variant was identified.

— Adam Schwarz (@AdamJSchwarz) November 26, 2021
Business and economic news
Roche

(ROG) shareholders voted on Friday to support the $20.7bn deal to buy Novartis (NOVN), the Swiss drug maker confirmed on Friday.

Supply chain issues cast doubt over Black Friday deals. In

Britain, retailers are hoping Black Friday discounts will get shoppers spending but worries over supply chain issues are still evident.

Climate activists targeted 15 Amazon (AMZN) depots today. On Black Friday, Amazon faced protests by workers and delivery drivers in Germany, France and Italy.
Markets
Stocks:

UK stocks took a turn for the worse today, with the FTSE 100 index touching an almost seven-week low, as investors expressed concern over a new Covid-19 variant being discovered in South Africa, leading to widespread speculation of fresh lockdowns and travel restrictions.

The US markets also suffered.

Futures for the Dow Jones Industrial Average fell by 2.3%. S&P 500 futures lost 1.8% and Nasdaq 100 futures shed 1%. Friday is a shortened trading day because of the Thanksgiving holiday, with markets closing at 13:00 EST (UTC -5).

Oil:

Oil prices fell more than 5% today, reaching a two-month low due to the new Covid-19 variant and concerns over supply.

Gold:

Gold gained on Friday, as concerns over the spread of a newly identified coronavirus variant boosted the metal's appeal.

Forex:

Dollar was down 0.3% this morning as the new Covid variant spooked investors.

Crypto:

Bitcoin was down over 6% today due to concerns over the new Covid-19 variant.

What to watch today

The London-headquartered multinational beverage alcohol company Diageo (DGE) announced on Friday that it would release the next quota of its return of capital programme (ROC), which meant giving up to £4.5bn ($6bn) to shareholders by 30 June 2024.

German import prices increased by 21.7% in October 2021 compared with the same month in 2020.
Read more: Global risk assets slump as new Covid variant emerges