Burger King, Robinhood team up for crypto loyalty programme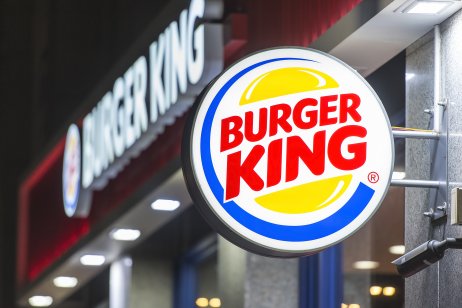 US fast-food chain Burger King teamed up with retail investment platform Robinhood to create a cryptocurrency rewards programme that gives customers a chance to earn dogecoin, ethereum or bitcoin for making purchases through the restaurant's app.
Customers must spend at least $5 through Burger King's app at participating locations and open a Robinhood cryptocurrency account to qualify for the giveaway. The programme launched on Monday and is expected to go through 17 December, or until the restaurant's crypto stock runs out.
Shares of Restaurant Brands International, which owns Burger King, were up 1.31% to $57.37 (£41.95) just after noon on Monday following the announcement.
Shares of Robinhood were down 0.83% to $36.67.
Prize pool
Individuals who make a qualifying purchase must present a "My Code" to their cashier to enter. Users may not be able to regenerate their "My Code" if the Burger King location is not participating in the loyalty programme.
Loyalty programme members who make a purchase at a participating location will receive an email from Burger King within 24 hours after their transaction is complete. This email contains instructions on how to claim the prize on Robinhood's platform. Entrants can claim only one prize per day regardless of the number of qualifying purchases made.
Loyalty programme members will have an opportunity to win one of 20 bitcoins, 200 ethereum or two million dogecoins, according to Burger King's website.
What is your sentiment on BTC/USD?
Vote to see Traders sentiment!
NFT loyalty programme
The crypto giveaway is not the only digital loyalty programme that Burger King is exploring. Recently, the company also launched a non-fungible token (NFT) marketplace called Sweet that allows customers to collect NFT game pieces from quick response (QR) codes on the restaurant's "Keep It Real Meal".
Other fast-food restaurants like McDonald's have followed suit as a way to build NFTs into their digital marketing strategies. For example, the restaurant announced on 28 October that it is creating an NFT of its McRib sandwich in celebration of its 40th anniversary.
Fans can win the NFT by following the McDonald's Twitter account and retweeting the sweepstakes invitation tweet. The contest will run from 1 November to 7 November.
Read more: What are NFTs: everything you need to know about non-fungible tokens
The difference between stocks and CFDs
The main difference between CFD trading and stock trading is that you don't own the underlying stock when you trade on an individual stock CFD.
With CFDs, you never actually buy or sell the underlying asset that you've chosen to trade. You can still benefit if the market moves in your favour, or make a loss if it moves against you. However, with traditional stock trading you enter a contract to exchange the legal ownership of the individual shares for money, and you own this equity.
CFDs are leveraged products, which means that you only need to deposit a percentage of the full value of the CFD trade in order to open a position. But with traditional stock trading, you buy the shares for the full amount. In the UK, there is no stamp duty on CFD trading, but there is when you buy stocks.
CFDs attract overnight costs to hold the trades, (unless you use 1-1 leverage)
which makes them more suited to short-term trading opportunities. Stocks are more normally bought and held for longer. You might also pay a stockbroker commission or fees when buying and selling stocks.