BTC holds $1trn valuation after BOFA says 'too large to ignore'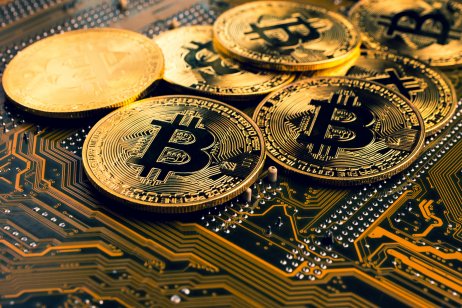 Bitcoin hovered near five-month highs and boasted an over $1trn valuation on Thursday as it extended gains after Bank of America called cryptocurrencies and other digital assets "too large to ignore".
Bitcoin was trading 7% higher at around $54,795, as of 10 am in Tokyo on Thursday while holding a market capitalisation of about $1.03trn, according to data from CoinMarketCap. Bitcoin took its seven-day gains to over 27%.
Bank of America (BOFA), in its first research report on cryptocurrencies, said, "With a $2trn+ market value and 200mn+ users, the digital asset universe is too large to ignore. We believe crypto-based digital assets could form an entirely new asset class."
Shiba Inu extends gains
"And yet we're still in the early innings. The largest near-term risk we see is regulatory uncertainty," BOFA said in its report.
Shiba Inu's surge extended after Tesla founder Elon Musk's tweet sent the meme coin flying on Wednesday. Shiba Inu prices were up 90% on Thursday morning in Tokyo. Its seven-day gains topped 380%.
Meanwhile, No.2 cryptocurrency Ether remained muted on Thursday morning with a 1% gain over the last 24-hours. Altcoins Cardano and XRP were trading 1.4% and 0.8% lower on Thursday. Dogecoin was down 1.3%, while Binance coin lost 2.5% over the last 24-hours, according to data from CoinMarketCap.
What is your sentiment on ADA/USD?
Vote to see Traders sentiment!
BOFA bullish on digital assets
BOFA said it is bullish on the long-term prospects for the digital asset ecosystem, which includes cryptocurrencies, decentralised applications and non-fungible tokens.
"It's difficult to overstate how transformative blockchain technology, digital assets and the thousands of decentralised apps that have yet to be created could potentially be," BOFA said. "While we acknowledge concerns about the speculative digital asset trading that takes place currently, we believe it's the underlying blockchain technology driving this speculation that could be revolutionary."
News of a hedge fund controlled by investor George Soros trading bitcoin further boosted risk appetite for the crypto bellwether.
Read more : DOJ launches two new cybersecurity initiatives