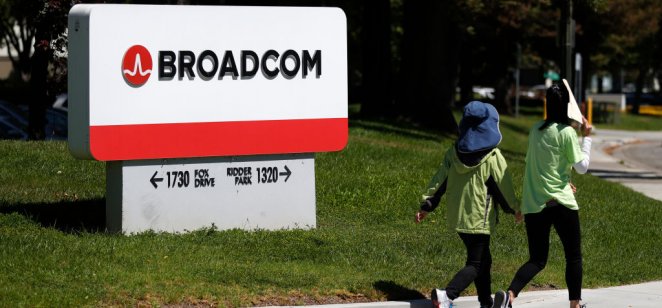 Content
The take-over of VMware (VMW) by Broadcom Inc (AVGO) seems to have come at a good time. Better-than-expected results were reported by VMW on 25 August in its second quarter earnings results, which came in stronger than expected. The company reported a net profit for the quarter of $347m (£301m), despite this being a decline from the profit recorded last year, it beat analysts' expectations and revenue rose by just over 6% to $3.34bn.
Analyst Simon Leopold, from Raymond James, maintained a market perform rating on VMware (VMW) following its results release. KeyBanc analyst, Thomas Blakey reaffirmed his view that VMware is a strategic fit for Broadcom Inc (AVGO). Finally, Mizuho analyst, Gregg Moskowitz reiterated a "neutral" rating and $138 price target.
Broadcom Inc (AVGO) share price chart
VMware (VMW) expects no sudden changes in the wake of its acquisition by semiconductor manufacturer Broadcom Inc (AVGO).
In an interview, CEO Raghu Raghuram said he expected "a large chunk of VMware operations to continue as is", adding that Broadcom would be making VMW "a flagship brand".
A provider of multi-cloud services for apps, VMW was acquired for $61bn (£50bn) on 25 May 2022, based on the closing price of Broadcom common stock.
The acquisition, which was announced the following day, will see AVGO acquire all the outstanding shares of VMware (VMW) in a cash-and-stock transaction and assume $8bn of its net debt.
Hock Tan, president and CEO of Broadcom (AVGO), said: "Building upon our proven track record of successful M&A, this transaction combines our leading semiconductor and infrastructure software businesses with an iconic pioneer and innovator in enterprise software as we reimagine what we can deliver to customers as a leading infrastructure technology company.
"We look forward to VMware's talented team joining Broadcom (AVGO), further cultivating a shared culture of innovation and driving even greater value for our combined stakeholders, including both sets of shareholders."
In an interview with VMware reported in late July, its CEO Raghu Raghuram said that the acquisition will not have an immediate impact on VMware.
"We expect a large chunk of VMware operations to continue as is, which means a lot of the employees are going to continue doing what they are doing today. Broadcom has not announced its post-acquisition plans, so I can't speak for them or be more specific at this stage," Raghuram said.
"Now that Broadcom has acquired VMware, they intend to make it the flagship brand of their company and plug their existing software assets and future software assets that they buy into this brand."
What is your sentiment on AVGO?
Vote to see Traders sentiment!
Did Broadcom buy VMware?
Although no specific date has been agreed, the transaction is expected to be completed in Broadcom's fiscal year 2023, and is subject to the receipt of regulatory approvals and other customary closing conditions, including approval by VMware (VMW) shareholders. A date is yet to be announced for the VMware shareholder vote.
| | |
| --- | --- |
| Long position overnight fee | -0.0064% |
| Short position overnight fee | -0.0059% |
| Overnight fee time | 21:00 (UTC) |
| Spread | 0.29 |
| | |
| --- | --- |
| Long position overnight fee | -0.0064% |
| Short position overnight fee | -0.0059% |
| Overnight fee time | 21:00 (UTC) |
| Spread | 0.21 |
| | |
| --- | --- |
| Long position overnight fee | -0.0308% |
| Short position overnight fee | -0.0137% |
| Overnight fee time | 21:00 (UTC) |
| Spread | 0.17 |
| | |
| --- | --- |
| Long position overnight fee | -0.0064% |
| Short position overnight fee | -0.0059% |
| Overnight fee time | 21:00 (UTC) |
| Spread | 0.19 |
Does Broadcom's VMware acquisition make sense?
Some have asked why a hardware and chip company like Broadcom (AVGO) would buy a software group like VMware (VMW)?
The press statement from Broadcom (AVGO) read: "By bringing together the complementary Broadcom Software portfolio with the leading VMware (VMW) platform, the combined company will provide enterprise customers an expanded platform of critical infrastructure solutions to accelerate innovation and address the most complex information technology infrastructure needs."
A report in the Register shows why the marriage between the two companies is a good one. Broadcom (AVGO) recently launched an Ethernet switch, a technology that is intended for use in cars. This technology will essentially allow for a car to be upgraded once the customer is driving it, meaning if a car needs an update so that it can handle icy roads, it can be updated using this technology.
The Register believes that VMware (VMW) is a company that is good at packaging and publishing apps to a myriad of devices and servers.
What will happen to VMware after Broadcom's acquisition?
Approximately 50% of VMware's shares will be exchanged for cash consideration and 50% exchanged for Broadcom (AVGO) common stock.
"Upon closing of the transaction, based on the outstanding shares of each company as of the date hereof, current Broadcom shareholders will own approximately 88% and current VMware (VMW) shareholders will own approximately 12% of the combined company on a fully diluted basis," a Broadcom statement said.
Once the deal is complete in Broadcom's fiscal year 2023, Broadcom Software Group will be rebranded and operate as VMware.
Dell Technologies Inc. (DELL) share price chart
Who owns VMware?
American billionaire, philanthropist and the founder of Dell Technologies (DELL), Michael Dell purchased VMware Inc in 2015.
Dell and Silver Lake, a private equity firm, own 40.2% and 10% of VMware shares outstanding, respectively.
Both parties signed support agreements to vote in favour of the transaction, so long as the VMware Board continues to recommend the proposed transaction with Broadcom.
According to a report by Reuters, Silver Lake was deeply involved in the negotiations to combine the two companies.
How much will Michael Dell earn from VMware sale?
It has been reported that Michael Dell will take approximately $20bn from the sale of VMware.
Read more