Bitcoin weathers fall below $40K amid market turmoil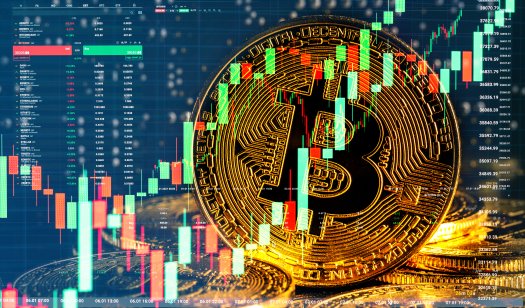 Bitcoin has bounced back from its latest dip below $40,000 before appearing to stabilise – but investors' eyes remain on the crypto king as it dances around the $40,000 price mark.
The latest turmoil in the global financial markets sparked by fears over the possible collapse of Chinese property developer Evergrande spilled over into crypto space on Monday.
Evergrande has a $300bn debt pile and a default would have a major impact on China's economy, with repercussions far beyond its shores.
Alarm at the prospect of another potential financial crisis prompted a sell-off among the biggest cryptocurrencies including solana and cardano, which hit record highs this month and last month respectively.
$40,000 for bitcoin 'a very important level to watc
h'
Late on Tuesday, the biggest cryptocurrency dipped below $40,000 – a price mark for bitcoin that is a "very important level to watch", according to a professional investor and former hedge-fund manager Mike Novogratz.
Speaking about the latest crypto volatility on Tuesday, Novogratz told CNBC: "We held $40,000 in bitcoin overnight (Monday to Tuesday) and $2,800 in ethereum; I think those are very important levels for people to watch. As long as those hold, I think the markets are going to be in a good shape. I see nothing but engagement activity from investing clients and our corporate clients."
Bitcoin is set for further volatility for the remainder of the week, as bitcoin futures contracts are scheduled to expire on Friday.
Bitcoin's latest price moves will leave many veteran crypto investors unfazed. The highly volatile digital currency has been on a roller-coaster, starting the year at $28,994 before reaching record highs of $64,863 in mid-April, but has seen dips of more than 50% since then.
What is your sentiment on BCH/USD?
Vote to see Traders sentiment!
Regulatory fears
Steen Jakobsen, chief investment officer at Saxo Bank, said cryptocurrencies came under additional pressure yesterday and overnight, due in part to the additional noise yesterday from US regulators.
US SEC chair Gary Gensler pointed out that past attempts by banks and others to offer private currencies have failed and that the SEC has authority over the space, with "gaps" in oversight such as the regulation of crypto exchanges possibly set to close if Congress helps empower the SEC.
Meanwhile Michael Hsu, who heads the Office of the Comptroller of the Currency at the US Department of the Treasury, warned that cryptocurrencies and decentralised finance could destabilise the financial system, similar to the role derivatives played in the financial crisis of 2007-09.
Bitcoin traded briefly below $40,000 before rebounding to $42,109 this morning and ethereum dropped to nearly $2,650 before rebounding to $2,8922 in morning London trade.
Read more: Bitcoin falls further as investors shun risky assets