Bitcoin price rebounds from China ban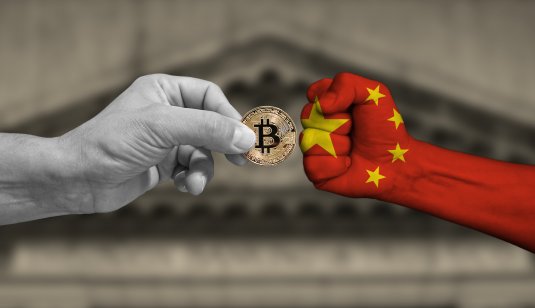 Bitcoin rose in Asia trading to around $44,400 as cryptocurrency markets looked to shrug off Friday's news of China's digital currency ban which drove BTC as low as $41,000.
Ethereum also rose in early trading to about $3,180 after it dipped below the $2,800 mark for a brief period in a general sell-off across the digital currency markets after the Chinese central bank issued a statement banning cryptocurrency use.
The People's Bank of China's statement also said it was illegal for overseas digital exchanges to offer services in China.
Cardano down 5%
Trading in the other top 10 coins by market capitalisation was mixed on Monday with Cardano down 5% at $2.23 while meme token Dogecoin also lost just over 1%, whereas Binance Coin and XRP both gained about 5%.
Bitcoin and ETC may have rebounded by markets in Hong Kong had a harsher verdict on the impact of Beijing's latest crackdown, with cryptocurrency exchange Huobi Technology seeing its shares fall by over 24% by midday trading.
Despite the latest bout of volatility, Deutsche Bank's cryptocurrency analysts see a bright future for cryptocurrency, describing it as potentially, "21st century digital gold".
What is your sentiment on ETH/USD?
Vote to see Traders sentiment!
"21st century digital gold"
In a video on the bank's website Marion Laboure, analyst at Deutsche Bank research's arm, says that while BTC's price will remain volatile in the near future, so too did the historical gold price.
Laboure outlined three key reasons why she expected bitcoin to remain a significant factor in the financial sector.
"First, about two-thirds of Bitcoins are used for investments and speculation. Second, due to its limited tradability, just a few additional large purchases or market exits can significantly impact the supply-demand equilibrium.
Small investors impact price
Third, Bitcoin's value will continue to rise and fall depending on what people believe it is worth. Small changes in investors' overall perceptions about Bitcoin can have a large impact on its price".
Read more: Huobi Tech tumbles after its crypto trading platform bars new users in China