Bitcoin bursts back above $61K; DOGE and SHIB in a dogfight
Subscribe to Weekly Highlights
The major market events for the week ahead right in your inbox.
Subscribe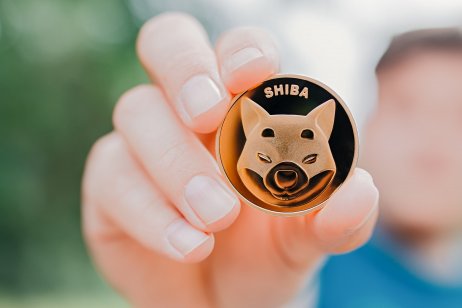 Content
Bitcoin rallied back above $61,000 per unit by noon EDT on Thursday as implementation of the cryptocurrency continues to expand.
The movement was compounded by the dogfight brewing between Shiba Inu Token (SHIB) and Dogecoin (DOGE), two joke cryptocurrencies that have gained popularity among retail investors.
At press time, Bitcoin was trading near $60,200, representing a 3.4% gain on the day. Both SHIB and DOGE were trading at $0.00006 and $0.335, respectively. SHIB had lost more than 30% on the day while DOGE was up more than 22%.
El Salvador
One reason for Bitcoin's rally is that El Salvador decided to "buy the dip" when Bitcoin crossed below the $60,000 threshold.
On Thursday morning, El Salvador President Nayib Bukele tweeted that he decided to purchase 420 more Bitcoins. This brings the country's total holdings to an estimated 1,120 Bitcoins.
Bukele added that El Salvador has already profited from the purchase because the country keeps its Bitcoin stock in a trust that is funded by both USD and Bitcoin.
"When the BTC part revalues in comparison to the accounting currency (USD), we are able to withdraw some USD and leave the trust with the same total," Bukele tweeted.
What is your sentiment on DOGE/USD?
Vote to see Traders sentiment!
Wharton School of Business
Another piece of news that helped send Bitcoin higher is that the University of Pennsylvania's Wharton School of Business announced a partnership with Coinbase to accept Bitcoin as tuition payments for people who enroll in its six-week "Economics of Blockchain and Digital Assets" course.
Wharton said it also plans to accept stablecoins such as USDC and other assets like Ethereum as payment.
Back in May, Wharton received more than $5m in Bitcoin as a donation to support the growth of innovative financial education classes.
Wharton Dean Erika James said in a statement at the time that the donation "marks a new era and mode of giving to the university and lifts up opportunities for students to become tomorrow's leaders in finance."
Indian regulation
Meanwhile, a report by India's Business Today suggests the country is looking for ways to regulate cryptocurrencies rather than outright banning them.
This move would allow the country to tax cryptocurrency holdings and reverse months of speculation that the world's sixth-largest economy could soon have access to digital currencies.
Finance Minister Nirmala Sitharaman told Business Today Television on Thursday the country plans to allow "a certain amount of windows for people to use so that the experiments in blockchain, Bitcoin will have that window available."
Cryptocurrency dogfight
While Bitcoin enjoys its rally, both SHIB and DOGE seem to be locked in a dogfight.
According to data from Trading View, the rally helped DOGE extend its market cap to $40.9bn, making it the 10th largest cryptocurrency.
However, SHIB is close behind with a market cap of $37.05bn.
Meanwhile, SHIB continues to lead DOGE in trading volume. Over the last 24 hours, more than 37.4bn SHIBs have been traded compared to 19.8bn DOGEs. These volumes make SHIB and DOGE the third and fifth most traded digital assets, respectively.
In comparison, Bitcoin has been traded more than 41bn times over the last 24 hours.
Read more: Elon Musk sends meme coins soaring with cryptic tweet