Bitcoin briefly trades above $43,000 as volatility persists
Subscribe to Weekly Highlights
The major market events for the week ahead right in your inbox.
Subscribe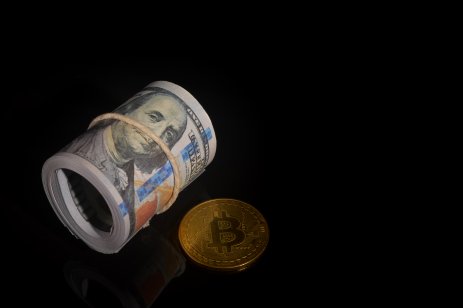 Content
Bitcoin briefly traded above the $43,000 per unit mark on Tuesday as the cryptocurrency markets search for a price floor amid persistent volatility.
The move helped lift other assets like ethereum, solana, and cardano, each of which saw greater than 4% gains on the day. Ethereum traded at $3,231 by 20:00 UTC while solana and cardano traded at $142.03 and $1.19, respectively.
These gains also helped raise the total market capitalisation for cryptocurrencies to more than $2trn (£1.47trn) for the first time since 7 January.
Over the last week, bitcoin has seen its price fall by more than 7% while the market has lost more than $300bn in total capitalisation over the same period.
Persistent volatility
Despite the market reversing course on Tuesday, some analysts note that outside factors are creating a lot of perceived volatility in the market.
Matt Hougan, the chief investment officer at Bitwise, said that one reason for the volatility is the hawkish stance toward inflation and interest rates that has been adopted by the US Federal Reserve Bank.
This stance has impacted all risk assets, including technology stocks, with cryptocurrencies being no exception, Hougan said.
Still, he adds that the asset's fundamentals remain strong as crypto developer activity, venture capital support, and the number of wallets all hit all-time highs last year.
What is your sentiment on BTC/USD?
Vote to see Traders sentiment!
Implied volatility trending lower
As the markets have trended lower, analyst Joo Kian at Delphi Digital said that it has nullified the implied volatility of the crypto markets.
Implied volatility is a forecast of likely price movements in relation to volatility measures. As bitcoin's price has dropped by more than 35% since reaching an all-time-high in early November, its implied volatility has followed suit.
"Implied Volatility has compressed over the last couple of months, and it's continuing to do so going into 2022," Kian wrote in a note to investors. "As the market seems to be sustaining its trend lower, this is not all that surprising."
Adoption continues to increase
One reason why some analysts are still bullish on bitcoin and cryptocurrencies is that the adoption of crypto and blockchain technology continues to increase.
Last year provided a perfect example, according to David Grider, head of research at Grayscale Investments.
For example, Grider points to the mayoral elections in Miami, Florida and New York City, New York, which he said "supercharged this competition" as both cities competed to create their own city coins.
At the same time, Grider said the ability of industry leaders to put together a lobbying effort to help reshape certain parts of the federal Infrastructure Investment and Jobs Act proved that "leaders in Washington are beginning to embrace the crypto industry."
"Individuals have been using blockchain to coordinate solutions to social and economic challenges for some time, but 2021 will be remembered as the year when it became strategically important on the world stage," Grider wrote in a note to investors.
Read more: What comes next after the recent bitcoin price crash?