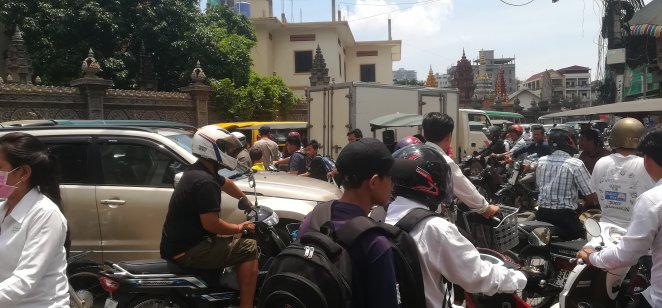 Content
One of the world's biggest digital asset exchanges Binance collaborates with Cambodian authorities to develop a legal framework for digital assets as the country embraces blockchain technology.
Already a world leader in retail central bank digital currencies (CBDCs), having launched its digital bakong in 2020, the country is now looking to develop a broader digital asset market.
The Securities and Exchange Regulator of Cambodia (SERC) said in a statement announcing the move that it wanted to develop Cambodia's securities sector in conjunction with Binance, which in addition to trading a range of cryptocurrencies, also has a native coin (BNB).
BNB to US dollar
SERC and Binance recently has signed a memorandum of understanding (MoU), and the crypto exchange said it will share technical knowledge and experience on digital asset operations as well as helping develop a legal framework to regulate them.
Cambodia embraces blockchain technology
The director-general of SERC, Sou Socheat was enthusiastic about the tie-up.
"We hope to implement the digital asset innovation in the right way to Cambodia through the collaboration with Binance".
Cambodia ranks 144 on the United Nations' Human Development Index, nestling between Kenya and Equatorial Guinea and this lack of development is the major reason for its decision to embrace digital assets, according to the head of one blockchain firm active in the country.
Makoto Takemiya, co-founder and CEO of Japanese crypto tech firm Soramitsu which developed the digital bakong project in tandem with the central bank, previously told Capital.com that the project has been a success so far.
Cambodia's CBDC 'a success'
He also added that retail CBDCs were much more viable than BTC as a replacement for a weak national currency, the approach taken by El Salvador.
BTC to US dollar
By teaming up with Binance, Cambodia appears, however, to also be embracing non-government backed cryptocurrencies.
Socheat emphasised that the securities regulator had not yet issued any digital licences but it was laying the foundations to do so in the future by signing.
Southeast Asia has vibrant digital asset market
"We are working to develop proper regulations and expect this MoU to be a stepping stone for our future regulatory work," Socheat said.
Southeast Asian appetite for crypto was thrown into the spotlight when Coindesk reported that Filipinos were using blockchain game Axie Infinity to earn cash during the pandemic but the potential goes far beyond gamers.
What is your sentiment on USD/SGD?
Vote to see Traders sentiment!
Binance regional head of Asia Gleb Kostarev said that he expected Cambodia to play a lead role in a region which has already shown a strong appetite for digital assets with the Singapore dollar (SGD), Malaysian ringgit and Indonesian rupiah all in the two twenty fiat currencies into BTC.
SGD to US dollar
"Within the Southeast Asia region where the blockchain and digital asset adoption rate is high.
Cambodia has the potential to be a leading market. Binance hopes to add value to the Cambodian securities industry by providing extensive and professional knowledge of the digital asset market," Kostarev said.
Binance cancelled Singapore plans
Kostarev's enthusiasm for Cambodia may in part be explained by the world's largest cryptocurrency trading platform withdrawing the licence application for its Singapore-based unit.
Binance wound down its operations in the city-state by February this year and along with a number of other crypto platforms, such as Bybit, moved its headquarters from Singapore to Dubai as the Southeast Asian state turned sour on the retail crypto sector.
Singapore is not the only country whose regulator is eying the crypto sector more closely, particularly in the light of the recent Terra blockchain collapse.
Last month Binance's creation of its holding company and its BNB initial coin offering was reported to be investigated by the US Securities and Exchange Commission.
Read more