Historic first as Banksy art sells for ETH3093 at Sotheby's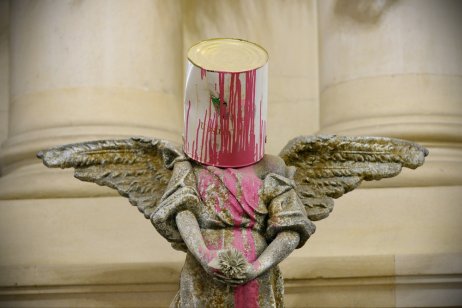 Two Bansky artworks were sold for 3,093 ethereum (ETH) – or over $12m (£9m, €10.6m) – on Thursday night at Sotheby's auction house in New York City, owned by Sotheby's Holdings (BID), in yet another sign that using cryptocurrencies for payment is becoming more mainstream.
The auction was the first event ever where bidders were making their offers in cryptocurrencies. Two paintings by pseudonymous England-based street artist Banksy, Trolley Hunters and Love is In The Air (2006), were on offer.
ConstitutionDAO lose $43m bid for rare copy of US document
Meanwhile, another auction taking place on the same night concerned a rare copy of the US Constitution – one of 13 copies known to exist, and one of only two still in the hands of private collectors.
ConstitutionDAO, which has been described by the New York Times as an initial group of 30 "core contributors" who opened a Discord server, eventually swelling ranks to some 13,000, succeeded in crowdsourcing ETH10,000 – or $40.6m – to help their efforts to purchase the document.
The group claimed they "broke records for the most money crowdfunded in less than 72 hours" and was "the largest crowdfund for a physical object that we are aware of – crypto or fiat".
However, despite being the second-to-last bidder standing, ConstitutionDAO was ultimately successfully outbid by a buyer who offered $43.2m, with the proceeds to go to the Dorothy Tapper Goldman Foundation's educational programmes for students.
Commenting on the results, ConstitutionDAO tweeted, "While this wasn't the outcome we hoped for, we still made history with ConstitutionDAO."

It added: "We have educated an entire cohort of people around the world – from art directors and curators to our grandmothers asking us what ETH is."
Read more: Sotheby's Banksy auction to be bid in ETH cryptocurrency