Bankruptcy of activewear company reveals pressures on retail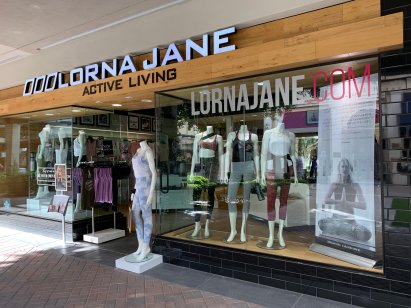 Celebrity activewear retailer Lorna Jane filed for Chapter 11 bankruptcy protection on Thursday in the US Bankruptcy Court in Los Angeles, California to cancel its US store leases.
It is a strategy previously employed by other retailers amid the Covid-19 pandemic.
The Brisbane, Australia-based company said Covid-19 had "significantly limited" retail operations throughout the US and supressed consumer willingness to shop in person.
"The debtor believes that these changes in consumer shopping habits will endure even after the pandemic subsides, continuing to impact brick-and-mortar retail into the future," said Richard Munro, the chief restructuring officer appointed by the company.
Second celebrity bankruptcy
Lorna Jane is the second celebrity bankruptcy in several weeks. Sequential Brands, the owner of Jessica Simpson's fashion collection, filed for bankruptcy on 31 August in the US Bankruptcy Court in Wilmington, Delaware.
Sequential Brands said the Covid-19 pandemic disrupted efforts by management to sell the company and drove declining sales that caused it to breach financial covenants with lenders.
Net revenue fell to $89.8m in 2020 from $101.6m in 2019.
Sequential Brands and Lorna Jane join other recognised brands that have filed for bankruptcy since the start of the coronavirus pandemic. The names include J. Crew, True Religion Apparel, Lucky Brand Dungarees, Brooks Brothers, Tuesday Morning, New York & Co., Sur La Table and Guitar Center.
Lorna Jane
Lorna Jane said the coronavirus pandemic had accelerated a sales decline at its brick-and-mortar retail boutiques, even as e-commerce revenue surged.
Brick-and-mortar sales fell 56% in the 2020 fiscal year while online sales surged 62% to comprise 47% of total sales.
As a result, Lorna Jane said its lease obligations were becoming "increasingly untenable". Current lease obligations total $14.9m, of which $2.1m are in arrears.
The company attempted to negotiate new lease terms, but landlords were "reluctant" to enter into the type of long-term adjustments necessary to ensure Lorna Jane's continued viability. This prompted the company to enter bankruptcy as the "best means" to address "challenges and promote continued success".
Lease rejection strategy
Lorna Jane has shuttered its US retail locations and plans to use bankruptcy to reject leases at all 21 of its retail locations to resize the business.
"It is believed that such efforts will enable the debtor to better adapt in light of the pre-pandemic shift to online purchasing as well as the impact of the Covid-19 and Delta variant pandemic on brick-and-mortar retail sales," Munro stated.
Lorna Jane was founded in 1989 in Brisbane, Australia by aerobics instructor Lorna Jane Clarkson and her husband Bill Clarkson.
The company attempted to capitalise on the yoga and fitness trend pioneered by competitors including Lululemon by expanding into the US.
Lorna Jane opened its first US store in Santa Monica, California in 2012 and until recently had 22 locations in California, Arizona, Texas, Utah and Washington.
Read more: US retail sales slowed 1.1% in July