'Baby Shark' can now annoy you in NFT form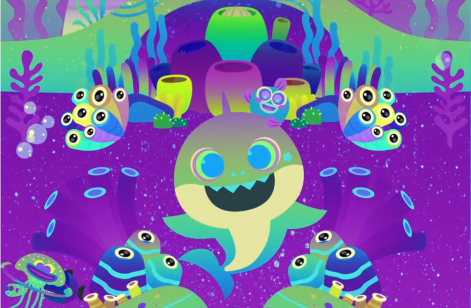 The most viewed song in YouTube's history, Pinkfong's version of 'Baby Shark' is now a one-of-one non-fungible token (NFT) going up for auction Thursday at 6 pm EDT (UTC -5).
Though no bids have been posted as of 3 pm EDT, NFT analyst Horatio Ruiz at the Alternative Asset Club predicted a winning bid in the $100,000 to $150,000 range, adding, "I could see this somewhere five years from now in a Times Square-type of plaza in some metaverse."
The NFT is part of a larger drop on the makersplace digital marketplace consisting of 'Baby Shark No. 1' and five additional NFTs of the Shark Family referred to in the song, distributed through a Mystery Box of five limited-edition NFTs assigned randomly to the winning bidders.
Limited edition 1-of-1
The 'Baby Shark No. 1' NFT is described as "a newly reimagined underwater world seen through a lens that portrays Baby Shark in a captivating new light." The winning bidder of 'Baby Shark No. 1' will also receive a one-of-one vinyl record of the original song in a classically composed electronic movement built around the 'Baby Shark' melody.
"The loopable animation showcases the characters like never before; collage techniques, repetition, geometric symmetry, and a trance-like artistic edge," makersplace says on the auction page.
All six of the NFTs come with a creator signature proof of authenticity available for viewing on Etherscan. Baby Shark: Collection No. 1 will be offset using Aerial, a sustainability platform that calculates the carbon emissions based on associated energy use.
Makersplace is owned, in part, by Sony Music, which signed an agreement with Pinkfong parent company SmartStudy in November 2020 for the rights to publish Pinkfong's complete catalogue of roughly 5,000 children's songs, according to music industry publication Complete Music Update.
Most streamed song ever
The children's song and accompanying dance has been streamed over nine billion times and is certified eleven-times platinum by the Recording Industry Association of America. Originating as a Jaws theme campfire song, 'Baby Shark' has been recorded numerous times by various artists.
But the 2015 version recorded and uploaded to Youtube by South Korean education company Pinkfong became a global sensation, becoming the most viewed video on the streaming service's history on 2 November 2020. The BBC estimates Pinkfong's recorded version has earned $5.2m.
Described as a "loveable earworm that took the world by storm," 'Baby Shark' became ubiquitous in popular culture since its release, from being spoofed on The Simpsons to being credited for fuelling the Washington Nationals 2019 World Series Championship.
Read more: What are NFT games? Understanding the popular industry