Axie Infinity $215m unlock date: AXS gaming token price dump looms as player count declines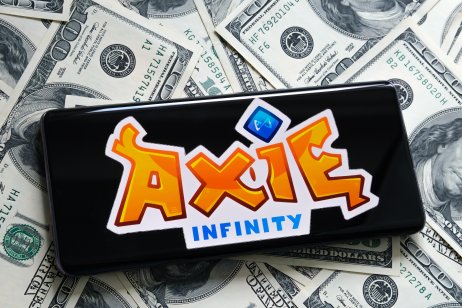 Axie Infinity players experienced 21.5 million AXS tokens to enter the market, which lead to considerable sell pressure on the gaming token.
AXS has already suffered throughout this year's bear market. But as an inflationary token, its recent vesting period unlocked on 24 October, according to TokenUnlocks.
Vesting periods ensure early investors do not sell their investments immediately, as they are required to hold on to their funds for a predetermined amount of time.
The latest vesting period from Axie Infinity released almost 8% of the total supply, or tokens worth roughly $190m.
The largest proportion of these tokens, 26.6% were sent to the team, who received a total of 5.7 million AXS. Another 4.8 million AXS was dedicated towards staking rewards and 4.7 million AXS was set aside for player earnings. The remaining 6.3 nillion tokens were split between advisers, the ecosystem fund and investors of the private sale.
AXS sell pressure
Fears that large amounts of AXS would be dumped on the market were confirmed by blockchain data.
Arca, a digital asset firm, took part in an AXS private sale and subsequently received $4m worth of tokens on 24 October. It then deposited its AXS earnings on the FTX cryptocurrency exchange, according to CoinDesk.
Similarly, another investor received over 180,000 AXS or $1,7m and sent them to the Binance exchange.
Axie infinity's price struggled with these market movements and fell to a 90-day low of 8.21 on 24 October.
It has bounced back slightly and AXS was trading at $9.16, as of 26 October. But it was still down 26% over the past month.
Disappearing users
It is not just vesting peroids that Axie Infinity is wrestling with. The crypto game is facing a declining userbase.
The popularity of Axie Infinity exploded last year, along with the play-to-earn genre. It saw especially strong gains towards the end of 2021.
Its monthly users rocketed from 500,000 in December 2020 to more than 1.5 million in August 2021, according to ActivePlayer.
Axie Infinity managed to continue rising in 2022 and climbed to its peak of 2.27 million users in February.
However, Axie Infinity's userbase has since seen a sharp decline as the crypto game faced the bear market.
This loss of users also accompanied a dramatic fall in the average daily rewards of a typical player. As a play-to-earn game, its cryptocurrency rewards are utilised to entice users, but Axie Infinity appears to have lost this charm.
After months of incredible growth, the daily earnings of the typical player of Axie Infinity (a "scholar" in the Philippines) have fallen below the Philippines' minimum wage line for all but the high ranking players, and even they have seen earnings decline since August pic.twitter.com/ejidWkWc1G

— Lars "Land is a Big Deal" Doucet (@larsiusprime) November 12, 2021
Its monthly userbase has plummeted to 2020 levels. At the time of writing, it has seen only 584,000 users this month.
The AXS token has been struggling with the bear market as well. After reaching its all-time high of $165.37 on 6 November 2021, it saw a major correction that turned into a long-term downward spiral. At the time of writing, AXS was down 90% year-to-date