Apple Regain Bullish Momentum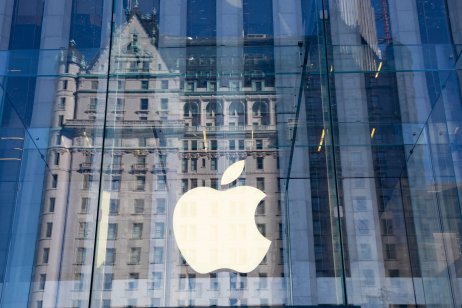 Any material provided is for information purposes only and is not investment advice. Any opinions that may be provided are not a recommendation by Capital Com or its agents. We do not make any representations or warranty on the accuracy or completeness of the information that is provided. If you rely on the information on this page then you do so entirely on your own risk.
Strong Services Offset China Concerns

Apple's share price has rallied since the release of their recent financial results on 2nd November, despite certain concerns over growth in China.

One key driver behind the rally is the stellar performance of Apple's services segment. The robust growth in services, highlighted by impressive numbers from the App Store, iCloud, and AppleCare, has significantly boosted profits. This success in the services sector has instilled confidence among investors, showcasing Apple's ability to diversify its revenue streams beyond hardware sales.

Additionally, the market is optimistic about Apple's resilience in navigating challenges, particularly in China. Despite a 2.5% decline in revenue from Greater China, CEO Tim Cook's defence of the company's position in this market, emphasising gains in market share during a contracting overall market, has reassured investors.

Furthermore, anticipation surrounding the potential recovery in hardware sales, especially with the release of the iPhone 15, has also played a role in bolstering Apple's share price. While hardware sales faced challenges leading to a 1% revenue dip, investors are eyeing a turnaround with expectations of a rebound in sales, particularly with the launch of the new iPhone model.

Bullish Wedge Breakout Takes Apple Back Above Resistance

Let's start our technical analysis by looking at the bigger picture on the weekly candle chart (below).

On this higher timeframe we can see that Apple's recent price action has reignited its long-term uptrend…

During the last week, Apple's share price has broken out from a descending wedge consolidation pattern which had been in place since the summer. This breakout has also taken prices back above the 2022 highs – indicating that Apple's long-term uptrend has kicked back into gear.

AAPL Weekly Candle Chart
Past performance is not a reliable indicator of future results

Zooming into the daily candle chart shows that Apple's recent rally has taken prices towards the top of the Keltner Channel – signalling that prices could be due for a period of mean reversion.

However, given the bullish higher timeframe context, swing traders could potentially use any pullback in Apple's share price to enter long and rejoin the trend.

AAPL Daily Candle Chart
Past performance is not a reliable indicator of future results

Risk Management:

Apple has an Average True Range (ATR) of $3.17 – traders can use this as a baseline expectation for daily price movement and factor this into to stop placement and price targets.

On the economic calendar, today's U.S inflation data could increase the volatility of U.S listed stocks like Apple.