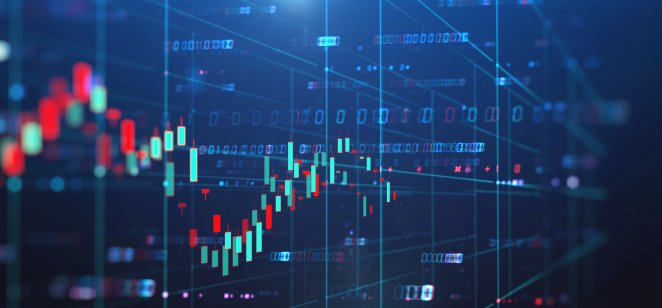 The stock price of Indian cement maker Ambuja Cements has been under pressure this year despite the Indian government's massive infrastructure push.
Ambuja Cement's share price has dropped 4% this year as inflationary pressures from rising coal and petroleum coke (petrocoke) prices amid rippling impact from the Russian invasion of Ukraine have weighed on the company's share value. Coal and petcoke are key raw materials in cement production.
In this article, we take a look into the effect of elevated fuel prices on Ambuja Cement's stock price, the latest company news and other factors that shape an Ambuja Cement share price forecast.
What is Ambuja Cement?
Ambuja Cement and its subsidiary, ACC, are part of Holcim Group, a Switzerland-based global building materials company. The Mumbai-based cement producer has capacity of 31.45m tonnes with six integrated cement plants and eight grinding units across India.
Its main products are Ordinary Portland Cement (OPC) and Pozzolana Portland Cement (PPC), which are used for all construction applications.
The company together with Aditya Birla Group's UltraTech Cement, Shree Cement, and ACC are the top four cement makers by market capitalisation in India.
Ambuja Cement stock is traded on National Stock Exchange of India (NSE) under the ticker AMBUJACEM and on the Bombay Stock Exchange (BSE) under the ticker 500425.
Ambuja Cement stock analysis: Technical view
The Ambuja share price enjoyed a 51.70% gain in 2021 despite economic slowdown due to the devastating second wave of Covid-19 in India, the world's second largest cement producer. The gain followed a 26.80% increase over 2020.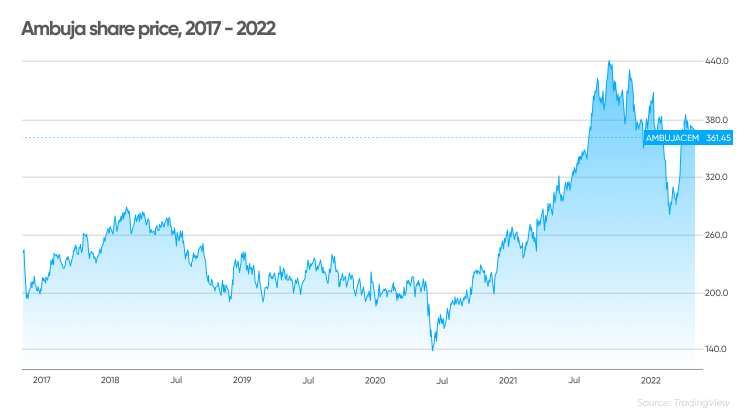 The share hit an all-time high of INR442.50 on 7 September 2021, followed by sideways-to-lower price action throughout the end of 2021.
In February 2022 news about the Indian government's plans to spend INR200bn on 25,000km of expressways starting in April pushed the share price 4% higher on the day. Yet the gains shortly reversed, with Ambuja Cement stock freefalling to a low of INR274 by 7 March, slumping 36% from the record high.
"Cement stocks have corrected on concerns of RM (raw material) cost inflation, which led to earnings downgrades. Any correction in fuel prices will help improve industry sentiment," Indian brokerage Motilal Oswal wrote in a note on 4 April.
In April, however, it was a different story. The stock gained 24.33% in the month as cement makers announced plans to increase prices to compensate for higher production costs. Plus, reports about Holcim's plans to exit India and put its stake in Ambuja and ACC pushed the stock price higher in early-mid April. The stock quickly recovered to February levels and rose to the peak of INR391 intraday on 26 April.
Year-to-date (25 May) Ambuja has lost 4.54%. In comparison, Ultratech's stock price, India's largest cement producer, has lost 22%.
In terms of technical analysis, short-term sentiment gave mixed signals. The stock was trading below its 10-day and 20-day moving averages, indicating a downward trend.
The relative strength index (RSI) reading at 50.63 was broadly neutral, not indicating a trend reversal. An RSI reading of 30 and below suggests an oversold condition, while a reading of 70 and above typically signals the asset is becoming overbought.
Latest earnings: High fuel prices weigh on net profit
Ambuja Cement's net profit slumped 30.44% to 658.87 crore or INR6.588bn in the first quarter ended March 2022, from INR 9.47bn in the same period a year ago, dragged down by rising fuel prices, the company said in its earnings report released on 28 April. Ambuja Cement follows the January to December financial year. One crore equals ten million rupees.
"The January to March 2022 quarter was impacted by rising fuel prices due to which EBITDA during the quarter was lower by 19%," said Neeraj Akhouri, Holcim India's managing director and Ambuja Cement's CEO in the statement.
The company spent INR20.72bn for power and fuel in the quarter, rising 34.54% from INR15.40bn in the same period in 2021, according to the earnings report. However, the costs associated with soaring energy prices were mitigated by boosting efficiency, Akhouri added.
While Ambuja's net profit declined, the cement maker's revenue from operations rose by 2.4% to INR 79bn in the first quarter from INR77.14bn during the same period a year ago.
On the operations side, Akhouri said the company's new Marwar cement plant in Rajasthan now operates in full capacity. It is also on track to expand cement capacity by around 9m tonnes in Ropar in Punjab and Bhatapara in Chhattisgarh. Ambuja plans to grow cement capacity to 100m tonnes per annum.
Ambuja Cement did not give details for 2022 guidance, but Akhouri said that the company remains optimistic about cement demand growth with key indicators such as goods and services tax collections, power demand, and e-invoice pointing towards economic recovery.
"Government's focus on infrastructure and housing and PLI (Production Linked Incentive) scheme for the manufacturing sector will further provide impetus to cement demand growth," Akhouri added.
Adani-Holcim's acquisition deal
"Adani group's entry into the cement business reflects its belief in India's growth story and cement industry's growth potential."
In the latest Ambuja Cement news, on 15 May, Indian conglomerate Adani Group announced that it had signed a definitive agreement to acquire Holcim's entire stake in Ambuja Cement and ACC for a combined value of $10.5bn, the largest acquisition by the group.
The announcement came following reports in April that Holcim planned to exit India and put up its subsidiaries for sale. Holcim holds a 63.19% stake in Ambuja Cements and a 54.53% stake in ACC (of which 50.05% is held through Ambuja Cement), according to the statement. Ambuja Cement and ACC have a combined cement capacity of 70m tonnes per annum.
With the acquisition, Adani is now the second largest cement manufacturer in India, the group said.
"With India's cement consumption at just 242kg per capita, as compared to the global average of 525kg per capita, there is significant potential for the growth of the cement sector in India," Adani said in a statement.
"The tailwinds of rapid urbanization, the growing middle class and affordable housing together with the post-pandemic recovery in construction and other infrastructure sectors are expected to continue driving the growth of the cement sector over the next several decades."
The acquisition is subject to regulatory approvals and conditions.
"Adani group's entry into the cement business reflects its belief in India's growth story and cement industry's growth potential," international brokerage firm Jefferies wrote in a note on 16 May.
The group believes that it will be able to build a uniquely integrated and differentiated business model with several adjacencies of existing businesses (port/logistics, renewable & real estate) and expects significant capacity expansion," Jefferies added.
The firm suggested Adani would like to explore a merger between ACC- Ambuja Cement.
In a note published on 29 April financial services company Prabhudas Lilladher projected that the likely exit of Holcim could delay Ambuja Cement's investment in expansion.
Ambuja Cement share forecast: Analyst views
Motilal Oswal's note published on 4 April highlighted concerns on the impact of the surge in coal and petcoke prices on operating costs for Indian cement makers.
Coal prices increased by 43% from a month ago and 233% year-on-year to $288/MT (metric tonne) in April amid the ongoing Ukraine-Russian conflict, according to Investment Information and Credit Rating Agency (ICRA). Meanwhile, petcoke prices jumped 95% from a year ago, and 21% month-on-month to INR 21,800/MT in the same month.
On the other hand, Motilal Oswal said cement makers plan to further raise cement prices, which could help mitigate the rising costs of raw materials.
"Despite near-term headwinds on earnings, we maintain our positive view on the sector as we expect cement demand to improve, led by the government push on infrastructure development, low-cost housing schemes of the government, and improvement in real estate demand," the company said in the note which covers top Indian cement makers, including Ambuja Cement.
Jefferies expected continued strength in rural housing demand, sustained recovery in urban and non-trade segments, and the government's infrastructure spending and housing scheme to support Ambuja Cement's future growth, according to its 16 May note.
Ambuja Cement: A 'buy', 'sell' or 'hold'?
With the headwinds in the form of elevated fuel prices, the exit of its parent company and positive outlook for domestic cement demand, is Ambuja Cement share price a 'buy', 'hold' or a 'sell'?
Jefferies rated the stock a 'hold' and set the price target of INR400 a share, representing around a 10% potential increase from the latest price of INR363.30, as of 24 May.
Financial services company Prabhudas Lilladher downgraded the stock to a 'hold' from a 'buy' in its Ambuja Cement stock review on 29 April. However, the firm raised its price target for Ambuja Cement to INR400 from INR390 in February.
Axis Securities rated the stock as a 'hold' in its Ambuja Cement stock analysis on 29 April. The company provided the price target of INR370.
Motilal Oswal maintained its 'neutral' rating on the stock with the price target of INR345 on 4 April, unchanged from its recommendation in March.
On 23 February local brokerage Geojit maintained a 'hold' rating and the stock price target of INR362 on expectations that demand outlook will remain positive in the coming months.
"However, margins may continue to remain stressed owing to inflationary cost pressures which are unlikely to subdue in the short term," Geojit said.
Ambuja Cement share price target 2022-2025
While brokerage companies do not typically provide long-term forecasts, algorithm-based forecasting services do.
Wallet Investor, for example, had upbeat expectations on Ambuja Cement's shares future, as of the time of writing (24 May). The site expected the stock price to rise to INR446.368 in May 2023, reaching INR518.300 in May 2024 and INR589.619 in May 2025.
In terms of a five-year forecast for the Ambuja Cement share price, the stock was expected to trade at INR726.186 in May 2027. Wallet Investor did not provide a forecast for 2030.
When looking at an Ambuja Cement stock prediction, it's important to remember that analysts' forecasts and price targets can be wrong. They should not be considered a recommendation to invest in the company.
Forecasts shouldn't be used as a substitute for your own research. Always conduct your own diligence looking at the latest market analysis and Ambuja Cement news. Remember that your decision to trade or invest should depend on your risk tolerance, expertise in the market, portfolio size and goals.
Keep in mind that past performance doesn't guarantee future returns. And never invest or trade money you cannot afford to lose.
Is it good to buy Ambuja Cement shares now?
Most brokerage firms have rated Ambuja Cement stock a 'hold'. However, please remember that analysts' predictions can be wrong. There are many factors that influence the share price movement including the company's performance and macroeconomic factors. As a result, ratings can change over time.
FAQs
Is Ambuja Cement share a good buy?

Algorithm-based forecasting service Wallet Investor was bullish on the stock's future price, while brokerage firms have been cautious. Please keep in mind that analyst and forecasting services projections can be incorrect. Forecasts should never be used to replace your own research. Always do your homework, and never invest or trade money you cannot afford to lose.
Will Ambuja Cement share price go up?

Analysts and algorithm-based forecasting service Wallet Investor expected the stock to go up in their Ambuja Cement's share forecast. However, bear in mind that stock markets remain volatile, and there may be price fluctuations. Both analysts and algorithm-based expectations can be wrong. Always rely on your research. And never invest or trade money that you cannot afford to lose.