Crypto market wrap: Altcoin prices end week on a high note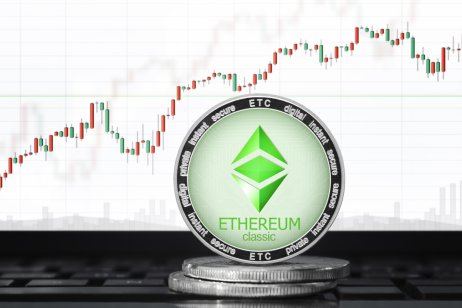 Altcoin prices ended the week on a high note Friday following a bad start.
Several top-100 coins posted huge gains compared to seven days earlier, and most cryptocurrencies were up for the third straight day after the week began with two days of consecutive declines.
However, the market saw more choppy trading Friday than it had in the previous 48-hour period.
What is your sentiment on ETC/USD?
Vote to see Traders sentiment!
ETC

to USD
Ethereum Classic price explodes
Ethereum Classic ((ETC) exploded about 60% from a week earlier. (All figures based on CoinMarketCap data.)
ETC's gains appeared to reflect investors' enthusiasm for Ethereum's next hard fork, known as the Merge whereby the blockchain will convert to a proof-of-stake (POS) crypto mining mechanism from a proof-of-work (POW) mechanism, which is extremely energy-intensive.
The Merge will integrate Ethereum's main network with the Beacon chain. Plans call for the merger to be completed in September.
ETH

to USD
Increase sparks intense debate
ETC was Ethereum's original coin prior to the blockchain's hard fork in 2016, when ether ((ETH)
became the network's top cryptocurrency. Ethereum Classic's sharp increase in advance of the Merge has sparked some intense debate among investors about its long-term value.
It will still be possible for crypto miners to produce and market ETC through the POW mechanism after the Merge.
ETC was bolstered by a $10m investment this week from AntPool, a mining pool affiliated with giant crypto miner Bitmain Technologies. (A mining pool is a group of miners who combine their computational resources to improve the probability of find a block and mining more crypto, according to Investopedia.)
BCH

to USD
Some analysts skeptical
But some analysts are skeptical about ETC's future.
"This [AntPool expenditure] seems like a trade more than an investment," Thomas Dunleavy, a senior analyst at crypto research firm Mesari told Bloomberg. "I don't think Ethereum Classic has any long-term viability."
Weiss Ratings cryptocurrency analyst Alex Benfield believes that ETC has risen, at least in part, because investors can not tell it apart from ether.
"In my opinion many people confuse ETC with ETH and a lot of the trading action stems from this sort of confusion," Benfield told Capital.com.
Ether closed the week up more about 13%.
Mid-pack coins post big gains
Some relatively unknown, middle-of-the-pack coins also posted large weekly gains.
Oasis (ROSE) was up about 51% as conventional markets closed in North America, after rising about 30% on the day. Meanwhile, bitcoin gold (BTG), quantum (QTUM) and ravencoin (RVN) were also up more than 40%
Synthetix (SNX) ended its strong week up about 33%, although the coin was down for the day. As Capital.com reported this week, Ethereum also plays a key role in the production of synthetix.
UNI

to USD
Bitcoin exceeds $24,000
Bitcoin (BTC) finished the week slightly below $24,000 after surpassing that mark periodically on Friday, and ETH was above $1,700. Bloomberg reported that both coins are due to post their best monthly performances since 2021.
Investors have breathed easier since the US Federal Reserve (Fed) followed through on an expected 0.75% interest-rate hike on Wednesday. Some analysts believe that, due to an economic slowdown that some analysts have called a technical recession, the Fed will ease up on interest-rate hike over the rest of the year, giving investors more incentive to invest in risk assets like crypto.
"Signs the Fed may be nearing the end of their hiking cycle have lifted all risk assets, and crypto has also benefited," Cici Lu, CEO for consulting firm Venn Link Partners, told Bloomberg.
"Liquidation of leveraged positions seems to be over," she added, and "markets may have found the bottom."