2022 FIFA World Cup countdown – which fan tokens are the top-scorers so far?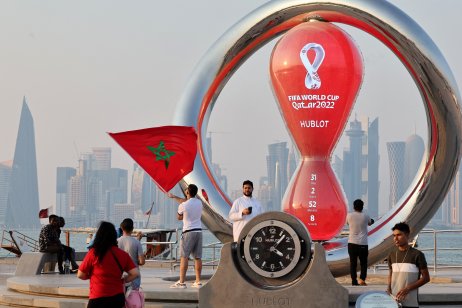 The national football teams set to take part in the FIFA World Cup Qatar 2022 are seeing the value of their fan token cryptos rise in the run-up to the event.
The FIFA World Cup 2022 will take place from 21 November to 18 December, with 32 national teams competing across 64 matches to determine a winner.
The Argentinian $ARG Fan Token was created after the national team partnered with Chiliz, the global blockchain providers for the sports industry, and unveiled a fan token via fan engagement and reward app, Socios.com.
The $ARG is the biggest riser out of all the national fan tokens and at the time of writing was up by 10.76% to $5.19, according to CoinMarketCap.
The other fan tokens have been issued by Bitci, a crypto trading platform. The Spain National Fan Token (SNFT) was up by 1.91% to $0.4469 and the Brazil National Team Fan Token (BFT) was up by 2.57% to $1.01.
The Peruvian National Football Team Fan Token (FPFT) is also up, even though it is not playing in the World Cup 2022. The FPFT was up by 2.44% to $0.08653, according to CoinMarketCap.
BTC to USD
Crypto.com will be official sponsor of FIFA World Cup 2022
Crypto exchange Crypto.com will be an official sponsor of the FIFA World Cup Qatar 2022.
The crypto platform announced in March that it would be the exclusive trading platform sponsor of Qatar 2022 and will "benefit from significant branding exposure both within and outside the tournament's stadiums".
Kay Madati, chief commercial officer (CCO) at FIFA, at the time said: "Crypto.com has already demonstrated a commitment to supporting top-tier teams and leagues, major events and iconic venues across the world, and there is no platform bigger, or with a greater reach and cultural impact, than FIFA's global platform of football.
"We are delighted to have a global brand like Crypto.com join us as a sponsor of the exciting and groundbreaking FIFA World Cup in Qatar, ultimately helping to grow our beautiful game on a global scale."