OKB price prediction: What is OKB?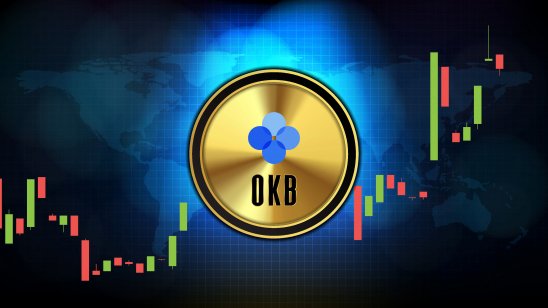 The OKEx crypto exchange is the European offshoot of China's OKCoin, and OKB (OKB) is its native token.
Let us find out more, and also take a look at some of the OKB price predictions that were being made as of 14 December 2022.
OKB explained
In the world of cryptocurrency, one of the most vital concepts is that of the crypto exchange. These sites are crucial because most people enter crypto ownership through them.
While there has been a rise in the number of decentralised exchanges (DEXes) over recent years, it is still the traditional centralised exchange (CEX) that remains dominant. One such exchange is the Malta-based OKEx, the de facto European sister exchange of China's OKCoin.
Although crypto investors are able to do the same things on OKEx that they can do on pretty much any other crypto exchange – that is, buy, sell and swap their crypto coins and tokens – OKEx does have something that makes it a bit different from a lot of other similar facilities. The exchange has its own cryptocurrency, known as OKB.
OKB operates on OKEx's own eponymous blockchain. People who hold OKB are able to earn passive income by taking part in the exchange's Earn programme. OKB is also used for paying trading fees on the network and holders can stake their coins, as well as get the right to vote on proposals to the system.
Holders are able to get a discount on their transactions on OKEx, with some holders able to save as much as 40%. People with OKB are also able to invest in the Jumpstart pool of new cryptos, which means, potentially, they get in on the ground floor of crypto projects.
While OKEx does explain some things about the token on its website, OKB – a fairly long-standing cryptocurrency – does not have a proper whitepaper, which may cause concern. In fairness, though, the token has been operating for quite some time now, so it might be reasonable to think that if someone did want to do a rug pull, they would have done it by now.
That said, it is important to do your own research before you invest in OKB, or any crypto for that matter.
OKB was launched in 2019, two years after OKEx came into operation as the Maltese offshoot of the Chinese OKCoin platform, which came out in 2013. The people behind OKEx are the same people who started OKCoin, namely Jay Hao and Mingxing 'Star' Xu.
Hao still serves as the CEO of OKEx, while Xu is CEO of the OK Group.
OKB price history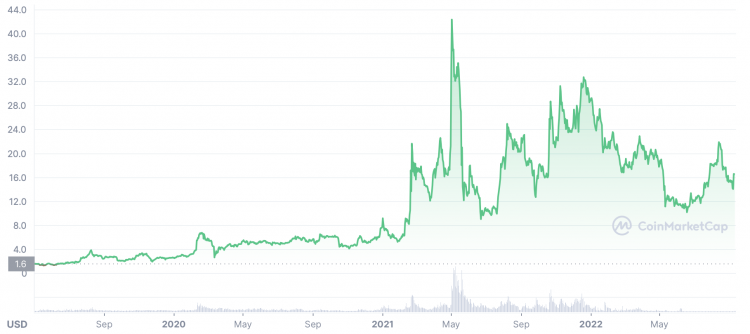 OKB price history from launch to present – Credit: CoinMarketCap

Let's now cast our eyes over the OKB price history. While it is important to recognise that past performance should never be taken as an indicator of future results, knowing what the coin has done in the time it has been in circulation can help give us some much-needed insight and context if we want to either interpret an OKB price prediction or else make one of our own.
When OKB came onto the open market in May 2019, it was worth about $1.60. The price hovered around that point, albeit initially heading downwards to reach an all-time low of $1.25 on 17 May 2019, before trading at around $5 in 2020.
In early 2021, a bullish crypto market saw it reach its all-time high of $44.17 on 3 May 2021. There was then a decline as the crypto market slumped over the summer, with OKB trading at less than $10 at various points. In August, though, things picked back up, with the coin spending a good part of the autumn trading at over $20, and it reached a periodic high of $33.44 on 22 December 2021 before closing the year at $28.82.
So far, 2022 has been a tough year for crypto. The coin struggled throughout the first few months of the year and, when the UST stablecoin got depegged, causing the collapse of the associated LUNA cryptocurrency and triggering a massive market crash, OKB sunk to a low of $10 on 12 May.
Things got even worse the next month, as the cancellation of withdrawals on the Celsius (CEL) crypto lending platform confirmed the bear market and saw OKB drop to $9.71 on 19 June 2022.
Since then, though, there has been something of a recovery, with the coin breaking through $20 for a period in the middle of August, before it settled down again to trade at around $16.62 on 9 September 2022. The price dipped to $14.47 on 22 September, but there was, ultimately, a recovery to $23.89 on 7 November. After that, though, the collapse of the FTX (FTT) exchange saw it drop to $17.37 on 14 November, before it recovered again to trade at around $22.96 as of 14 December 2022.
At that time, there were 60 million OKB in circulation out of a total supply of 300 million. This gave the coin a market cap of somewhere around $1.37bn, making it the 34th-largest crypto by that metric.
OKB price predictions
Now let's take a look at some of the OKB price predictions that were being made as of 14 December 2022. It is important to note that price forecasts, especially for something as potentially volatile as a cryptocurrency, are very often wrong. In addition, longer-term crypto forecasts are often made using an algorithm, which can change at a moment's notice.
First, CoinCodex was relatively optimistic in its short-term OKB crypto price prediction, suggesting that the coin could reach $26.53 on 19 December before possibly hitting $30.03 on 13 January 2023. The site's technical analysis was appropriately bullish, with 29 indicators sending out optimistic signals against just four making bearish ones.
Next, DigitalCoinPrice had an OKB coin price prediction that said the crypto could be worth $27.98 this year, $56.95 next year and $80.79 the year after that. By 2025, the site said, OKB could be worth $100.21, and there was further growth forecast, with the site's OKB price prediction for 2030 coming in at a potential $324.93.
Meanwhile, CaptainAltCoin suggested some short-term bad news for OKB, with it predicted to potentially drop to $16.52 by February 2023. Following that, there could be a recovery to $28.14 by December 2023, and the site made an OKB price prediction for 2025 that saw it reach a potential $71.73.
Finally, Wallet Investor was far more downbeat in terms of its OKB price prediction for 2023, saying that it thought the coin could a fair chunk of its value over the next 12 months and be trading at about $16.93 by 14 December 2023.
When considering an OKB coin price prediction, it is important to keep in mind that cryptocurrency markets remain extremely volatile, making it difficult to accurately predict what a coin or token's price will be in a few hours, and even harder to give long-term estimates. As such, analysts and algorithm-based forecasters can and do get their predictions wrong.
If you are considering investing in cryptocurrency tokens, we recommend that you always do your own research. Look at the latest market trends, news, technical and fundamental analysis, and expert opinion before making any investment decision. Keep in mind that past performance is no guarantee of future returns. Never trade with money that you cannot afford to lose.
FAQs
Is OKB a good investment?

It is hard to say. A lot will depend on how the cryptocurrency market can perform in the future, as well as whether OKEx can do more to stand out in an already crowded market.

Remember, you should always carry out your own thorough research before making an investment. Even high market cap cryptocurrencies have proved vulnerable to the current bear market, so investors should be prepared to make losses and never purchase more than they can afford to lose.
Will OKB go up or down?

It is difficult to tell. While, at the time of writing on 14 December 2022, some sites including DigitalCoinPrice were optimistic about what the coin might achieve in the future, others including Wallet Investor took a more bearish view. It is important to remember that price predictions are often wrong, and that prices can go down as well as up.

In volatile cryptocurrency markets, it is important to do your own research on a coin or token to determine if it is a good fit for your investment portfolio. Whether OKB is a suitable investment for you depends on your risk tolerance and how much you intend to invest, among other factors. Never invest money that you cannot afford to lose, and keep in mind that past performance is no guarantee of future returns.
Should I invest in OKB?

Before you invest in OKB, you will need to do your own research, not only on OKB but on other exchange-related coins and tokens.

Ultimately, though, this is a question that you will have to answer for yourself. Before you do so, however, you will need to conduct your own research. Above all, never invest more money than you can afford to lose, because prices will go down as well as up.