Mobox price prediction: should you invest in this gaming token?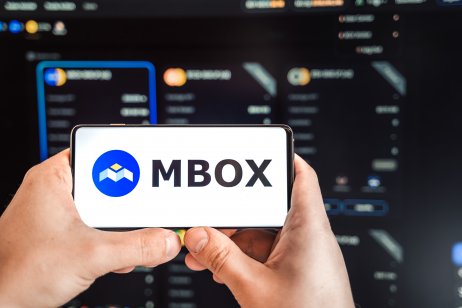 Cryptocurrency tokens used in gaming and metaverse applications have rocketed in value recently, including the Mobox token, MBOX. It spiked to a record high of $15.06 at the start of December.
Play-to-earn games have gained popularity. Players can use non-fungible token (NFT) characters to earn tokens as rewards for advancing through gameplay. These tokens can be traded on exchanges for fiat currencies.
After falling back from the spike at the start of the month, MBOX is still up by more than 200% since it launched in April.
What is Mobox (MBOX) and how does the token work? In this analysis we take a look at the project's development and the future price outlook as we head towards 2022.
MBOX token supports play-to-earn MOMOverse
According to its website, Mobox is a "blockchain network controlled and governed by your in-game assets… NFTs collected through your in-game experience act as your node on the MOBOX blockchain network, providing users with near-instant transactions."
MOMOs are NFT-based creatures within the MOMOverse, which works in a similar way to games like Axie Infinity and Sandbox. Unlike Axie, where users have to buy three Axie NFTs to be able to enter the game, Mobox games are free to play, although players can buy better characters. Players catch, farm, battle and earn their MOMOs to gain rewards. They can trade, rent and lend NFTs through the decentralised NFT marketplace.
The first game in the metaverse is called MOMO: Token Master, with two more games to follow – MOMO: Block Brawl and MOMO: Tactical Party Slayer.
Developers can also launch blockchain games in the MOMOverse using its game creator set of application programming interfaces (APIs). Users can create their own NFTs using the ERC-721 standard.
In addition, MOBOX is working on a game creator and NFT creator. These would allow developers to launch their own games and NFTs on the platform.
Mobox has launched the METAfund, which is an incubation fund with Binance NFT Marketplace on the decision committee, to support game developers to bring their content to the blockchain and MOMOverse.
MBOX tokens are the native cryptocurrency for the platform. Players use MBOX to make in-game purchases and bid on NFT auctions. They receive the token as a reward for in-game activity. The token is also used for governance to vote on proposals about the platform's future.
The tokens are minted on the Binance Smart Chain (BSC). Users mine 51% of the tokens through GameFi mechanics. MBOX holders can also stake their tokens in liquidity pools to earn further rewards.
There are currently 79.85 million MBOX tokens in circulation, out of a total supply of $389.18 million and a maximum supply of 1bn, according to CoinMarketCap. MBOX tokens will be distributed over five years. Any tokens that are not mined in the first year will be burned, according to the tokenomics documentation.
Every year, the decentralised autonomous organisation (DAO) will vote on how the tokens will be allocated to each game, strategic partnerships and marketing, as well as how many tokens will be released via the NFT farmer. A buyback and burn programme will be funded by 80% of the profits across the platform to reduce the maximum supply over time.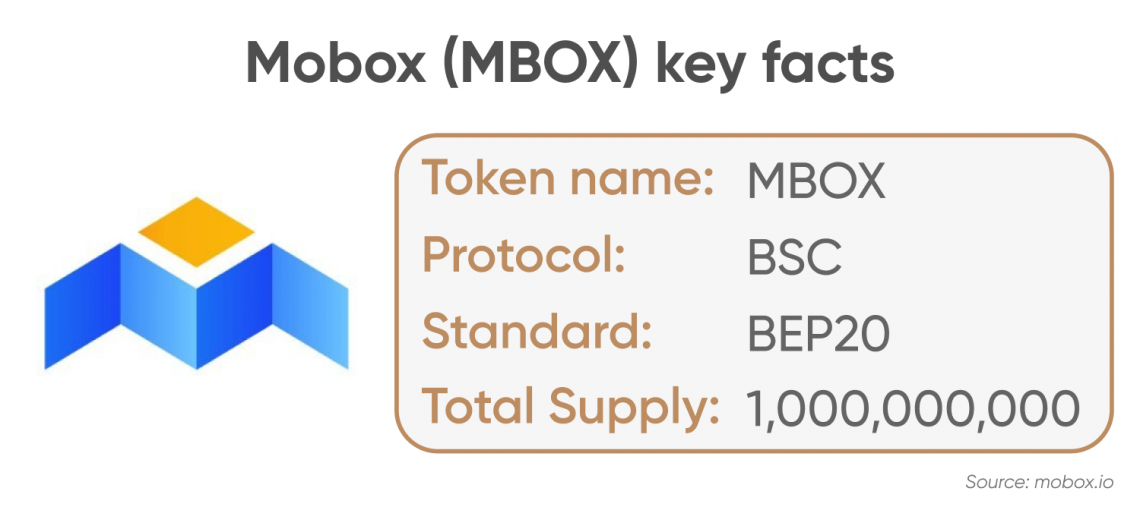 MBOX price climbs on Binance support
The Mobox token launched at $1.61 on 8 April. It soared to $4.07 the next day as cryptocurrency markets rallied. The price subsequently declined in April and May, bottoming at $0.4846 on 22 June. The price then began to rally as cryptocurrency prices trended higher over the summer.
On 19 August, cryptocurrency exchange Binance announced that MBOX would join the Binance Launchpool staking pool on 20 August. The Launchpool enables token holders to accumulate a new coin for free prior to and after a guaranteed listing on Binance.com. There were 3 million MBOX tokens allocated to the pool.
The price responded to the Mobox news by climbing to $10.81 on 27 August. It then retreated in September and dropped to $3.43 on 28 October. MBOX then turned higher, setting a new all-time high of $15.68 on 1 December, up from $5.65 on 28 November.
On 30 November, the MOMOverse joined the Binance app with a one million NFT giveaway on Binance and $100,000 giveaway on Twitter, signing up more than a million users in 12 hours.
The MBOX price has since dropped back to the $5 level, with cryptocurrency markets under pressure in the latest selloff.
What is the future of Mobox coin? Where do forecasters expect the price to move?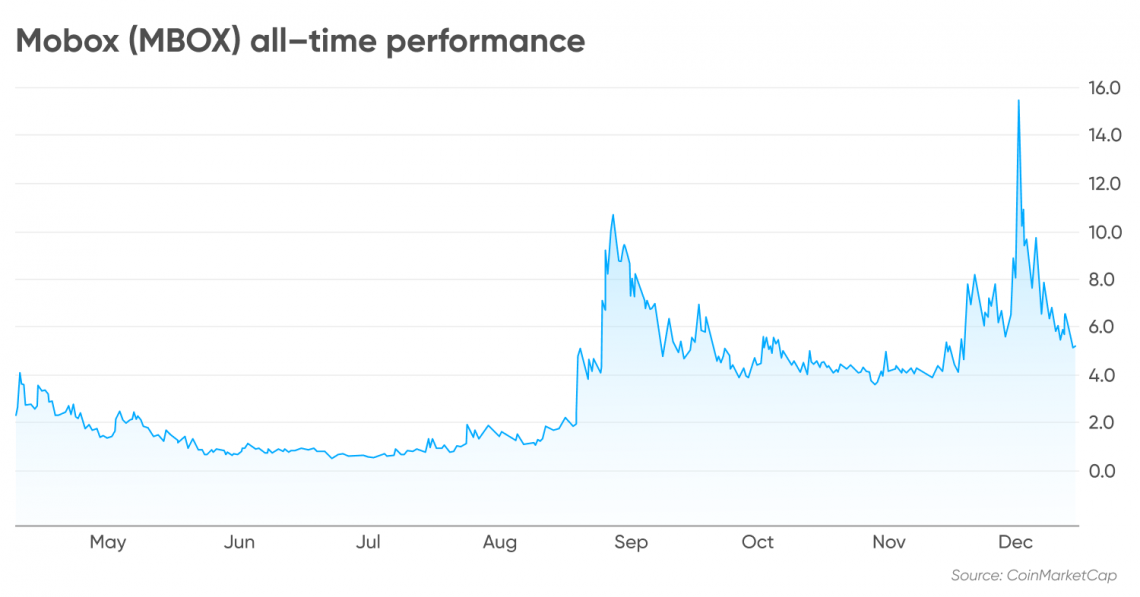 Mobox price prediction: should you buy or sell the pullback?
Short-term sentiment on the MBOX price was bearish at the time of writing (14 December), according to CoinCodex, with 15 technical analysis indicators giving bearish signals and 11 giving bullish signals.
The three-day to 100-day simple and exponential moving averages along with the volume-weighted moving average indicated that the token was a 'sell', while the 200-day simple and exponential moving averages gave 'buy' signals. The average directional index, Hull moving average, stochastic fast, stochastic relative strength index (RSI) and the Williams Percent Range were also indicating the token was a 'buy'.
CoinCodex predicted that the token's value could fall by 26.43% to $3.84 by 19 December.
But Wallet Investor was bullish in its Mobox coin prediction, as of 14 December, suggesting that the price could move above $7 by the end of 2021. The algorithm-based forecasting site expected the price to trend higher during 2022, reaching $15.099 by the end of the year and $23.712 at the end of 2023. The token could be valued at $41.142 by the end of 2025, the data showed.
The Mobox crypto prediction from DigitalCoin expected the token price to average $9.45 in 2022 and $16.27 in 2025, based on analysis of historical data. By 2028, it estimated the MBOX price to average $23.67, peaking at $26.19.
The MBOX/USD forecast from Price Prediction projected the token to average $7.72 in 2022, $25.33 by 2025 and $143.22 in 2030.
It's important to keep in mind that cryptocurrency markets remain extremely volatile, making it difficult to accurately predict what a coin's price will be in a few hours, and even harder to give long-term estimates. As such, analysts and algorithm-based forecasters can and do get their predictions wrong.
We recommend that you always do your own research, and consider the latest market trends, news, technical and fundamental analysis, and expert opinion before making any investment decision. Keep in mind that past performance is no guarantee of future returns. And never invest more than you can afford to lose.
FAQ
Is Mobox a good investment?

Cryptocurrencies are highly volatile assets, making them high-risk investments – especially newer coins and tokens. Whether you should hold Mobox as an investment depends on your personal circumstances and risk tolerance. You should evaluate the level of risk you are prepared to accept before investing. And never invest money that you cannot afford to lose.
Will the MBOX coin go up or down?

As of 14 December, forecasting sites' MBOX price prediction was that the token could gain value in the future. But you should do your own research to make an informed choice about investing in the token.
Read more: BAT coin price prediction: will it hold traders' attention?