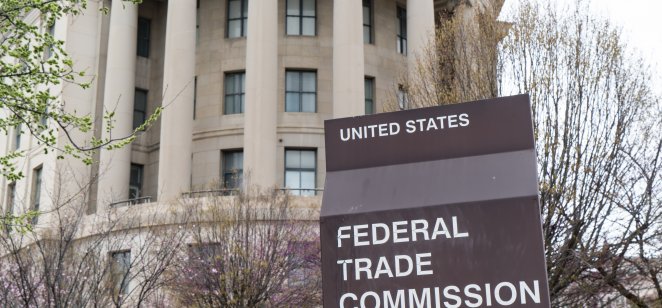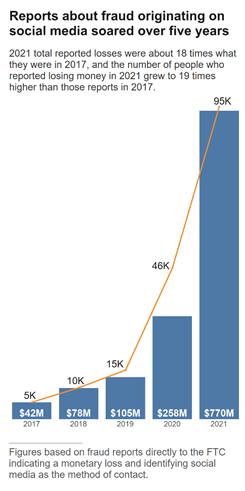 Social media targeted financial fraud increased 1,733% since 2017 - Photo: US Federal Trade Commission
Bogus cryptocurrency investment schemes over social media platforms were the top financial fraud activity last year, the US Federal Trade Commission (FTC) reported. Social media targets scams totalled $770m (£573m), up 1,733% from $42m reported in 2017.
Of the investment scams where social media was the method of contact, cryptocurrency was the method of payment in 64% of reported frauds, the FTC added. A direct payment app or service was used for 13% of fraudulent investment payments and traditional bank transfers made up 9% of scammed funds.
Social media represents a "low-cost way to reach billions of people from anywhere in the world," the FTC said in its Consumer Protection Data Spotlight. "It's easy to manufacture a fake persona, or scammers can hack into an existing profile to get 'friends' to con. There's the ability to fine-tune their approach by studying the personal details people share on social media."
Top contact methods for financial fraud
Social media – $770m (26%)

Website or app – $554m (19%)

Telephone – $546m (18%)
Of the total of $770m in more than 95,000 separate schemes reported in 2021, 54% listed social media as the initial contact method. The leading social media platforms for fraudulent investment scams are Meta Platforms units Instagram at 36%, Facebook at 28% and WhatsApp at 9%. Additionally, 7% of social media investment scams were initiated over privately held messaging app Telegram.
Adults aged 18 through 39 were 2.4 times more likely to fall victim to investment fraud over social media, the FTC further reports. The median loss for investment scams initiated over social media was $1,800.
Romance frauds were the second most frequent scam over social media, the FTC added. Of the total reported romance scams, Facebook at 23% and Instagram at 13%, Meta Platforms services accounted for over one-third of the total.
Social media platforms used by financial scammers
Instagram

– (36%)

Facebook – (28%)

WhatsApp – (9%)

Telegram

–

(7%)
The leading payment method for social media romance scams was a reloadable gift card at 30%, cryptocurrency at 18% and a direct payment app at 15%. The median reported loss for social media romance scams was $2,000.
"These scams often start with a seemingly innocent friend request from a stranger, followed by sweet talk, and then, inevitably, a request for money," the FTC warns.
The most frequent fraudulent financial activity, although at a lesser dollar volume total, was related to online shopping for items marketed over social media. The overwhelming number of retail purchase scams – 88% of the total – reported Facebook at 59% and Instagram at 27%.
Payment method used in social media financial fraud
Cryptocurrency – (64%)

Payment app – (13%)

Bank transfer – (9%)
The most frequent payment method for social media retail purchase scams was a payment app at 29%, debit card at 28% and credit card at 24%. The median reported loss from social media retail scams was $115.
Of the reported retail scams over social media, 70% victims claimed to have ordered merchandise after seeing an ad but never received the merchandise.
With the social media fraud losses of $770m in 2021, reports of an app or website totalled $554m, or 19% of the total, and a telephone call totalled $546m or 18% of total scam losses. Telephone scam losses came in at a median $1,100 per victim.
Read more: