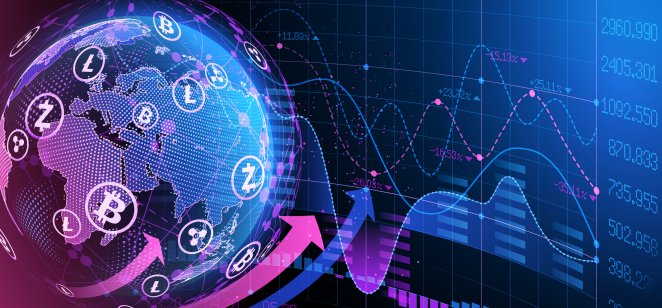 The global carbon market has enjoyed robust growth in 2020, 2021 and 2022. Following the 2021 UN Climate Change Conference, governments are revising their climate policies to meet ambitious emission reduction targets. The energy crisis sparked by geographical tensions and recovering demand following the Covid-19 pandemic have seen carbon markets around the world, including prices at the EU Emission Trading System (EU ETS), hit record highs.
This article will discuss the most recent developments in the carbon emission market and attempt to construct a reasonable carbon price forecast for 2022 and beyond.
Global carbon emissions market overview 2021 to 2022
Carbon trading, also known as carbon emission trading, is the purchase and sale of credits that allow a company or entity to emit a certain amount of carbon dioxide (CO2). CO2 is released into the atmosphere as a result of activities such as burning coal, gas and oil, as well as slash-and-burn land clearing.
Under the Kyoto Protocol, a UN climate treaty adopted on 11 December 1997 in Kyoto, Japan, carbon trade was the agreed tool to reduce emissions. Countries that have ratified the Kyoto Protocol are granted a limited number of permits to emit a certain amount of carbon dioxide. Countries with unused allotments can sell them to other countries that want to emit more carbon dioxide than their permits allow.
Carbon credits and carbon trading are authorised by governments to reduce carbon emissions, mitigating their contribution to climate change.
The total value of global carbon markets grew by 164% in 2021 due to higher volumes and skyrocketing prices, according to financial analysis company Refinitive in its 2022 carbon market review released on 31 January. The value of carbon transactions soared to €760bn ($792.6bn) in 2021, up from to €288bn in 2020. Traded volume of CO2 reached 15.8bn tonnes, or 15.8 gigatonnes, up 24% from 12.7bn tonnes in 2020.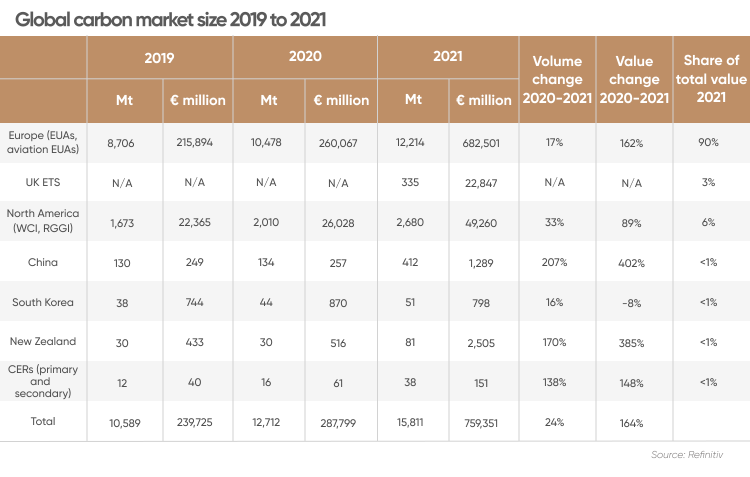 The World Bank in its States and Trends of Carbon Pricing study released in May 2022 reported that, as of April 2022, there were 68 carbon pricing instruments operating and three more scheduled for implementation. The operating carbon pricing instrument (CPI) included 37 carbon taxes and 34 ETS. Uruguay started a new carbon pricing in January 2022. Three new ETS also commenced in the past year in North America – Oregon, New Brunswick and Ontario.
In addition to the instruments scheduled for introduction, Israel, Malaysia and Botswana announced their intentions to develop new carbon pricing instruments, and Vietnam outlined steps to set up an ETS.
According to the World Bank, global carbon pricing in 2021 increased to R84bn from $31bn in 2020. The EU ETS accounts 41% of all carbon pricing revenue.
Last year, the UK and China launched their national ETS. In China, as many as 2,000 power generators participated in the initial stage of its national ETS with official trading started in mid-July. In the first five and half months of trading, 179 metric tonnes (Mt) of Chinese emission allowances (CEAs) exchanged hands, according to Refinitive.
Carbon trading news
Natural gas supply shortages in Europe due to limited pipeline supply from Russia and liquefied natural gas (LNG) as cargoes were sent to Asia, combined with high demand, have led to a rise in gas prices in the continent to record high in the second half of 2021.
The elevated gas prices led to an energy crisis in Europe and provided incentives for power plants to switch to higher polluting coal. According to data by Refinitive, the share of both lignite (low calorific value coal) and coal in the EU27 energy mix rose to 8% in 2021, up from 7% and 6% respectively in 2020. Meanwhile the share of renewables dropped to 38%, from 40% in 2020.
The gas supply problem has dragged on into 2022 as conflict between Russia and Ukraine broke out on 24 February. Russia has stopped gas supply to several European countries, including to Poland, Bulgaria and Finland as the countries refused to pay for Russian gas in roubles.
The EU's move to reform its carbon market is another key factor supporting EU ETS price. The European Parliament had proposed a series of reforms on its carbon market, including the creation of a new ETS that would target emissions from vehicles and buildings.
The reform is part of the EU's target of 55% net reduction in greenhouse gas emission by 2030.
Carbon price overview 2021 to 2022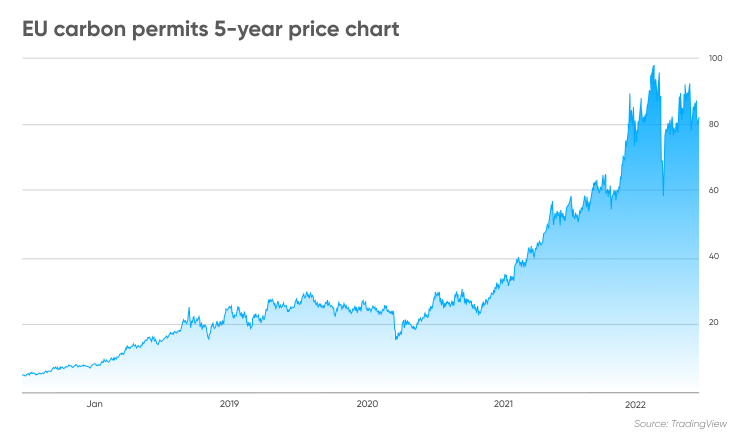 Despite the emergence of various emission trading systems, there is no fixed global carbon emission price. However, the EU ETS is seen as the benchmark. The continent is home to the largest carbon market by traded volume. EU ETS represents 90% of global turnover, according to financial analysis company Refinitive in its 2022 carbon market review released on 31 January.
The EU Allowance (EUA) – the price of one emission allowance that equates to one tonne of CO2 emissions – continued its rally during 2021 and into 2022.
A CO2 price analysis from Ember, a London-based independent climate and energy think-tank, showed EUA started at €33.69 per tonne in early January 2021. Europe's carbon emission futures consistently advanced to hit a new record of €88.88/tonne on 8 December 2021 as soaring natural gas prices fuelled power plants to burn more coal, increasing CO2 emissions.
According to Refinitive:
What is your sentiment on ECFZ21?
Vote to see Traders sentiment!
"The gas shortage led to an energy crisis in Europe with strong margins for coal power generation: despite historically high coal and EUA prices, electricity generation from coal was highly profitable throughout H2. With limited supply of gas, a dwindling number of nuclear reactors, and little wind, coal has been running at near to full capacity – that has led to additional demand for EUAs."
Another price driver in 2021, according to Refinitive, is a predicted tighter carbon credit supply-demand balance as a result of continuing revisions to make the EU ETS fit for the bloc's revised 2030 target of at least 55% emission reduction.
The EUA price eased towards the end of 2021, but still at €80/tonne level in early January 2022. According to Refinitive, EU ETS set new record highs on 62 of 259 trading days in 2021. The EU ETS price averaged €53.65/tonne over 2021, compared to €24.83/tonne in 2020.
The continent's carbon futures reached another new record at nearly €97/tonne in the first week of February as tightness in energy supply persisted.
The conflict between Russia and Ukraine has supported EUA prices at above €80/tonne on the prospect of increased use of coal and oil after Russia, Europe's main gas supplier, used its gas to retaliate against the Western nations' sanctions.
On 7 March, the EUA price dropped to below €60/tonne as concerns about industrial slowdown fuelled sell-offs, according to ANZ Research's note. But the price gradually recovered to above €80 in the run-up to the European Parliament's vote on the ETS reform package.
According to data from Ember, the EUA price fell to €79.81/tonne on 8 June after the EU Parliament rejected a proposed reform on the EU ETS.
Carbon price forecast 2022
Refinitive's 2022 carbon emission market survey released on 1 June showed respondents estimated that the price of the EUA could average around €80 to €90 a tonne for the remainder of 2022.
The survey, which ran from 25 March to 27 April, used web-based questionnaire ClickTool. It involved 279 respondents, compared to 303 participants in the 2021 survey. Participants answered 110 different questions – a mix of general questions to limited specific questions and specific questions on respondent profiles and/or geographic locations.
Of the 253 respondents, 137 indicating involvement or interest in one or more carbon markets follow the EU ETS.
The financial analysis company attributed the continued rise in CO2 price outlook in Europe to participants' positive view on EU ETS as a tool to reduce emissions. Other factors that drive EUA prices include energy markets, weather, compliance and non-compliance trading, and climate policy.
Policy signals such as the decision on the EU's climate package and the reduced supply of allowances are factors considered to be of high significance by market participants.
"This year's overwhelming degree of perceived importance of the natural gas price is notable," Refinitive added.
The proportion of respondents who believe the EU ETS has a greater impact on Europe's emissions than other variables reached an all-time high, with 80% of respondents giving it high priority, according to Refinitive.
Trading Economics, in its carbon price prediction, expected EU Carbon Permits to trade at €73.63 a tonne by the end of this quarter. The economic data provider forecast the carbon emission futures in Europe to trade at €83.74 in a year's time.
Long-term carbon price predictions
For a long-term carbon price prediction, respondents in the Refinitiv survey estimated that EU ETS could hit €100/tonne in 2023 and trade above €100/tonne in 2030. The survey did not ask respondents for a carbon price forecast for 2025.
When looking for a carbon price forecast, it's important to bear in mind that analysts' predictions can be wrong. Analysts' views are based on making a thorough fundamental study of the asset's performance. Past performance is no guarantee of future results.
When looking at It's important to do your own research and always remember your decision to trade depends on your attitude to risk, your expertise in the market, the spread of your investment portfolio and how comfortable you feel about losing money. You should never invest more than you can afford to lose.
FAQs
Is carbon a good investment?

Climate change is having increasingly adverse impacts. By diversifying their portfolios and supporting the slow transition to net-zero, investors may make a significant contribution to environmental conservation.

Whether carbon is a good investment for you depends on your risk tolerance, investing goals and portfolio composition. You should do your own research. And never invest any money that you cannot afford to lose.
Will carbon prices go up?

According to a survey by Refinitive, market participants expected the EUA to trade at hit €100/tonne in 2023, up from the €80 to €90 range this year and above €100/tonne in 2030. However, surveys and analysts' views are subject to error. It is important to do your own research.
Should I invest in carbon credits?

Whether you should invest in carbon credit depends on your risk tolerance, investing goals and portfolio composition. You should do your own research. And never invest any money that you cannot afford to lose.