Crypto markets today: Bitcoin holds near $63k as volatility eases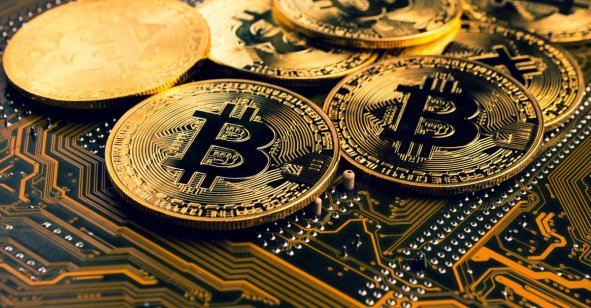 Bitcoin moved in a range near $63,000 (£45,650) on Tuesday, paring its declines from an all-time high reached last week, as traders awaited fresh cues on market direction.
The oldest cryptocurrency has pulled back by more than 6% from a record of almost $67,000 on 20 October, which was reached amid market optimism that demand would see a boost following the launch of the first US exchange-traded fund for the digital token. A measure of historical volatility in bitcoin declined to the lowest level in more than a month.
The whole crypto market gained 1.2% over the last 24 hours and its total capitalisation now stands at $2.63trn. Market sentiment remains upbeat, with positioning data in the top five cryptocurrencies from capital.com showing as much as 92% of the trades were bullish.
Shiba Inu rallied to a new all-time high of around $0.0000485 on Tuesday afternoon, rebounding from a slump earlier this week that came after Elon Musk tweeted that he had no holdings in the digital token.
What is your sentiment on XRP/USD?
Vote to see Traders sentiment!
Chart of the day: Bitcoin volatility eases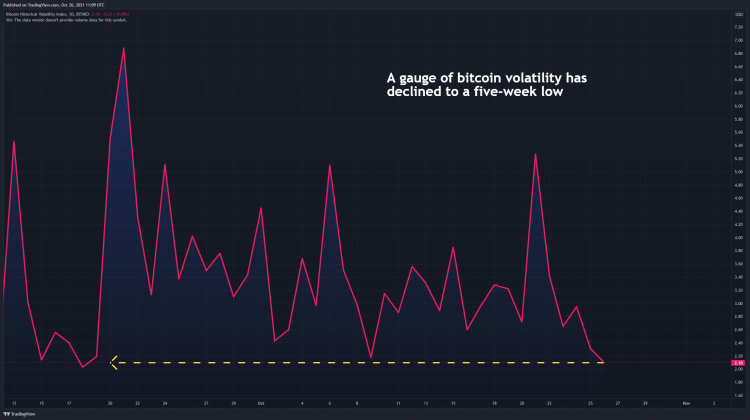 Bitcoin historical volatility chart – Credit: TradingView
Quote of the day:
"I've started to question now whether or not cryptocurrency could actually become the reserve cryptocurrency of the world as more and more people lose confidence in it." -- U.S. Senator Rand Paul from Kentucky, Republican, in an interview for Axios on HBO
Top 5 cryptocurrencies
Bitcoin appears to have stabilized after reaching a record high last week and then suffering a subsequent slump; the biggest cryptocurrency was down 0.32 % in the last 24 hours to $62,836
Ethereum gained 1.65 % in the same period to $4,209.83. However, its seven-day gain of 10.27 % is the biggest one among the top five cryptocurrencies
Binance Coin was trading at $486.32 around noon in London on Tuesday, a daily gain of 0.4%
Cardano added more than 1%, reaching $2.17
Tether remained flat, adding 0.2 % gains and trading at $1.00 Tuesday morning
Key gainers
The 11th biggest cryptocurrency by market cap, Shiba Inu, shot to a new record high of $0.00004654 Tuesday mid-morning.
Solana saw the biggest weekly gains among the top 10 cryptos: it was up 32.59 % week-on-week - well ahead of Dogecoin's (9th biggest cryptocurrency) weekly gain of 10.79%
miniSHIB topped the table of the biggest crypto gainers over the last 24 hours, after Shiba Inu's off-springs skyrocketed 1566.51% to $0.006335
Key losers
Litecoin was down 0.48% at $194.97
Solana retreated 0.39% over the last 24 hours, after hitting its all-time high yesterday
A coin Solum was the biggest crypto loser over the last 24 hours after plunging 97.39% to $0.003561
More crypto news:
The U.S. Treasury Department is set to task the Wall Street's main market regulator, Securities and Exchange Commission, with regulating stablecoins, Bloomberg reports.
The difference between stocks and CFDs
The main difference between CFD trading and stock trading is that you don't own the underlying stock when you trade on an individual stock CFD.
With CFDs, you never actually buy or sell the underlying asset that you've chosen to trade. You can still benefit if the market moves in your favour, or make a loss if it moves against you.
However, with traditional stock trading you enter a contract to exchange the legal ownership of the individual shares for money, and you own this equity.
CFDs are leveraged products, which means that you only need to deposit a percentage of the full value of the CFD trade in order to open a position. But with traditional stock trading, you buy the shares for the full amount. In the UK, there is no stamp duty on CFD trading, but there is when you buy stocks.
CFDs attract overnight costs to hold the trades, (unless you use 1-1 leverage) which makes them more suited to short-term trading opportunities. Stocks are more normally bought and held for longer. You might also pay a stockbroker commission or fees when buying and selling stocks.