Women in finance: Addressing industry challenges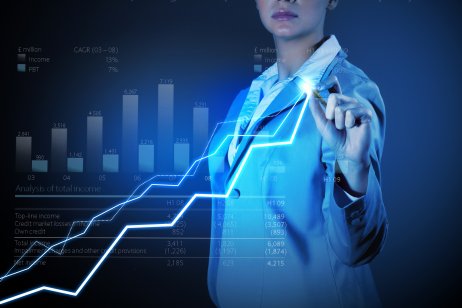 In 2021, the proportion of women in leadership roles within financial services firms was at 24% and is only projected to grow to 28% by 2030, which is still below parity.
That's according to a study carried out by Deloitte, which also revealed the gap between women in executive roles and women in senior leadership roles currently stands at 9%.
The study also highlighted that the Covid-19 pandemic has strained the resources of organisations and individual employees around the world to maintain communication, productivity and personal lives with nearly everyone confined to their homes during lockdowns.
"The unprecedented challenges seen by the pandemic may have slowed the momentum we had seen toward gender parity in leadership roles," Deloitte warned.
As a result, the firm added that financial services firms will need to take intentional, strategic actions in areas such as recruitment, retention, succession planning and return-to-office work arrangements.
"If they don't ramp up efforts now, this gap may widen to as much as 14% by 2030," Deloitte said.
Despite the data, which clearly demonstrates there's still a long way to go for women to be equally represented in boardrooms, many have risen to the top of their game in both finance and business generally. Some of those successful females in finance shared their views with Capital.com on the current climate in the industry, what they perceive as the challenges – and what can be done to change things.

Rising to the top
Emma Sinclair MBE, at the age of 29, became the youngest person in the UK to take a company public in 2005 when property investment company Mission Capital floated on the Alternative Investment Market (AIM).
She told Capital.com that back then navigating a male-dominated environment was not something she even contemplated at the time.
"Honestly, the subject never crossed my mind at that time. At 29, despite not being all that long ago, there wasn't a strong narrative around diversity and representation (well, complete lack of representation!) of women in the corridors of power in the way there is now. I'd go so far as to say at that time, I always thought of it as an advantage; in that I was likely easier to remember, stood out in a crowd and had a different outlook to others," she said.
Sinclair went on to launch her next successful venture in 2008 – Target Parking, a business that provided UK car parks with a range of services including management, security, cash handling and facilities management.
The company went on to manage 450 sites across the UK, with clients including DTZ, Urban Splash, Wolverhampton and the Forestry Commission of Scotland. Sinclair went on to sell Target Parking to its existing shareholder CP Plus. She now co-leads tech company EnterpriseAlumni - market leaders in alumni software.
Sinclair shared her views with Capital.com on the major challenges facing women in finance and business today, after years working in investment banking herself.
Major challenges for women in finance
Firstly, when Capital.com put to Sinclair the question of whether women still faced challenges in finance, she responded "Hell yes! Where to begin?"

"If the startups and scale ups the world is financing are mainly led by men, some who eventually successfully IPO or exit, we are just perpetuating the cycle of female leadership and wealth unevenly distributed if we're only funding one demographic," she said.
Addressing gender inequalities in financial services
Sinclair highlighted how women in business and finance can also help change this, by funding other women directly or via syndicates dedicated to funding women. "Sadly in my experience and despite the tax breaks available, women don't invest in early stage businesses at the same pace as men," she said.
"In the UK, Angel Academe is a fantastic example of action-orientated ways to overcome that challenge. Founder Sarah Turner has gathered a vast professional network who come together four times a year to fund women-founded businesses. Whilst early stage only, those first pools of capital are invaluable and Sarah has single handedly created one way change is taking place," she added.
Ellie Gabr, founder and CEO of boutique investment house EGIB Ltd, and an ex private banker, also gave Capital.com her thoughts on the current status of women in finance and shared her view on whether the gap still needs to be closed when it comes to gender diversity.

Shift from the male-dominated world of finance
Capital.com also asked former investment banker and company CEO Emma Sinclair for her thoughts on whether the male dominated world of finance has shifted and whether more has been done to address gender and diversity inequalities.
She said the pace of change was "not fast enough" and added that it feels "glacial".
On the subject of diversity, Piyali Mitra, a career banker who has worked for global banks in the financial hubs of Mumbai, New York and London over the last 20+ years, told Capital.com that there is definitely a big emphasis on bringing more diversity into finance, especially in the last five years or so.
"There is a bigger spotlight on talent based on gender and indeed people of colour. No question about that. However, there have been instances where hires have been made with a higher weight to diversity vs skill set driven by certain targets/quotas and when that backfires, all women lose out," Mitra said.
"In other words, I don't want to be at a table because I am a woman, I do want to be at the table because I am the best candidate to hold that role,'' she added.
Mitra also highlighted that in an ever-evolving technology landscape, diversity in the workplace is a business imperative. "We need to have a diversity of thought, experience and skill sets to bring the best solutions to the societies we serve," she said.
"The organisations that view this as a business imperative will win over those who are ticking some box on a quota," she added.
Navigating a male-dominated environment
Dr Miranda K Brawn, a non-executive director and board advisor, founder and president of TMBDLF.com, is regarded by the Financial Times, Forbes, Yahoo Finance and Financial News as one of the most influential women in finance. She also shared with Capital.com how she handled the challenges of working in a male-dominated setting.
"The navigation of challenges working in any environment comes down to self-belief and confidence in oneself while exercising persistence and determination especially as my banking career has not been traditional and is rather unique. I started at 18 years old as one of the first women of colour on London's trading floor to become a hedge fund sales trader and then a banking lawyer. Today, I am in the corporate boardrooms of financial, legal and STEAM companies with an international public speaking and media contributory career, which includes Bloomberg News' television and radio. In fact, my first published book is coming out next year revealing exactly how to address these challenges," she said.
Brawn also highlighted that the industry needs to work on sponsors within the organisation who can help women prepare for their next roles in finance.
Brawn pointed out the challenge of not addressing other diversity strands with links to intersectionality.
"There is an issue that the focus is taken away from the fact that women of colour are being left behind and those with disabilities, etc. A simple exercise can take place by looking at the boards within the financial sector and count how many people from a Black African or Caribbean heritage are present, especially following the summer of 2020. With existing financial boards and even new start-ups within finance claiming to have big goals to diversify the financial industry, their PR-related words have proven to be empty and do not match the reality within their boardrooms and senior management at C-suite. Black and mixed-raced women are missing from the financial boardrooms, which is one of the reasons why I launched the UK's first Black Women on Boards initiative to help address this – not just within finance, but across all workplace sectors," she said.
Women in finance: leadership examples
As it stands, there are now a number of powerful women in business and finance.
For example, Abigail Johnson is chair and CEO of Fidelity Investments and is ranked sixth on Forbes' 2021 Most Powerful Women list, and is this year's most powerful woman in finance. She has served as the CEO since 2014 and became chair in 2016.
Other successful women in finance include Cathie Wood, the founder and CEO of Ark Invest; Thasunda Brown Duckett, CEO at TIAA and former CEO of Chase Consumer Banking; Hana Al Rostamani, who became group CEO at First Abu Dhabi Bank in February; Laura Cha, chair of the Hong Kong Stock Exchange, and Jennifer Piepszak, the co-CEO of Consumer and Community Banking at JPMorgan Chase, to name but a few.
A number of women were also recognised for their work at the 2021 European Women in Finance Awards, including Wei Li, global chief investment strategist at BlackRock for excellence in asset management and Allegra Berman, global head of institutional sales and co-head of securities services at HSBC for excellence in banking.
Miranda Brawn is passionate about shaping the future of business and financial inclusion, and increasing the number of females in the finance world in higher profile positions.
"There has been a positive shift since I started my financial career 20+ years ago. However, the percentage of female financial services industry leaders globally remains at 12%. This is a figure that exists despite a sizable number of organisations claiming to have diversity and inclusion initiatives. There is a lot more work to be done. I am working with global companies, including in the boardroom of top investment banks, to help with their diversity goals and strategies where progress is incrementally starting to take shape with my guidance," she said to
Capital.com
.
Despite the growing number of women in financial services high-profile jobs and increased recognition for their work in the sector, there is still progress to be made.