Will Smith Inu price prediction: Is the WSI hype over?
Subscribe to Weekly Highlights
The major market events for the week ahead right in your inbox.
Subscribe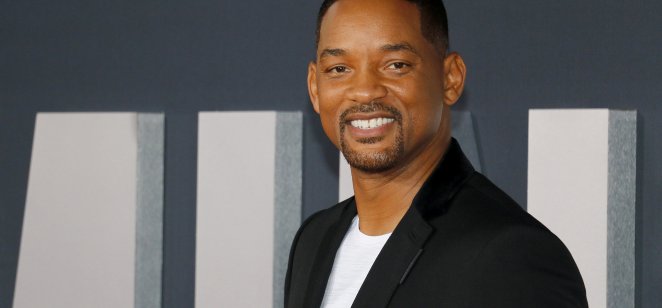 Content
Yet another meme token has surfaced to capitalise on a viral moment. In less than 24 hours from the time the world witnessed actor Will Smith slap comedian Chris Rock at the Oscars ceremony, the cryptocurrency market had minted a token inspired by the event.
While the Will Smith Inu (WSI) coin, which has no affiliation to Will Smith, sparked investor enthusiasm with a significant price surge overnight, it was soon removed from CoinMarketCap after reports from MetaMask. The software cryptocurrency wallet put the project's domain on its warning list over potential security issues.
What other factors are shaping the Will Smith coin-price prediction?
Background check: What is Will Smith Inu?
At the 94th Academy Awards held on 28 March 2022, Rock made a joke about Smith's wife, Jada Pinkett Smith, an American actress who struggles with alopecia, an autoimmune disorder that causes hair loss. Moments later Will walked up to the stage and slapped the comedian before returning to his seat and shouting: "Keep my wife's name out of your ******* mouth."
Later that evening, Smith was awarded the best actor Oscar for his portrayal of tennis coach Richard Williams in King Richard.
The incident became the top story in the media. Two days later, the Will Smith Inu (WSI) token was launched. WSI is an ERC-20 token available on Ethereum. It claims to be 100% decentralised and community-driven. According to data from Crypto.com, WSI/USD spiked to $0.000004162 on 30 March, an almost 5,400% surge from its $0.00000007576 value a day earlier.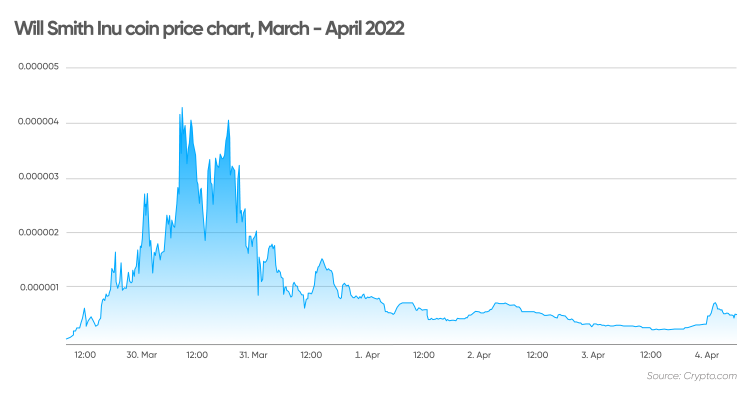 What is the future of the Will Smith coin?
Will Smith Inu, also called the 'slap' token, does not have a whitepaper and is based on a moment making headline news. Without knowing the token's fundamentals, it's difficult to state its purpose and make any plausible WSI price prediction.
Smith's public apology also leads to the possibility that fuss over the incident could become tomorrow's forgotten moment. Via his official Instagram post, Smith publicly apologised to Rock and the Williams family, stating:
"Violence in all of its forms is poisonous and destructive. My behaviour at last night's Academy Awards was unacceptable and inexcusable. Jokes at my expense are a part of the job, but a joke about Jada's medical condition was too much for me to bear and I reacted emotionally..."
We have witnessed a similar token's rise and fall last year. Inspired by the Netflix show Squid Game, Squid Game (SQUID) shot up 83,000% before crashing to zero.
The project's whitepaper is expected to be revealed by early April. Along with its release, WSI will opt for CG listing and contract audits by early April.
The non-fungible tokens (NFTs) have also been scheduled for preview & utility in early April along with the launch of the Will Smith Inu DAO, enabling holders to vote on the coin and its development. Gradually, the project says there will be a redesign of logo and banners, and a release of the new website version followed by an exchange listing.
| | |
| --- | --- |
| Long position overnight fee | -0.0164% |
| Short position overnight fee | 0.0059% |
| Overnight fee time | 22:00 (UTC) |
| Spread | 1.9 |
| | |
| --- | --- |
| Long position overnight fee | -0.0086% |
| Short position overnight fee | -0.0054% |
| Overnight fee time | 22:00 (UTC) |
| Spread | 0.03 |
| | |
| --- | --- |
| Long position overnight fee | 0.0548% |
| Short position overnight fee | -0.0820% |
| Overnight fee time | 22:00 (UTC) |
| Spread | 0.005 |
| | |
| --- | --- |
| Long position overnight fee | -0.0500% |
| Short position overnight fee | 0.0140% |
| Overnight fee time | 22:00 (UTC) |
| Spread | 0.00407 |
By late April and early May, creators expect to run feedback with the community to shape up the platform, which will lead to devising a second version of the whitepaper, partnership initiatives, Discord creation, merchandising and more.
MetaMask warning over security and phishing concerns
After recent reports from MetaMask that the token's domain is now on its warning list, the future of the Will Smith Inu coin looks bleak.
"This domain is currently on the MetaMask domain warning list. This means that based on information available to us, MetaMask believes this domain could currently compromise your security and, as an added safety feature, MetaMask has restricted access to the site. To override this, please read the rest of this warning for instructions on how to continue at your own risk," the warning reads.
"There are many reasons sites can appear on our warning list, and our warning list compiles from other widely used industry lists. Such reasons can include known fraud or security risks, such as domains that test positive on the Ethereum Phishing Detector. Domains on these warning lists may include outright malicious websites and legitimate websites that have been compromised by a malicious actor."
MetaMask is a software cryptocurrency wallet that is used to interact with the Ethereum blockchain. There are several 'pump and dump tokens' that have no intrinsic value, and MetaMask believes this domain could currently compromise investor's security. Phishing in the crypto market has become common, and if one tries to visit the Will Smith Inu website with MetaMask logged in, they might put their wallets under risk.
Investors can be influenced by FOMO (fear of missing out), failing to consider the project's fundamentals. In some cases wash trading and other forms of manipulation are used to make the price chart look bullish or go parabolic. They can just be a 'rug pull' scam.
Will Smith crypto price prediction
At the time of writing (4 April), algorithm-based forecasting site DigitalCoinPrice expected WSI to average at $0.000000815 by the end of 2022, and gradually increase to $0.000000893, $0.000000890 and $0.00000119 from 2023 to 2025. By 2030, Will Smith Inu is expected to reach $0.00000287.
A similar site, Price Prediction gave an upbeat forecasts. For the years 2022, 2023, 2024 and 2025, WSI prices were expected to average $0.00000450, $0.00000667, $0.00000923 and $0.00001341, respectively. In 2027 the WSI target price could average $0.00003090 before climbing to $0.00009952 in 2030.
Investors should always keep in mind that the crypto market is highly volatile. Price predictions are based on algorithms that trace past performance to predict the future. Predictions can be wrong.
Will Smith Inu is a meme token and does not have a whitepaper at the time of writing (4 April). The token's fundamentals are in question, which makes investment decisions critical. And there are reports from MetaMask about security concerns.
The decision to buy cryptocurrencies should depend on your risk tolerance. You need to assess how comfortable you are about losing money before investing in cryptocurrencies. And never invest money that you cannot afford to lose.
Is Will Smith Inu (WSI) a good investment?

It is too soon to predict if WSI is a good investment. The coin has just launched. The creators are yet to state the purpose of the token. The removal of the coin from CoinMarketCap and the appearance on MetaMask's warning list raises concerns. Investors should do their own research before investing.
How high can Will Smith Inu go?

So far, we have only two forecasts. Both are based on algorithms. Forecasts can and do go wrong. The fundamentals of the coin are still not clear. Wall Smith Inu appears on Metamask's warning list. You should conduct thorough research before investing.
Can Will Smith crypto reach $1?

As per analyst forecasts from DigitalCoinPrice and Price Prediction, WSI will not be hitting $1 anytime soon or before 2030. The project's domain was placed on MetaMask's warning list.