US market close: Market sinks on Fed reflection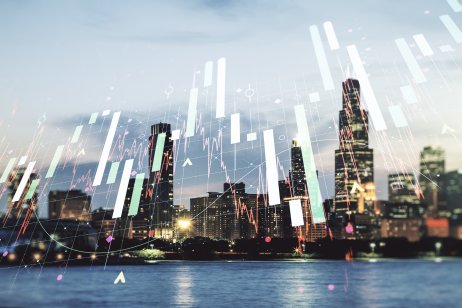 A day after staging a late session rally on the US Federal Reserve's decision to speed up its tapering strategy, Wall Street ended Thursday with the major US benchmarks trading in the red.
The S&P 500 fell 1.1% lower after closing just below a record yesterday, while the Nasdaq Composite went down 2.8%, while the Dow Jones Industrial Average lost 109 points after rising over 200 points for a session high.
Halfway through the session, the Dow Jones Industrial Average was up near 0.40%, the S&P 500 was swaying between small gains and losses, while the Nasdaq Composite was around 1.09% in the red.
Traders start sell-off day after Fed meeting
Yesterday, the US Federal Reserve announced plans to double its tapering pace to $30bn per month to cool down the record inflation.
The Federal Open Market Committee ended its two-day meeting on Wednesday by accelerating its reduction of Treasury and mortgage security purchases and putting it on a path to zero out new purchases by March.
What is your sentiment on NVDA?
Vote to see Traders sentiment!
Winners and losers: Bank stock soars
Shares of Advanced Micro Devices sank 5.8%, while shares of Nvidia plummeted 7.3% in the red.
Shares of JPMorgan are up 1.56%, shares of Goldman Sachs are also up at almost 2% in the green, while shares of Bank of America are surging over 2.41% after analysts at JPMorgan named the stock a top pick for 2022.
In other banking stock, shares of Wells Fargo are 2.74% higher and shares of Citigroup are 1.38% in positive territory.
Tech shares continue to take a beating after spiking higher yesterday.
On Thursday, shares of Adobe have dropped 10.19% after showing an underwhelming quarterly report.
In other tech stock, shares of Apple dropped near 3.93%, shares of Meta Platforms are 1.98% lower, and shares of Microsoft and Amazon are trading down 2.91% and 2.56% respectively.
Oil: Crude prices hit milestone
Oil futures rose on Thursday, settling around a three-week high.
West Texas Intermediate crude for January delivery went up $1.51, or 2.1%, to settle at $72.38 a barrel on the New York Mercantile Exchange, the highest finish for a front-month contract since 24 November, while February Brent crude, the global benchmark, tacked on $1.14, or 1.5%, at $75.02 a barrel on ICE Futures Europe.
Gold: Metal rises as dollar devalues
Gold futures are up as the US dollar weakens in the wake of the Federal Reserve's two-day policy meeting.
February gold added $33.70, or 1.9%, to settle at $1,798.20 an ounce after touching an intraday high of $1,800.60, while March silver increased 94 cents, or 4.4%, to settle Thursday at $22.485 an ounce, following a 1.7% decline a day ago.
Forex: US buck loses step
On Thursday, one US dollar equals 0.88 of the euro, after making up 0.89 of the currency yesterday. The US dollar also lost ground on the Canadian dollar, going from 1.29 on Wednesday to 1.28 on Thursday.
Yields on 10-year Treasury notes went up to 1.422% on Thursday.
Read more: Roblox (RBLX) stock down 18% amid user safety concerns