Storj price prediction: What is STORJ?
Subscribe to Weekly Highlights
The major market events for the week ahead right in your inbox.
Subscribe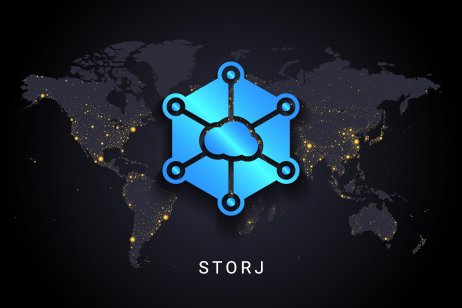 Content
It is designed to help people store their files on the blockchain, but what is STORJ?
Let's take a look and see what we can learn, and also examine some of the STORJ price predictions that were being made as of 17 October 2022.
Storj explained
One of the biggest developments in computer technology over the last 10 years or so has been the growth in cloud computing.
The ability to store documents, files and even computing power remotely has, in its own rather subtle way, changed the way both people and computers work. The idea that things can be accessed away from a specific computer – in effect, shared or at least made available for a fee – means that people can request information, files and upgrades in a way that is quick and convenient.
Where does this all link in with blockchain technology? Well, if you think about it, the idea of a network that is both secure and transparent might well have echoes of the cloud. The idea that people can access information in a quick, secure and shared way is something that the two concepts have in common.
Therefore, it might not come as a huge surprise to learn that there are several blockchain platforms which offer the same facilities as cloud systems.
One such platform is Storj. This system, created by American computer programmer Shawn Wilkinson, is basically a cloud storage network, only it utilises the Ethereum (ETH) blockchain as a basis, meaning that, rather than everything being based on one server in one centralised location, files are split into 80 separate pieces which are then stored among an ever-growing network of nodes located across the world.
As the platform's whitepaper says: "Eliminating central control allows users to store and share data without reliance on a third-party storage provider. Decentralisation mitigates the risk of data failures and outages while simultaneously increasing the security and privacy of object storage. It also allows market forces to optimise for less expensive storage at a greater rate than any single provider could afford. Although there are many ways to build such a system, there are some specific responsibilities any given implementation should address."
Every blockchain-based platform needs to have its own native cryptocurrency, and Storj has the conveniently named STORJ token. The crypto is used to pay rewards to the people who run the system's nodes, and it can also be bought, sold, or traded on exchanges.
One thing to point out is that, since it is based on Ethereum, STORJ is a token, rather than a coin. You might see references to such things as a "STORJ coin price prediction", but these are wrong.
STORJ price history

STORJ price history from launch to present - Credit: Capital.com

Let's now take a look at the STORJ price history. While past performance should never be taken as an indicator of future results, knowing what the token has done in the past can help give us some important context when it comes to either interpreting a STORJ price prediction or making one of our own.
STORJ first came onto the open market in August 2017, when it was worth $0.55. There were some peaks and troughs, but at the end of the year the market went into a bubble, lifting prices and seeing STORJ trade above $2.50 in January 2018.
After this, though, things fell down as the market entered a so-called crypto winter, characterised by stagnation and a distinct lack of growth. On 13 March 2020, the token slumped to an all-time low of $0.04835 in the wake of Covid-19 lockdowns.
Things turned around in early 2021, when the market went through a boom period, and STORJ benefited from a growing interest in cryptocurrency, reaching an all-time high of $3.91 on 28 March 2021. After that, though, things fell down, with STORJ dropping below the dollar for a period in the summer. Despite a recovery later in the year which peaked when the token topped $2.50 in late November, it closed the year at $1.75.
So far, 2022 has been a poor year for crypto, and STORJ has experienced significant losses. Despite the news that it was working with non-fungible tokens (NFTs), a series of market crashes saw it collapse to a nadir of $0.3308 on 15 June 2022.
Since then, there has been some, but not much, recovery and, despite the announcement of a partnership with digital security firm Atempo, the token was trading at around $0.424 on 17 October 2022.
At that time, there were 412,937,122.14 STORJ in circulation out of a total supply of 424,999,998. This gave the token a market cap of about $174m, making it the 139th-largest crypto by that metric.
STORJ price predictions
With that all over and done with, it's time to cast our eyes over some of the STORJ price predictions that were being made as of 17 October 2022.
It is important to remember at this stage that price forecasts, especially when it comes to something as potentially volatile as cryptocurrency, often end up being wrong. Also, it is worth pointing out that price predictions are often made using an algorithm, which means that they can change at a moment's notice.
First, CoinCodex made a short-term STORJ price prediction for 2022 that said the token could expect to drop in the near future, falling to $0.390189 on 22 October before going down even further to $0.205665 on 16 November. Fittingly, the site's technical analysis was bearish, with 19 indicators giving negative signals against 10 showing bullish ones.
Next, DigitalCoinPrice had a STORJ crypto price prediction that suggested the token could reach $0.44 this year, $0.71 next year and $0.91 the year after that. By 2025, the site said the token could be worth $1.11, before hitting $1.18 in 2026 and $1.34 in 2027. In 2028, the suggestion was that the crypto could be worth $1.57 before closing the decade at $1.89. The site made a STORJ price prediction for 2030 of $2.33, with it then expected to reach $2.89 in 2031.
Meanwhile, CaptainAltCoin made a STORJ token price prediction that said the crypto could fall to $0.2999 by the end of 2022, before recovering to $0.6357 in October 2023. The site went on to make a STORJ price prediction for 2025 of $1.09, before arguing that the price could drop to $0.9727 in 2027. There was some good news, though, as the forecast said the token could be worth $2.73 in 2030 before going on to make a STORJ price prediction for 2040 of $5.46.
Finally, WalletInvestor was far more bearish in its STORJ price forecast, suggesting the token was due a tough 12 months, with it sinking to just $0.0745 in October 2023.
When considering a STORJ token price prediction, it's important to keep in mind that cryptocurrency markets remain extremely volatile, making it difficult to accurately predict what a coin or token's price will be in a few hours, and even harder to give long-term estimates. As such, analysts and algorithm-based forecasters can and do get their predictions wrong.
If you are considering investing in cryptocurrency tokens, we recommend that you always do your own research. Look at the latest market trends, news, technical and fundamental analysis, and expert opinion before making any investment decision. Keep in mind that past performance is no guarantee of future returns, and never trade with money that you cannot afford to lose.
FAQs
Is STORJ a good investment?

It is hard to say. The token has, like most other cryptos, lost a lot of its value this year. A lot will depend on how the market behaves as a whole.

Remember, you should always carry out your own thorough research before making an investment. Even high market cap cryptocurrencies have proved vulnerable to the current bear market, so investors should be prepared to make losses and never purchase more than they can afford to lose.
Will STORJ go up or down?

It is difficult to tell. While the likes of DigitalCoinPrice were upbeat, other sites like WalletInvestor were rather more pessimistic about the token's chances, while the likes of CaptainAltCoin were somewhat split, suggesting that things could get worse before they got better. Remember that price predictions often turn out to be wrong, and that prices can go down as well as up.

In volatile cryptocurrency markets, it is important to do your own research on a coin or token to determine if it is a good fit for your investment portfolio. Whether STORJ is a suitable investment for you depends on your risk tolerance and how much you intend to invest, among other factors.

Keep in mind that past performance is no guarantee of future returns, and never invest money that you cannot afford to lose.
Should I invest in STORJ?

Before you decide whether or not to invest in STORJ, you will need to research not only the token but other blockchain-based storage platforms. Ultimately, though, this is a question that you will have to answer for yourself.

Before you do so, however, you will need to conduct your own research. Never invest more money than you can afford to lose, because prices can go down as well as up.
Related reading