Solid interim results boost Wärtsilä share price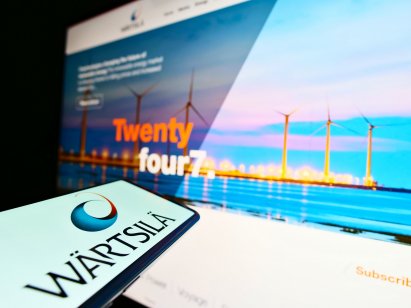 Shares in Wärtsilä rose almost 10% this morning after the Finnish-based company reported strong interim results. Wärtsilä's share price late morning was up 9.09% at €11.64.
The company, which manufactures and services power sources and other equipment for the marine and energy markets, revealed that order intake increased by 11% to €3.58bn ($4.16bn) in the period from January to September 2021.
Service order intake increased by 16% to €1.9bn and the order book at the end of the period increased by 1% to €5.33bn. The comparable operating result increased by 16% to €199m, which represents 6.3% of net sales, and basic earnings per share increased to €0.19.
While market conditions remain uncertain, the company expects demand for its offering in the fourth quarter to be considerably better than that seen in the corresponding period in the previous year.
Healthy demand for services
Commenting on the latest results, Håkan Agnevall, president and CEO of Wärtsilä, said:
"Overall, order intake grew by 21% from a low level in the corresponding period in 2020, supported by all our core businesses. The demand for services remained solid across customer segments, resulting in a 14% growth in service order intake. Net sales increased by 11%, driven by a 20% growth in service sales. Furthermore, profitability continued to improve."
He added: "The comparable operating result increased by 43%, driven by higher sales volumes and a more favourable sales mix between equipment and services. We saw good progress especially in the Energy and Marine Power businesses. Marine Systems' result continued to be burdened by low scrubber volumes."
Read more: Shares of Petrofac take a pounding over fine for fraud