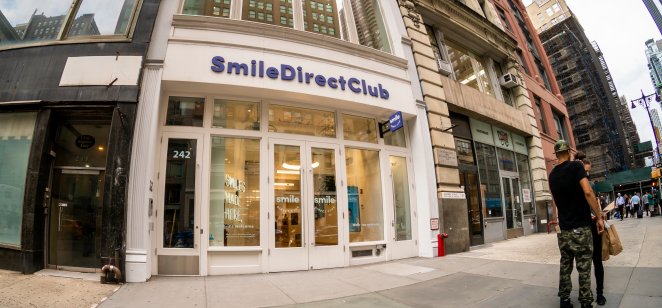 Content
Walking through the parking lot of many local malls in the United States, you cannot miss the large Smile Direct bus.
SmileDirectClub markets itself as the first Medtech platform for teeth-strengthening.
Smile Direct is a technology and healthcare company in one. The firm operates an oral care orthodontic business which offers teeth aligners and therapy treatments that straighten your teeth and improve your smile.
The teledentistry process is relatively simple, and Smile Direct provides an evaluation, alignment treatment, and consultation by a dentist who monitors your progress.
The company's core products – high-quality clear aligners – are priced up to 60% less than traditional solutions offered by an orthodontist.
The company initially launched in 2014 and gave customers a choice to either go to one of the SmileDirectClub offices and have their mouth scanned to produce aligners, or have a mold sent to their home, allowing the company to use its 3D manufacturing process to make bespoke teeth aligners for specific customers.
Four years later, SmileDirectClub sent a fleet of SmileBuses across the United States to make it easier for customers to find an office. The Smilebus concept was launched in the United Kingdom in 2020. The goal is to provide premium orthodontic care to those who cannot afford braces. SmileDirectClub will receive a patent for its SmileBus concept.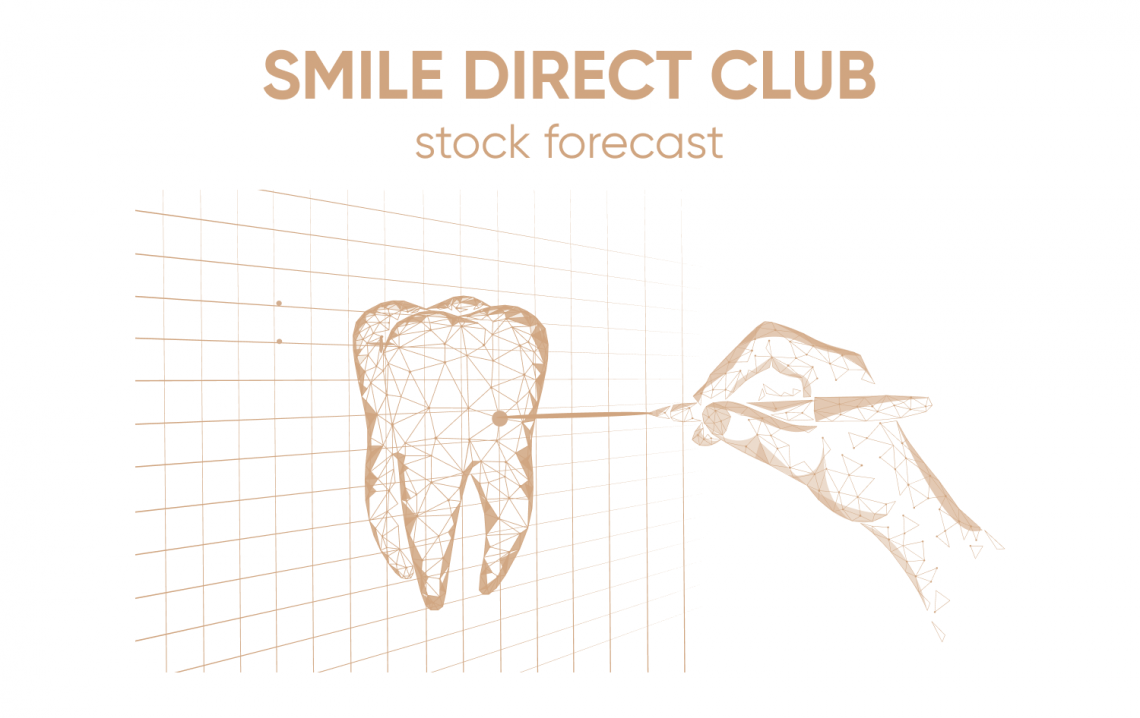 Where is the SDC stock now?
The SmileDirectClub stock trades on the Nasdaq under the ticker (NASDAQ: SDC).
The teledentistry process is relatively simple, and Smile Direct provides an evaluation, alignment treatment, and consultation by a dentist who monitors your progress.
The biggest SDC stocks news for prospective investors is that the stock price has tumbled more than 66% since hitting a high of $16.08 in 2021. The risk-reward profile brought about by the steep decline in the SDC share price presents a buying opportunity but major downside risks remain.
Despite the attractive technical analysis picture, some risks could lead you to shy away from this healthcare company that uses technology to improve your smile.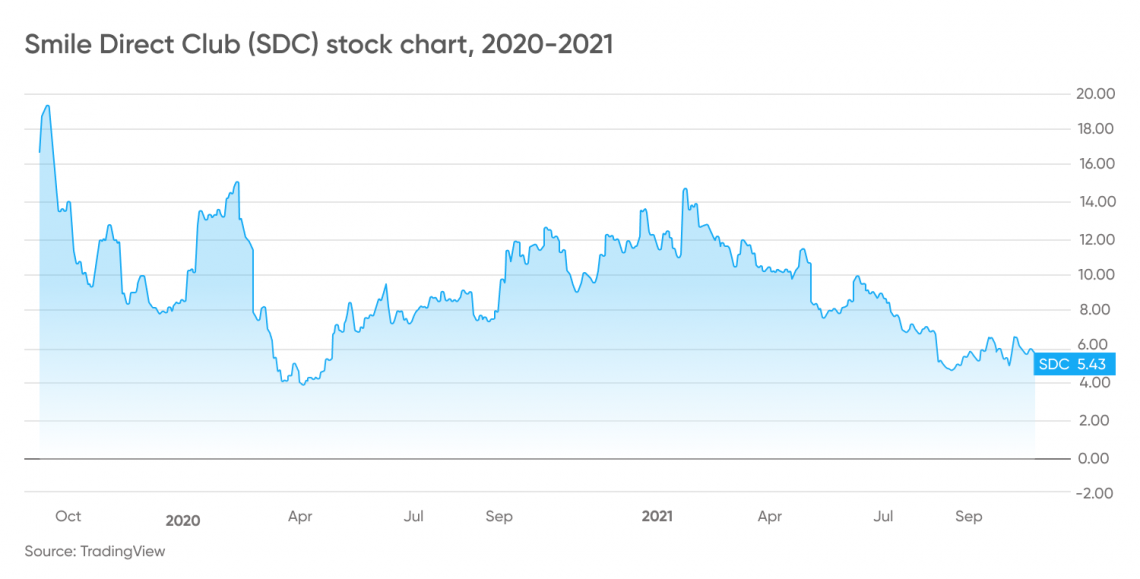 Fundamental analysis
Despite SDC having an innovative business model, the stock price has been in a downtrend for most of 2021. After hitting a high near $16 per share in February, the SDC share price is now sitting under $6. The company blames two things for the decline in its revenue and earnings that contributed to the sharp stock price decline.
A cyberattack in April 2021 and

The impact of COVID-19 on its target demographic
The company announced in a regulatory filing that in April 2021, a cybersecurity issue that demanded ransom was eventually averted but cost SDC $15 million in the second quarter. The incident brought on a slew of downgrades to the stock rating and the target price.
While SDC centres around disruptive innovation and new technology, some of the business is still offline – making it susceptible to restrictive government policies in response to Covid-19.
In addition to the risks admitted by the company, SmileDirectClub has a highly leveraged balance sheet, which exaggerates investment risk when it does not make as much money as expected. According to Zaks, SDC has a total debt of $744.1 million. This meant that at the end of the second quarter, its total debt-to-capital was 95.6%.
The falling stock price adds to this problem because it makes it harder for the company to raise new capital to finance its debts.
SDC earnings preview
SmileDirectClub posted second-quarter revenue growth of 62.7% at $174m, up from $107m a year ago. The loss per share widened from $0.13 in 2020 to $0.14 in 2021.
SmileDirectClub is scheduled to release its financial results for the third quarter on 8 November, 2021.
According to Yahoo Finance, the company is expected to lose $0.13 per share. This is based on seven analyst views, with estimates ranging from a low of $0.16 loss to a high of $0.04. These results will compare to an $0.11 loss in the same quarter a year ago.
The company is expected to produce revenue of $181.9 million, with a high estimate of $202.2 million and a low estimate of $170.83 million, based on 11 analyst views. Revenue estimates for 2021 are expected to come in at $740.4 million and rise to $865.3 million in 2022.
SDC stock technical analysis
SmileDirectClub's share price has dropped 66% since hitting a high in February 2021. The stock price has been trading in a very tight range after missing Q2 top and bottom-line figures.
The 52-week range for SDC is a high of $16.08 and a low of $4.63.
| | |
| --- | --- |
| Long position overnight fee | -0.0566% |
| Short position overnight fee | 0.0340% |
| Overnight fee time | 21:00 (UTC) |
| Spread | 0.020 |
| | |
| --- | --- |
| Long position overnight fee | -0.0500% |
| Short position overnight fee | 0.0140% |
| Overnight fee time | 21:00 (UTC) |
| Spread | 60.00 |
| | |
| --- | --- |
| Long position overnight fee | -0.0500% |
| Short position overnight fee | 0.0140% |
| Overnight fee time | 21:00 (UTC) |
| Spread | 0.00600 |
| | |
| --- | --- |
| Long position overnight fee | -0.0141% |
| Short position overnight fee | 0.0042% |
| Overnight fee time | 21:00 (UTC) |
| Spread | 3.0 |
Volume on the share price has been lighter than average at around 16 million shares per day.
Support on the shares is seen in the August 2021 lows of $4.63. Resistance is seen near the September 2021 highs at $7.42. Short-term momentum is negative, as the fast stochastic recently generated a crossover sell signal.
Short-term prices are also oversold. The fast stochastic is printing a reading of 9.5, below the oversold trigger level of 20, foreshadowing a correction.
Medium-term momentum has turned negative as the MACD (moving average convergence divergence) index generated a crossover sell signal.
This situation happens when the MACD line (the 12-day moving average minus the 26-day moving average) crosses below the MACD signal line (the 9-day moving average of the MACD line). The MACD histogram is printing in negative territory with a downward sloping trajectory which points to lower prices.
The implied volatility of SDC is 115%, which is the input used by options traders to determine how much they believe the stock price will move. Since inception, the low at-the-money implied volatility for SDC was 54%, and the high came in the wake of its second-quarter financial results miss at 163%.
A suggested volatility reading of 115% means that traders believe that SDC will move 7.2% every day. This scenario can create very choppy market conditions. This value is priced into the call and put options traded on SDC on the Chicago Board of Options Exchange.
Downside risks
A combination of factors, including the spread of Covid-19, reputational risk after the cyber attack and a competitive landscape, could continue to pressure the stock price.
SmileDirectClub analysis from several investment banks saw analysts reduce their SmileDirectClub stock predictions, ratings and price targets, which added to the decline in the share price.
Additional risks include its upcoming earnings release on 8 November, 2021. The Covid-19 vaccine rollout in the US and UK is likely priced into the stock. A miss on the top or bottom line could mean that the company is not attracting new customers to use its products.
SDC stock price target and ratings
The SDC stock predictions point to the average price target of $7.50, data from MarketBeat suggests. This is based on 11 analyst ratings, with a high price target of $4.50 and the low price target of $4. The consensus rating for the stock is a Hold.
The stock has suffered through a series of downgrades in the past month. Goldman Sachs Group lowered their price target from $7 to $4 in October, while a number of brokerages including JPMorgan & Chase and Wolfe Research downgraded their ratings.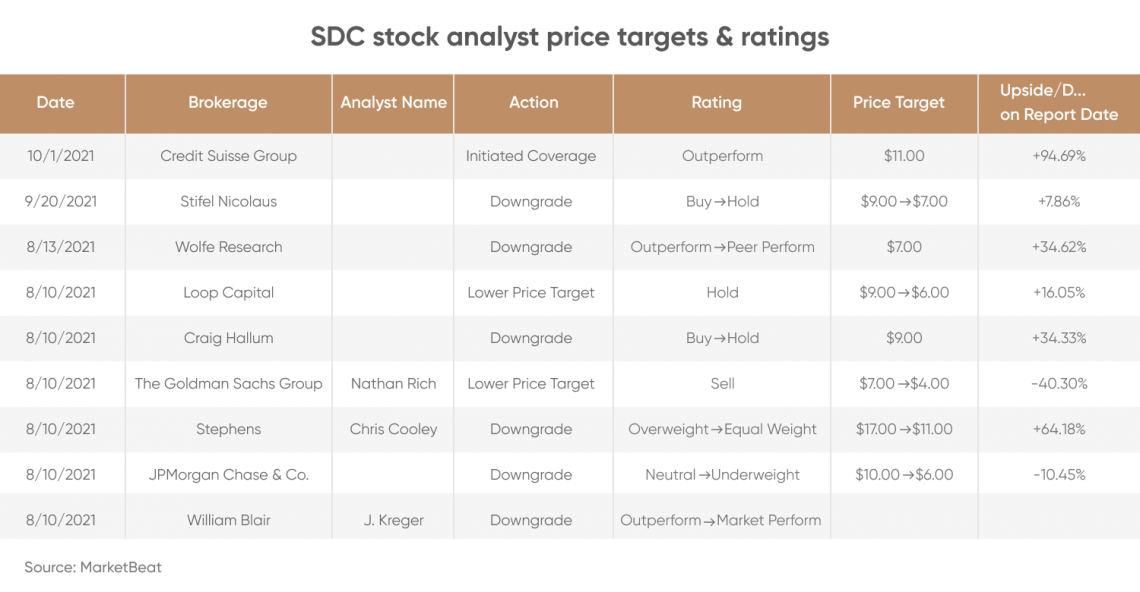 Zacks forecasts for SDC stock are equally gloomy. The investment research firm gives it a sell rating, with a price target of $5 over the next 6-12 months, down from $5.81 at the time of the report on 21 October, 2021. Zacks downgraded SDC stock from Neutral to Underperform over the same time period.
Analyst views
With such a large decline in the share price at hand, analysts at Zacks are naturally highlighting debt and solvency risks.
"Although the first quarter's total debt was much higher than the corresponding cash and cash equivalent level," the analysts noted, "the company has short-term-payable debt of $10.7 million on its balance sheet, much lower than the present level of cash in hand."
Zacks notes that the company remains dominant within its niche, though that dominance could wane with new expansion efforts.
"SmileDirectClub competes with a handful of smaller companies that collectively have limited market share in the clear aligner industry," the analysts said. "Examples of competitors include Candid Co, Byte (Dentsply) and SnapCorrect."
Analysts at Zacks also suggest that SDC's expansion into partnerships and the wholesale business brings a number of new competitors. "With the introduction of the company's collaborative and wholesale partner network, it also faces competition from more well-established competitors in the traditional orthodontic industry."
FAQs
Why has SDC stock been dropping?

A wider than expected loss in Q2, a cyber attack that damaged reputation and a highly leveraged balance sheet may have all contributed to the fall of the SDC stock.
Is SDC a good buy?

Whether to buy or sell SmileDirectClub depends on your own financial position and risk tolerance. The shares are heavily discounted from the prior peak but weak sentiment means more downside is possible.
How to buy SmileDirectClub stock

SmileDirectClub stock is listed on NASDAQ under the ticker symbol SDC, and can be bought or sold via a stockbroker.
The difference between trading assets and contracts for difference (CFDs)
The main difference between CFD trading and trading assets such as commodities and stocks is that you don't own the underlying asset when you trade using a CFD.
You can still benefit if the market moves in your favour or make a loss if it moves against you. However, with traditional trading you enter a contract to exchange legal ownership of the individual shares or the commodities for money, and you own this until you sell it again.
CFDs are leveraged products, which means that you will only need to deposit a percentage of the full value of the CFD trade in order to open a position. But with traditional trading, you buy the assets for the full amount. In the UK, there is no stamp duty on CFD trading, but there is when you buy stocks, for example.
CFDs attract overnight costs to hold the trades (unless you use 1:1 leverage), which makes them more suited to short-term trading opportunities. Stocks and commodities are more normally bought and held for longer. You might also need to pay a broker's commission or fees when buying and selling assets directly, and you'd need somewhere to store them safely.
Read more: Humanigen stock forecast: what's next for the biopharma stock?