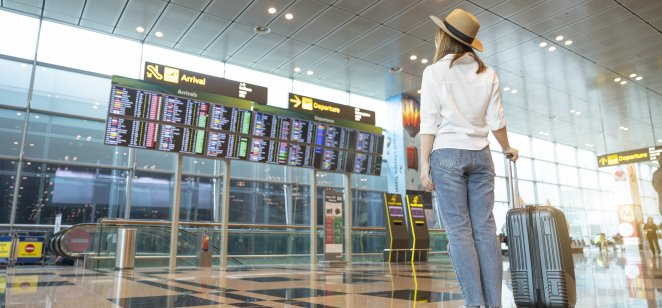 Content
As Europe's airports grapple with continued travel disruptions, Scandinavia's largest airline company SAS (SAS) has filed for bankruptcy protection in the US. Recent pilot strikes pushed it over the edge, leaving the airline struggling to survive. Investors are likely to observe the revenue potential before investing in this sector.
SAS (SAS) filed for bankruptcy in the US, which has allowed it to gain some time as it restructures its financial plan. This was caused by the ongoing travel disruptions being seen across all European airports, and further exacerbated by the recent wage dispute with its pilots. SAS is likely to survive the current situation with enough liquidity to get it through the coming weeks.
Budget airlines in Europe including EasyJet (EZJ) and Ryanair (RYA) are most at risk, as rising costs are likely to erode profit margins in the coming months. Airlines like IAG (IAG) and Lufthansa (LHA) may deliver better results. However, the whole sector is likely to suffer in the coming months, and profitability will need to improve across the board before stocks rally again.
What is your sentiment on EZJ?
Vote to see Traders sentiment!
SAS (SAS) Price Chart
Bankruptcy protection
The 2022 peak travel season is underway, and it was supposed to be the first opportunity for the airline sector to recover since pandemic travel restrictions were lifted. Instead, airlines have had to deal with a number of travel disruptions caused by labour shortages, fuel prices and political effects from the war in Ukraine.
Amid this existing chaos, SAS (SAS) found itself in a wage dispute with its pilots which led to a strike, causing a number of cancelled flights and a significant financial impact.
At the start of July, the company filed for bankruptcy in the US. Dani Hewson, analyst at AJ Bell explains to capital.com the reason behind this move "The strike by pilots pushed the Scandinavian airline over the edge and it was forced to utilise the legal protection afforded to it by filing for bankruptcy in the US to allow it to keep trading whilst it secures additional financing."
The reason this was done in the US in particular was due to the legal benefits the airline may receive in the country as Rico Luman, senior sector economist at ING explains: "Chapter 11 in the US is a facility to restructure under court supervision, which is not similarly offered in other countries. It could have to do with relatively high operational costs in the US business, but also with debt restructuring (and home-government support in Sweden and Denmark)."
Ryanair (RYA) Price Chart
Stock Outlook
Although stocks of all airlines have faced a sell off recently, SAS (SAS) stock has been the worst performer in the past week, falling 19%, almost double that of competitors like Ryanair (RYA) and EasyJet (EZJ).
Hewson believes the recent move by the airline has allowed it to gain some time as it deals with financial restructuring plans.
"SAS says it has enough liquidity to keep it ticking over for now and will continue to serve passengers whilst it pushes ahead with a restructuring plan announced at the start of the year. It needs to take a salami slicer to cover costs if it's going to attract new money and it does have a tentative offer from the Danish government that it could inject more cash if additional private investors can be found."
EasyJet (EZJ) Price Chart
When will this crisis end?
Airlines in Europe are likely to continue to face headwinds in the short term.
Hewson says: "Strike action will make disruption inevitable, and many would-be passengers have been put off by images of crowded airports and social media posts detailing cancellations and disappointments."
Luman points out that the recovery in passenger numbers may not be enough to translate into profit recovery: "Travelling numbers are bouncing back, but the recovery is also curbed by labour shortages leading to numerous flight cancellations and rescheduling. In several occasions airports also limit flight numbers (e.g. London airports, and Schiphol)."
IAG (IAG) Price Chart
Are other airlines at risk?
The current situation poses a bigger threat to budget airlines like EasyJet and Ryanair, as opposed to high end ones like IAG (IAG) and Lufthansa (LHA).
Hewson says "Budget airlines rely on numbers to deliver a profit whilst long haul operators can make considerably more on one flight. With the number of flights being offered this summer season already being scaled back by the likes of EasyJet (EZJ) investors will be asking questions about how the schedule changes will impact revenues. The sector has come through one crisis only to find itself flying directly into more turbulence and there will be some investors steering well clear until cruising altitude is finally reached."
Luman says budget airlines may gain from the current uptick of passengers, but are they also most sensitive to the higher costs they are likely to face in the coming months: "Low-cost carriers benefit the most from the strong rebound in leisure traffic and they are not hindered by lagging intercontinental traffic, also they are less affected by lower post pandemic business (class) travelling. So they seem in the best position to benefit from the current uptake (also reflected by occupation rates they present). But they also face the soaring cost environment. Ryanair (RYA) now also agrees that flying is getting more expensive in the coming years (future taxing of external effects is upcoming as well)."
Read more