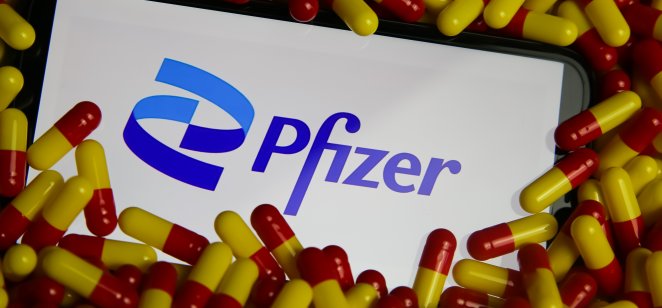 Pharmaceutical giant Pfizer's (PFE) stock price has fallen 10% this year after underwhelming the market with its guidance for Covid-19 vaccine and treatment sales. Although the US-based company announced unchanged vaccine revenue expectations of around $32bn, this was interpreted as demand starting to stabilise.
But, with the PFE stock price up almost 30% over the past year is it a good time to buy the stock? Our Pfizer stock forecast examines the company's recent results and looks at where the price could go over the coming year.
Pfizer stock price analysis
Pfizer is the world's fourth largest pharmaceutical company, with a market capitalisation of $284.24bn. It only trails Johnson & Johnson (JNJ), Roche and Eli Lilly.
The PFE stock price has risen 60% over the past five years, from $31.74 in late June 2017 to $50.94 at markets close on 29 June 2022.
It's increased 28% over the past 12 months. Its 10 year trailing returns are 10.94%, according to Morningstar, which is below the 13.07% achieved by the industry.
Positive vaccine update
Pfizer recently announced positive data from the safety, tolerability and immunogenicity of two Omicron-adapted Covid-19 vaccine candidates.
In a statement, Dr Albert Bourla, Pfizer's chairman and chief executive, reaffirmed the company's policy of following the science and adapting its approaches as the virus evolves.
"Based on these data, we believe we have two very strong Omicron-adapted candidates that elicit a substantially higher immune response against Omicron than we've seen to date," he said.
"We look forward to discussing these data with the scientific community and health authorities so we may rapidly introduce an Omicron-adapted booster as soon as possible if authorised by regulators."
Latest earnings
Pfizer recently reported first quarter 2022 revenues of $25.7bn, which represented an increase of $11.1bn, or 77%, compared to the corresponding period in 2021.
This resulted in net income for the period of $7.86bn – 61% up on last year – while the reported diluted earnings per share showed a 59% uplift to $1.37.
In an earnings conference call, the company highlighted key growth drivers such as Comirnaty, Paxlovid, Eliquis and Vyndaqel/Vyndamax.
"Overall, we reached an estimated 468 million patients around the world with our innovative medicines and vaccines – which represents a 140% increase from the prior-year quarter and is a testament to our purpose: Breakthroughs that change patients' lives," the company stated.
Dr Bourla said he was very proud of the company's performance, both financially and for trying to be a force for good in the world.
"We continue to supply the world with Comirnaty, which remains a critical tool for helping patients and societies avoid the worst impacts of the COVID-19 pandemic, and we are on track to fulfil our commitment to deliver at least two billion doses to low-and middle-income countries in 2021 and 2022, including at least one billion doses this year," he said.
Healthcare outperforms during recessions
Healthcare is a sector with enormous opportunities, supported by long-term demographic trends and fundamentals, according to Ben Bei, product strategist on the Global Emerging Markets Equities Team in BlackRock's Active Equity Group.
"Compared to other sectors, demand for healthcare is resilient and less impacted by economic swings. Historically, the sector has been the strongest performer in late cycle and recessionary periods, suggesting this may be an area investors should look into amid uncertainty over the broader macroeconomic outlook."
Bei also highlighted how ageing populations in both developed and emerging markets, as well as increasing wealth and a rising middle class, translates into growing demand for healthcare, noting:
"This sector is also a greenhouse of innovation. An array of R&D companies constantly delivers new products to fulfil unmet demand, which, we believe, act as a long-term driver for the sector's growth."
Amid growing concerns about recession, healthcare companies could provide some protection to investors looking for defensive stocks. The Health sector tends to outperform its peers during recessions, according to Goldman Sachs Global Investment Research.
The sector's stocks posted an earnings per share (EPS) decline of an average 13% during the financial crisis of 2008 and 2009 – the smallest fall compared to other sectors. Drugs and groceries, for example, lost 25%, and the auto sector lost 92%.
Similarly, during the global pandemic, healthcare companies outperformed, posting an EPS drop of 3% – the auto sector lost 57% and energy was down 62%.
"People still need healthcare and drugs. So this is an area that can be much more resilient to market falls and outperform the growth stocks that had done so well in a bull market," said David Jones, Capital.com's chief market strategist.
What do the analysts expect?
What are the latest Pfizer stock predictions? According to Susannah Streeter, senior investment and markets analyst at Hargreaves Lansdown, there are signs that Pfizer's stellar vaccine sales are finally slowing.
What is your sentiment on PFE?
Vote to see Traders sentiment!
"Instead of once again hiking estimates, at the last count Pfizer maintained its sales forecasts, a sign that countries are still continuing planned roll-outs but that demand is stabilising," she told Capital.com.
Pfizer is expected to reap rewards from the precautionary stance taken by health services to ensure populations are protected should fresh variants emerge.
"Recent results released showing a tweaked Pfizer vaccine to target Omicron is safe and effective will also mean it's well-placed to benefit given regulators in the US have recommended that the shots are updated to target new variants this Autumn," she added.
Although Pfizer is dominating the Covid vaccine business, Streeter pointed out that it's not yet known how many booster shots will be needed in the future.
"After the huge success of its product to counter Covid, it's making strides of progress with the development of another vaccine to counter a scourge affecting millions of people around the world," she said.
Streeter highlighted Pfizer's purchase of a $95m stake in French company Valneva. The vaccine specialist is at a late stage in developing a jab to immunise against Lyme disease.
"At least 14% of people around the world have already contracted the illness, and infections are growing, so Pfizer could share in the proceeds of another mass market vaccine if trials go to plan," she added.
A recent note from Karen Andersen, a sector strategist at Morningstar, highlighted how prescription drugs and vaccines accounted for most of its sales.
"Top sellers include pneumococcal vaccine Prevnar 13, cancer drug Ibrance, cardiovascular treatment Eliquis, and immunology drug Xeljanz," she stated.
"Pfizer sells these products globally, with international sales representing close to 50% of its total sales. Within international sales, emerging markets are a major contributor."
In her Pfizer share price forecast, Andersen currently has a $48 fair value level on the stock.
Pfizer stock forecast for 2022 and beyond
The stock was a 'moderate buy', based on the views of 18 analysts compiled by MarketBeat, as of 30 June. Half of them rated the stock as a 'buy' and the other half a 'hold'.
According to the consensus Pfizer stock forecast, the stock could hit $57.26 over the coming year – 12.4% higher than the $50.94 closing price on 29 June 2022.
The most optimistic PFE stock forecast suggested the price could hit $76, which would represent a premium of almost 50%, while the lowest price targets have pencilled in a 13.6% fall to $44.
Pfizer is "an acceptable long-term investment", according to the algorithmic forecasting of Wallet Investor, as of 30 June. The site's Pfizer stock prediction saw the stock rising 8% to $55 over the coming year.
Its Pfizer stock forecast for 2025 put the stock at $61.35, while the five year forecast to June 2027 sees the price at $67.6. This would be a 33% premium over the $50.94 closing price on 29 June 2022
Note that analysts' predictions can be wrong. Forecasts shouldn't be used as substitutes for your own research. Always conduct your own diligence. Remember that your decision to trade or invest should depend on your risk tolerance, expertise in the market, portfolio size and goals.
Keep in mind that past performance doesn't guarantee future returns. And never invest or trade money you cannot afford to lose.
Is Pfizer a good stock to buy?

Whether PFE stock is a good investment for you will depend on your own investment objectives and the research you have carried out on the stock. It's very important to form your own opinion of a company's prospects and its likelihood of achieving analysts' targets. Past performance doesn't guarantee future returns. And never invest or trade money you cannot afford to lose.
Will Pfizer stock go up or down?

According to the consensus Pfizer stock forecast compiled by MarketBeat, as of 30 June, the stock could hit $57.26 over the coming year. The most optimistic PFE stock forecast suggested the price could hit $76, while the lowest price target was at $44. It's important to remember that these predictions can be wrong. You'll need to carry out your own analysis on the stock and make your own mind up about its prospects.
Should I invest in Pfizer stock?

This depends on your view of the company. You will need to carry out your own research to decide. Analysts' expectations can be wrong so it's important to draw your own conclusions. Keep in mind that past performance doesn't guarantee future returns. And never invest or trade money you cannot afford to lose.
Read more: