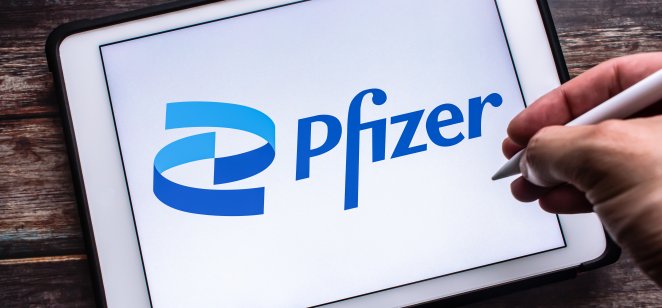 US pharmaceutical company Pfizer (PFE) saw its stock price slide on Tuesday as its 2021 financial results and 2022 guidance failed to meet analysts' expectations. The stock lost as much as 6.4% before rebounding to close down by 2.8% for the day and 8.7% year to date.
Pfizer was cautious in its estimates for sales of Paxlovid, its Covid-19 treatment, leaving the potential for revenues to come out higher than estimated.
Is the dip an opportunity to invest in the stock? Are Pfizer shares a buy, sell or hold?
In this article, we look at the company's earnings results and some of the latest Pfizer stock projections.
Pfizer projects 2022 revenue rise on Covid-19 treatment
Pfizer reported a 106% jump in fourth-quarter revenues to $23.8bn, with full-year revenues up by 92% to $81.3bn, driven by sales of its Comirnaty and Paxlovid Covid-19 vaccine and treatment.
The company expects revenues of between $98bn and $102bn in 2022, with adjusted diluted earnings per share of $6.35-6.55, which would be the highest in its history.
The midpoint of the revenue range represents growth of 23% from 2021, including an expected $1.1bn, or 1%, unfavourable impact from foreign exchange rates, anticipated revenue of $32bn for Comirnaty and $22bn revenue for Paxlovid, which includes doses expected to be delivered under contracts signed or committed as of late-January 2022.
Wall Street analysts had estimated that the company could reach sales of $22.88bn for Paxlovid.
However, Pfizer chairman and CEO Albert Bourla said on the company's earnings call that "we believe we can do even better with each of these metrics in 2022, each one of them... we are only giving guidance for contracts that have been signed or they are very close to be signed because we have agreed critical terms predominantly…
"Clearly, this is only a very small fraction of the 120 million treatments that we are right now preparing to manufacture, and it is a small fraction of things that we are discussing right now with different governments."
In January 2022, Pfizer and BioNTech (BNTX) started a clinical study on adults to evaluate a vaccine based on the Omicron variant of Covid-19, examining the effectiveness of different regimens of the Pfizer-BioNTech Covid-19 vaccine and an Omicron-based vaccine.
The US Federal Drug Administration (FDA) expanded its emergency use authorisation (EUA) in January for a booster dose of the Pfizer-BioNTech vaccine for children aged 12 and above. The FDA also amended the EUA to reduce the time for the booster dose from at least six months to at least five months. In February, Pfizer and BioNTech announced that they have initiated a rolling submission to amend the EUA to include children between 6 months and 4 years of age in response to a request from the FDA.
Also in January, Pfizer shared results from multiple studies showing that Paxlovid is effective against the Omicron variant. In December, Pfizer announced its plans to manufacture up to 120 million treatment courses of Paxlovid by the end of 2022, with 30 million courses expected to be produced in the first half of the year and 90 million courses in the second half. Production will depend on the advance purchase agreements the company receives from around the world.
Outside of its Covid-19 developments, in December, Pfizer announced a definitive agreement to acquire Arena, a clinical stage company that's developing therapies for treatment of several immune-inflammatory diseases, for approximately $6.7bn. Arena's shareholders voted on 2 February to approve the acquisition, which is anticipated to close in the first half of this year.
Covid-19 drives Pfizer share price
The Pfizer share price reached a closing all-time high price of $61.25 a share on 16 December 2021, with the company benefitting from revenues for its Covid-19 vaccine in 2021 and the availability of Paxlovid as one of the first Covid-19 treatments. On 16 December, the European Medicines Agency (EMA) issued advice on the use of Paxlovid tablets to treat adults with Covid-19. The PFE stock chart shows that the share price soared by 60% in 2021, rising from $36.81 a share to $59.05.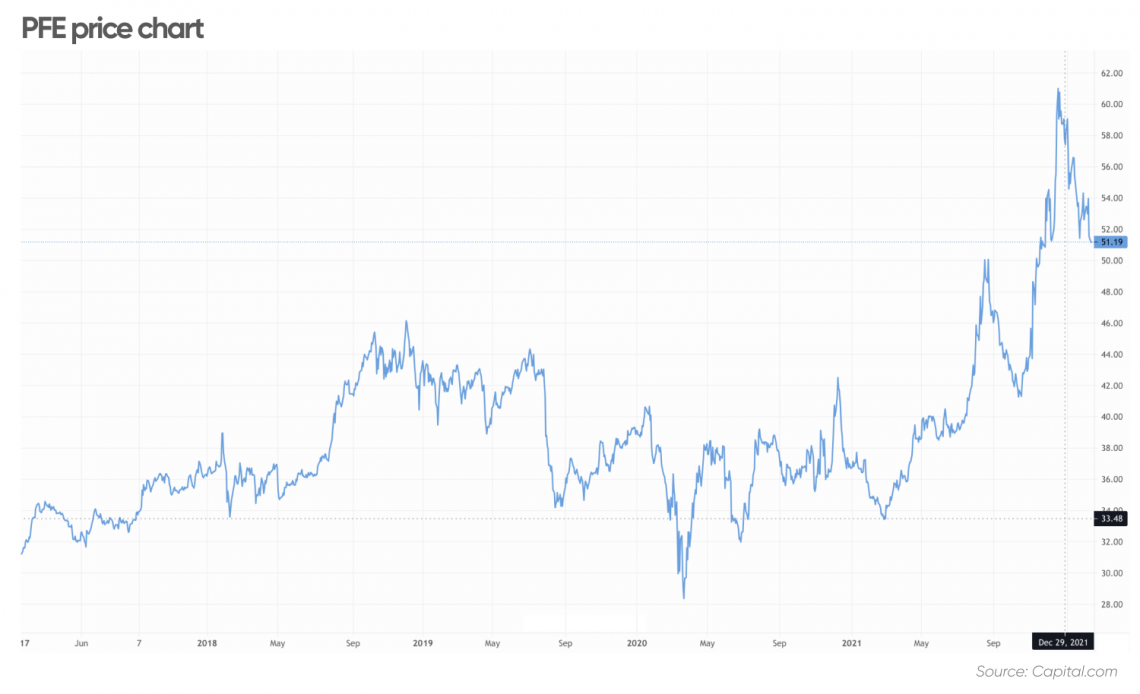 What is your sentiment on PFE?
Vote to see Traders sentiment!
But the stock had declined by 8.7% year-to-date, as of 9 February, closing at $51.70 as the earnings results came in below analysts' expectations and ending the next day at $51.47.
Is Pfizer stock a good investment for 2022 in light of the price retreat from the highs? Read on for some of the latest analysts' Pfizer stock predictions.
Pfizer stock forecast: Will the price rebound to the highs?
The median 12-month Pfizer (PFE) stock price forecast from 19 analysts that have issued a rating was $58.72, as of 9 February, ranging from $44 a share at the low end to a high of $76, according to MarketBeat. There were 10 'buy' ratings and nine 'hold' recommendations, with no 'sell' ratings.
On 8 February, analysts at Goldman Sachs (GS) set a stock price target of $54. Analysts at JP Morgan (JPM) set a price target of $57.
Analysts at Morgan Stanley (MS) issued a price target of $60 in a PFE stock analysis following the earnings report. They noted that Pfizer's fourth-quarter revenue came in 1% below consensus forecasts and earnings per share came in 25% above consensus.
"Relative to cons', 2022 guidance Core revenue was 5% below, Comirnaty was 5% below, and Paxlovid was 7% below, but we expect Covid revenue projections to rise over time. Key focus on Paxlovid PEP data in 2Q & standard risk data in 2H," MS analysts wrote in a client note. Its outlook for the stock is based on a base case of 12.5 times the company's 2023 earnings per share.
"The target multiple is at a slight premium to group median of 12x, due to slightly lower core revenue growth prospects and uninspiring pipeline, boosted by significant near-term Covid vaccine and oral pill revenues which are expected to drop off in 2023+."
Technical analysis from Wallet Investor was bearish based on the last 30 days. There was support for the price from $50.657 down to $49.092, with resistance up at $50.99 to $51.30. The algorithm-based forecasting site was bullish in its long-term Pfizer share price forecast, predicting that the price could rise to $55.48 by the end of 2022 and $57.14 by the end of 2023, hitting the $60.44 level by the end of 2025.
When looking for a projected stock price, you should keep in mind that analysts and algorithm-based forecasters can and do get their predictions wrong. Past performance is no guarantee for future success.
We recommend that you always do your own research, and consider the latest market trends, Pfizer stock news, technical and fundamental analysis, and expert opinion before making any investment decision. And never invest more than you can afford to lose.
FAQs
At the time of writing (9 February), the median rating from Wall Street analysts suggested that the Pfizer share price could rise. Forecast site Wallet Investor predicted the price to rise in the coming years.
You should keep in mind, however, that analysts and forecasters can and do get their predictions wrong. It is important that you do your own research to form a view of a stock. Keep in mind that past performance is no guarantee of future returns.
Whether PFE stock is a suitable investment for your portfolio depends on your personal circumstances and risk tolerance. You should evaluate the level of risk you are prepared to accept before investing. And never invest money that you cannot afford to lose.
Read more: