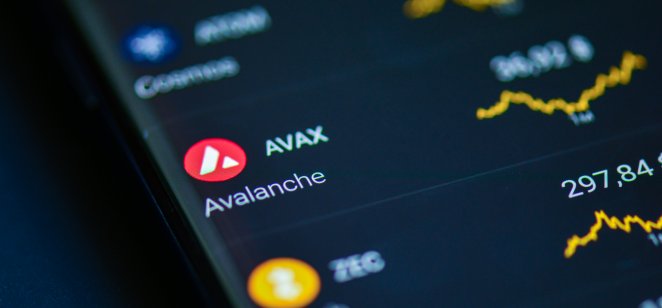 Contrary to what might have been expected, cryptocurrencies Avalanche and Polkadot plummeted Wednesday after receiving a notable investment boost from Grayscale.
Both Avalanche (AVAX) and Polkadot (DOT) fell more than 10%, before rallying moderately, after Grayscale added them to its $480m Digital Large Cap Fund.
But Andreas Park, a University of Toronto finance professor who specialises in cryptocurrencies and blockchain, said the declines could likely be attributed to a down day for the crypto sector.
Bitcoin and most other digital coins fell.
"I don't think this particular investment as such would have driven the shift (in Avalanche and Polkadot) down," said Park.
AVAX is a PoS network
Noting that he is more familiar with Avalanche than Polkadot, Park said he is not sure to what extent he views Avalanche tokens as an investment, stressing that he was not providing investment advice.
"These Avalanche tokens on this network are used to make payments for the services that it provides," he said. "It's not a cash flow generating asset per se. That's not entirely true because you can stake them and get a staking reward on that, so there is some cash flow possibility, and if (Grayscale) believe that this network has the potential to host new applications, that could be valuable."
Park said that Avalanche is a proof of stake (PoS) network, whereby investors have to stake tokens in order to contribute to the block. But while Avalanche is reasonably good at drawing applications, its total pales in comparison to those on Ethereum.
Park noted that there is a very high correlation between different digital coins. Bitcoin and other coins, known as altcoins, often rise and fall with each other.
Jittery market
"Actually, it seems like a very jittery market as a whole, and it's really difficult to tell why on any given day the prices go up or down," said Park.
Problems can arise if investors become concerned that someone has a high number of tokens because the holder could manipulate the network, added Park. Such a situation could prompt a sell-off. But he noted that Grayscale does not hold a large amount of Avalanche's total coins.
Grayscale did not say how much it had invested in Avalanche and Polkadot, or how many coins it acquired. But the company noted that Avalanche comprises only 1.77% of the fund's portfolio and Polkadot accounts for just 1.56%. Avalanche's market capitalisation is more than $22bn.
DOT to US dollar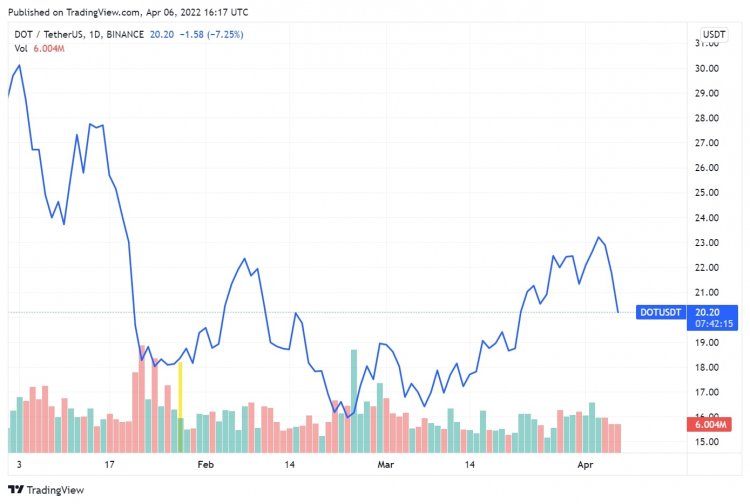 DOT to USD – Chart: TradingView
Park said that given crypto's volatility the declines in AVAX and DOT are not unusual for the sector.
Shift happens
"So this shift (in Avalanche and Polkadot seen on Wednesday) happens," said Park. "Comes with the territory."
When it comes to cryptocurrency, said Park, investors should only be willing to invest as much as they can afford to lose.
"You never know where the crypto market as a whole is going," he said. "It's always a possibility that we have another crypto winter."
What is your sentiment on BTC/USD?
Vote to see Traders sentiment!
A Grayscale spokeswoman told Capital.com that the company does not comment on price movement.
Grayscale uses passive investment methodology
Matt Maximo, a Grayscale research analyst, said Avalanche and Polkadot were added because they passed the Digital Large Cap Fund's qualitative and quantitative criteria during its first quarter 2022 rebalancing.
"Grayscale's multi-asset products, such as the Grayscale Digital Large Cap Fund, are passive methodology-based funds and contain various qualitative and quantitative criteria that determine eligible assets for inclusion each quarter," Maximo told Capital.com.
"As the manager of the fund, Grayscale simply updates the holdings in accordance with the methodology."
Grayscale deploys CoinDesk' DeFi Index methodology to balance funds in the Digital Large Cap Fund.
Like other assets in the fund, Avalanche and Polkadot do not generate any income for Grayscale at this point. But the company is positive about both tokens' long-term prospects.
Significant traction
"Avalanche and Polkadot are both well-established projects that are gaining significant traction in the crypto ecosystem," said Maximo. "Their rapid growth over the last couple of years has become large enough to qualify as a large cap asset, and we believe these protocols will both have more room to grow and will continue to capture market share."
He also offered bullish comments on the overall cryptocurrency market.
"The last 30 years have been a learning experience – integrating blockchain technology into our economies and our daily lives," said Maximo. "The emergence of crypto and Web3 present the next iteration of the digital revolution, which will bring ownership and digitally native assets to users directly."
As a result of the portfolio rebalancing, Grayscale dropped SushiSwap (SUSHI) and Synthetix (SNX) from CoinDesk's DeFi Index and DeFi Fund. SushiSwap's and Synthetix's prices also tumbled on Wednesday.
Read more