OMG coin price prediction: Can the token go up?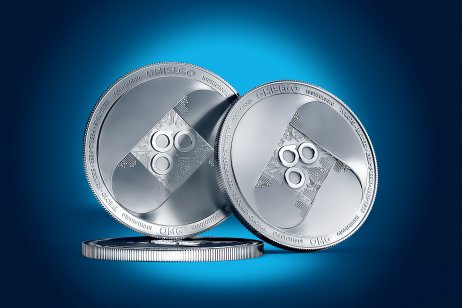 OMG Network claims to be a quick and affordable way to transfer ethereum (ETH) and ERC-20 tokens globally, without restrictions. The crypto project might have captured investors' interest, as on 4 October 2021 the OMG token price rallied to test the prior highs of around $16 not seen since 2018. The cryptocurrency doesn't seem to be giving up its gains, either, hovering around $14.44 at time of writing (26 October).
Does the OmiseGo crypto have enough strength to retest its all-time high of $28.35 from 8 January 2018?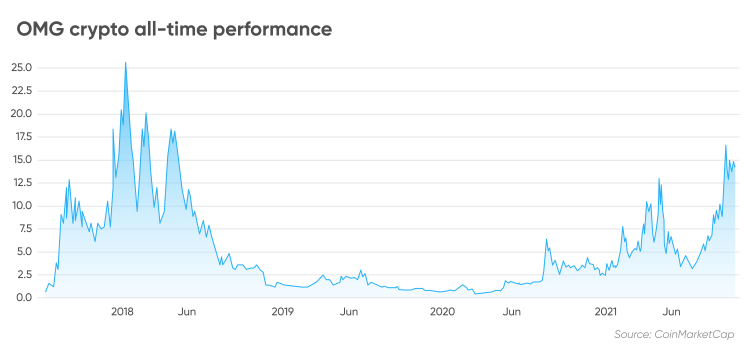 What is an OMG coin? OmiseGo Network and its origin
Formerly known as OmiseGo, OMG is a value transfer network, or payment system, for ETH and any ERC-20 token, which are tokens designed and used solely on the ETH platform. The network was built by a Thai financial services company called Omise – and its native token became the OMG coin.
OMG is a Layer-2 scaling solution, which enables users to carry out transactions on its financial infrastructure several times faster and at one third of the cost compared to carrying out transactions on the Ethereum network itself. It also claims that no security is compromised in the process.
According to CoinMarketCap, its technology has the potential to scale Ethereum to thousands of transactions per second (TPS) instead of the 10 to 14 TPS Ethereum 1.0 is capable of.
OMG Network's native cryptocurrency, OMG coin, began trading in July 2017 at $0.43 per coin. OMG token is used as a payment method for fees on the OMG network and also for staking in its proof-of-stake system, which allows users to secure the network and get rewards.
As of 26 October 2021, there are 140 million OMG tokens in circulation, which corresponds to its total supply. OMG's total market capitalisation is $2.02bn, which ranks it #67 among other cryptocurrencies according to CoinMarketCap.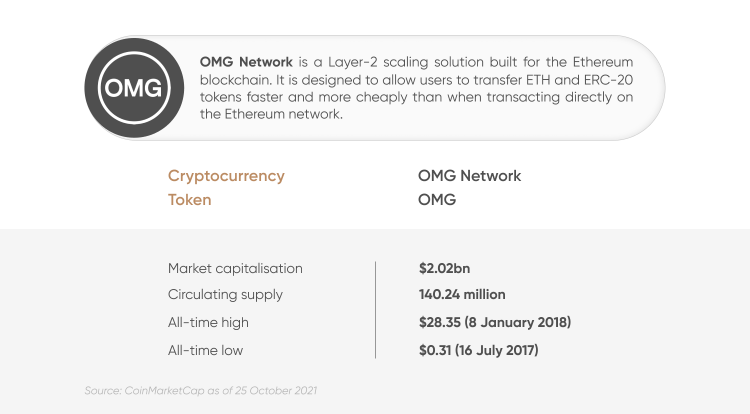 OMG in the current crypto market: the analyst's view
Analysing the current crypto market and OMG's performance this year so far, Alex Benfield, a crypto analyst at Weiss Ratings, shared his OmiseGo review with Capital.com. The analyst highlighted that cryptocurrencies have been one of the best performing asset classes since the beginning of the pandemic – and since the start of 2021.
"Bitcoin (BTC) itself has grown by over 125% year-to-date, and the market cap of all cryptocurrencies excluding bitcoin has grown by just about 550% year-to-date over that same timespan. That goes to show that while bitcoin has grown tremendously, other cryptocurrencies, or altcoins, have grown at an even faster rate. OMG has grown by almost 500% year-to-date, or four times as fast as BTC, showing that OMG has kept pace with some of the best performing altcoins," he said.
Benfield recalled that the OMG coin hit its peak price and popularity in late 2017 to mid 2018.
"Originally packaged as a scaling solution for Ethereum, OMG was really ahead of its time, as ETH didn't really have the scaling and congestion issues in 2017 to the extent the network currently does. It [OMG] still hasn't surpassed the all-time highs it set back then, which could point towards further growth in price still to come during this bull market," he added.
How does OMG differ from its rivals in 2021?
OMG is a Layer-2 (L2) scaling solution project, which increases throughput (the rate at which transactions are processed) on the blockchain. In simple terms, this is an additional protocol that is built on top of blockchains, in this case the Ethereum blockchain.
The goal of Layer-2 scaling solutions, like OMG, is to increase transaction speed (faster finality) and transaction throughput (high transactions per second) without sacrificing decentralisation or security.
As the number of people using Ethereum has grown, it has driven up the cost of using the network, creating the need for scaling solutions like OMG's L2.
Benfield said this has put OMG in the spotlight as it aims to position itself as a premier L2 scaling solution for Ethereum.
"The timing for this new push from OMG couldn't be any better, as Ethereum has faced tremendous congestion and transaction fee issues over the last year due to its huge growth in popularity and use of NFTs and DeFi protocols," he said.
OMG coin news and latest developments
OMG Network has recently announced the launch of Boba Network, a new Layer-2 product created by blockchain developer Enya, in collaboration with OMG. According to Broctagon CEO Don Guo, cited by CoinDesk, "The project is a Layer-2 solution that allows crypto to have payment processing speeds that rival payment heavyweights like Visa and Mastercard."
The news pushed OMG back into focus. To support the Boba mainnet, OMG Foundation is releasing a new token for the platform called BOBA. Existing OMG holders are expected to get a one-to-one drop of new BOBA tokens if they bridge their OMG tokens to the new Boba network.
OMG price analysis: A stellar performance YTD
When OMG launched in July 2017, the OMG token price was around $0.43. It broke the $11 barrier in early September. The price then fluctuated before hitting its all-time high of $28.35 in January 2018.
A big fall then followed and by the end of 2018, OMG coin was down to $1.42. It then dipped further to below $0.60 by December 2019.
A boom in the cryptocurrency market then saw its value lift again at the end of 2020 and start of 2021. It crashed again in June this year to around $3.33, but has since risen once more.
The price of OMG has surged 456% year-to-date, bringing OMG Network's market capitalisation to approximately $2.02bn.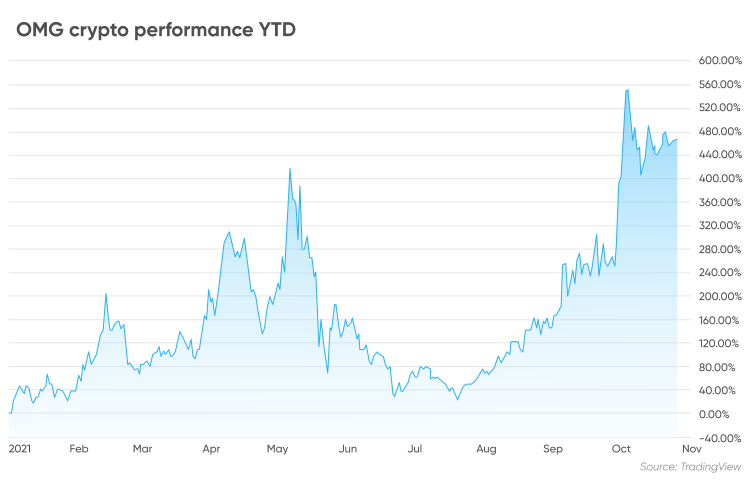 With high volatility over the last few years in mind, is the latest OMG crypto price prediction.
bullish or bearish? Let's see if the analysts think the OMG token has enough strength to rise further.
OMG coin price prediction: Can the OMG coin price go up or is a correction due?
Sharing his OmiseGo price prediction, analyst Alex Benfield told Capital.com that it could be considered a good investment for those looking ahead at the future Layer-2 solutions for Ethereum.
"We witnessed a huge rise in Layer-1 protocols competing with Ethereum during this past summer, and we may very well see a rise in Layer-2 scaling solutions as investors realise the benefit that they provide via faster transactions and lower transaction fees," he added.
Some analysts and platforms also remain optimistic that the OMG cryptocurrency price might continue to rise in 2021 and beyond.
LiteForex is of the view that OMG Network's solution – not having to deal with middlemen charging high transaction fees and having the ability to easily transfer different currencies within seconds – makes the potential of the cryptocurrency incredibly large.
It expects a huge price increase in 2022, not only for the OMG Network, but for the crypto market in general: "There is a forecast that most coins in crypto land will go up in 2022. If we look even further into the future, the price will only go up. The price will not go x12 again, but the price is expected to double to $24," it said.
According to Digital Coin's OMG crypto forecast (as of 26 October), the cryptocurrency could end up this year at $22.55, move up to $24.55 at the end of 2022, $31.62 at the end of 2023, $37.98 at the end of 2024, and hit $43.90 at the end of 2025. OMG is expected to reach $65.84 by 2028.
WalletInvestor believes the OMG token might be a good long-term (1-year) investment. Based on its algorithm-based OMG crypto price prediction, a longer-term increase is expected. WalletInvestor expects OMG to trade at $15.46 by the end of 2021 and climb up to $38.55 by the end of 2025.
However, not all analysts agreed, including TradingBeasts, which said the coin might not be not a good investment. According to its conservative OMG crypto forecast as of 26 October, the average OMG Network price is expected to be $12.11 by the end of 2021 and $13.35 by the end of 2022. Looking further, it expects OMG to hit $14.79 by the end of 2023 and $16.42 by the end of 2024.
To conclude, crypto analyst Alex Benfield gave Capital.com his thoughts on what the coin's future might look like.
"My guess is that the future of Ethereum and smart contract protocols will look like an interconnected web of both Layer-1 and Layer-2 solutions that all serve different use cases – i.e. a network geared towards NFTs, a network focused on DeFi applications, a network focused on gaming, and so forth", he said.
"Each of those use cases has different needs, like increased security, faster transactions, and higher throughput, so a multi-layer and multi-chain ecosystem makes the most sense," he concluded.
Bear in mind that analysts' predictions can be wrong. Analyst projections are based on making a fundamental and technical study of the company's performance. Past performance never guarantees future results.
Do your own research and always remember your decision to trade depends on your attitude to risk, your expertise in this market, the spread of your investment portfolio and how comfortable you feel about losing money. And never invest more than you can afford to lose.
FAQs
Is OMG a good investment?

Just like any other asset, investing in OMG comes with a risk and can give no guarantee of financial success. The cryptocurrency's performance is inherently volatile and depends on a plethora of factors that are beyond an investor's control.

Whether OMG is a suitable investment for your portfolio depends on your personal circumstances and risk tolerance. Keep in mind that past performance is not an indicator of future returns, and never invest money you cannot afford to lose.
What is the future of OMG coin?

Analysts' views about the future of OMG coin differ. The decision to invest in OMG should be based on your own analysis and evaluation. You should consider the fundamental value of the cryptocurrency and its price performance, always bearing in mind that past performance does not guarantee future results.
Read more: ALGO coin price prediction: Will it set new highs?