Mapping the NFT phenomenon: Top four NFT trends to watch in 2022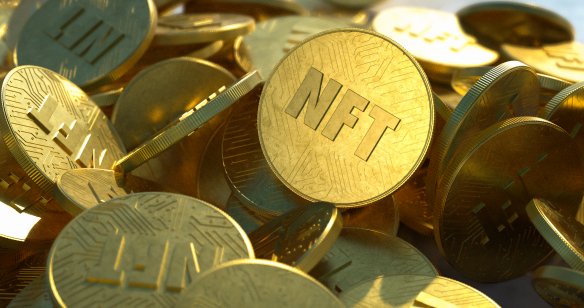 Public attention towards non-fungible tokens (NFT) has exploded in 2021, with the industry experiencing record sales while NFTs continue to transform the way people view art, music and sports. So, what are the top NFT trends investors should watch out for in 2022?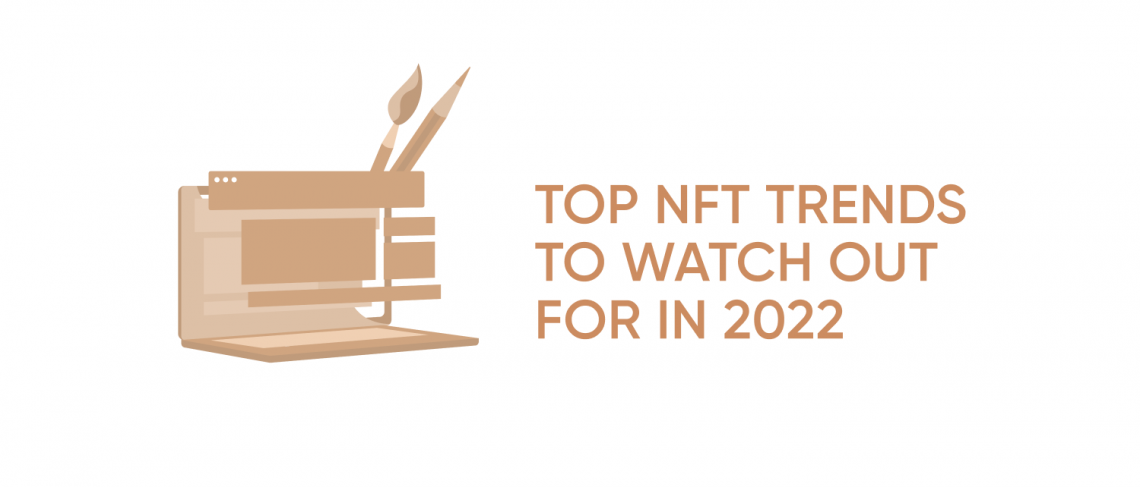 Most NFTs are sold on the Ethereum blockchain, but several blockchains today such as Binance Smart Chain and Solana offer the smart contracts required to mint NFTs.
In simple terms, an NFT is a unique cryptographic token that represents real-world objects, like art, music, in-game items and videos, which cannot be replicated.
The fundamental characteristic of an NFT is uniqueness, which is guaranteed by the fact that there can only ever be one official owner at a time. Ownership is secured by a public and immutable blockchain, ensuring that no-one can modify the record of ownership.
NFTs are used to commodify digital objects. During the third quarter of 2021 alone, the industry generated $10.6bn in NFT trading volume, a 704% increase from the previous quarter.
One of the main drivers for growth has no doubt been the monumental rise of play-to-earn games, with 754,000 unique active wallets registered during the third quarter, according to data from DappRadar.
In October this year, Facebook announced that it will be spending at least $10bn on Facebook Reality Labs, its cross-disciplinary metaverse division tasked with creating augmented reality (AR) and virtual reality (VR) hardware, software and content.
A month before Facebook's announcement, Mada Aflak, a senior software engineer at Twitter, caused a stir by unveiling a possible new development tool that could enable users to display a verified NFT as their profile picture. However, this was listed as an experiment, and the company has not indicated whether it will develop a formal version.
Will we see even more brands getting involved in the booming space, and how can investors spot a new NFT trend? Let's take a look at the likely NFT developments in 2022.
The emergence of NFT ticketing
A major indicator of the development of the NFT market is how emerging NFT applications are now blending online NFT ownership with offline use cases.
Aside from providing new streams of revenue for creators of digital artwork, NFTs also offer a number of benefits for the live entertainment sector, solving many of the issues that the industry faces such as counterfeiting and scalping, thus improving the ticketing experience for both organisers and attendees.
This is due to the tamper-proof digital ledger that simplifies entry, sales and the transfers of tickets.
For instance, the NFT collection known as the Bored Ape Yacht Club (BAYC), which started as a series of private chat rooms and a collaborative graffiti board, has grown to include social events and even a real life party, which offers free attendance for all BAYC and Mutant Ape Yacht Club (MAYC) members.
Gutter Cat Gang, another NFT project, has held immersive in-person events for its members, which included a number of community-centred activities.
Last month, Real Madrid Football Club launched the first ever smart ticket NFT. Powered by LAVA's Flow blockchain, it enables fans and partners to receive exclusive rewards on their digital smart ticket. Users can redeem digital currency that can be used to access exclusive digital items specifically designed for an event.
In 2022, we may see more event organisers minting NFT tickets onto a chosen blockchain and programming them to set a sale or resale price, or running the sale as an auction where fans can bid for tickets.
A benefit of issuing tickets this way is that it can increase incentives for users to purchase NFTs, while providing venues with new opportunities to collect royalties on secondary sales. The Covid-19 pandemic has accelerated digitisation more generally, which may help to drive the adoption of NFT tickets.
Virtual real estate
Next on the list of the latest NFT market trends is the metaverse, which refers to a combination of virtual reality, augmented reality and the internet.
The metaverse offers a user-owned internet economy. Players travel through three-dimensional (3D) worlds, wherein they can purchase goods and avatars. This intricate economy revolves around in-game items such as weapons or clothing which are developed and monetised by creators who possess ownership rights.
Each metaverse has its delineated land plots within different ecosystems, and with the hard cap on these plots, virtual real estate has become highly sought-after.
For example, a rare Axie Genesis Plot sold for $2.5m, or 550 ETH last month. In March this year, the artist Krista Kim sold the world's first digital NFT home known as Mars House for 288 ETH, or $515,459, on the digital art marketplace, SuperRare.
In terms of an NFT market forecast, virtual land acquisition could proliferate even further in 2022, especially since Macro Hive data shows that meta-related coins are up 37,000% this year.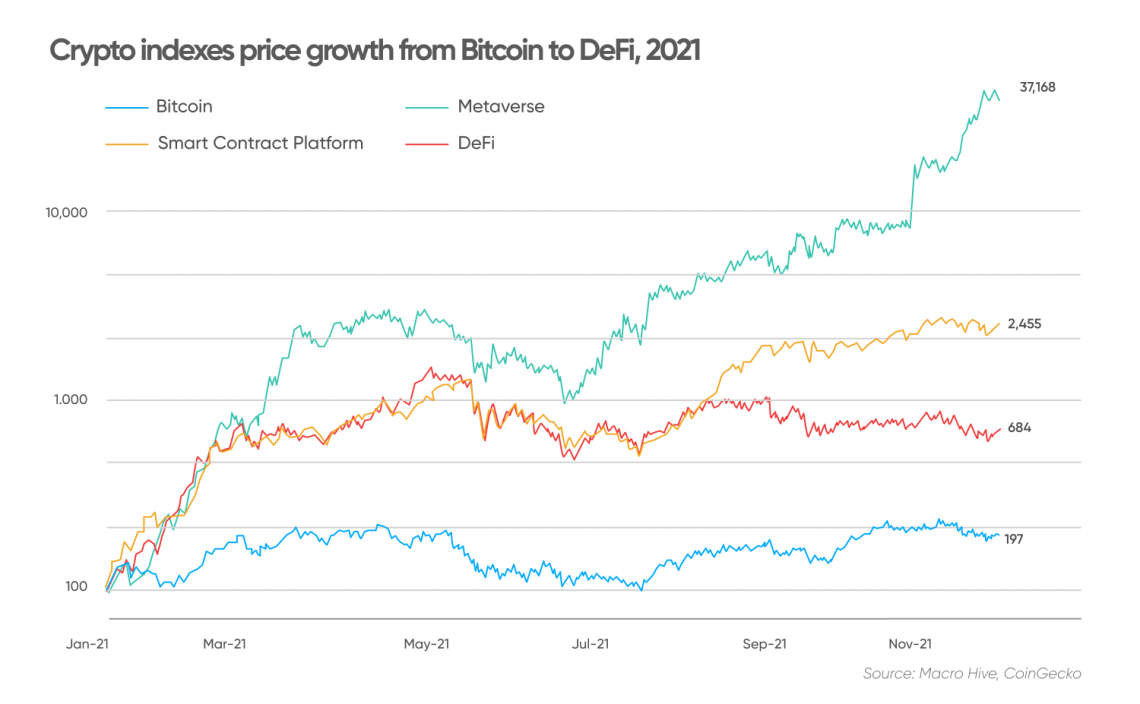 Big brands buying in
Earlier this year, Visa, a world leader in payments, joined the rapidly-growing NFT space when it purchased a CryptoPunk NFT for 49.5 ETH, or approximately $150,000.
The company stated that it views NFTs as representative of the intersection between culture and commerce, with the head of crypto at Visa indicating that NFTs will play an important role in the future of online retail, social media and entertainment.
In July this year, Coca-Cola launched its first ever NFT collection, including a bubble jacket that can be worn in Decentraland's 3D virtual reality game, a 1990s-themed friendship card, sound visualiser and vintage cooler, which all went up for auction via OpenSea.
The Massachusetts Institute of Technology (MIT), one of the most highly-regarded universities in the world, provides its graduates with the option to receive blockchain-based digital diplomas as part of a program promoting recipient-owned virtual credentials. The technology, which was developed in partnership with Learning Machine, uses blockchain to both protect and verify diplomas.
This trend could be one of the most important developments going into 2022 and beyond. It both provides companies and institutions with the opportunity to explore the emerging NFT space, while giving NFT projects a chance to lean on established brands in order to showcase the real-world utility of digital assets.
"2021 was a historic year for NFTs, with a monumental $69.3m auction sale taking place that was achieved through a partnership between MakersPlace, Beeple and Christie's," Ryoma Ito, chief marketing officer at MakersPlace, told Capital.com.
"While many people have heard about NFTs, real-world utility is an issue which needs to be shrinked through NFT education. I expect NFTs to appear more frequently in situations, experiences, services, apps and games that people are already familiar with."
The play-to-earn revolution
Open-world gaming platforms, which combine decentralised finance (DeFi) with blockchain technology, are growing in popularity. As the real-world application of NFTs becomes more apparent within play-to-earn metaverses, more immersive forms of gaming are slowly becoming the norm. It's estimated that revenue from virtual gaming worlds could reach $400bn by 2025.
For instance, Axie Infinity, a popular blockchain-based gaming metaverse that launched only four years ago, has an all-time NFT sales volume of $3.8bn. More than 1,489,555 traders have bought or sold Axie Infinity NFTs in upwards of 11,493,546 transactions to date.
Further to this, Decentraland, a 3D virtual reality platform powered by the Ethereum blockchain, has an all-time sales volume of $117m, according to data from DappRadar, with more than 6,850 traders having bought or sold Decentraland NFTs in upwards of 18,424 transactions to date.
With NFT development set to expand further in 2022, the play-to-earn gaming model could become even more prevalent across the world.
FAQs
Are NFTs a good investment?

Whether an NFT is a good investment for you depends on your personal circumstances and risk appetite. NFTs are an emerging niche. You should do your own research, evaluate the level of risk you are prepared to accept before investing. And never invest money you cannot afford to lose.
How to follow NFT trends?

DappRadar, an analytics and portfolio tracking platform for decentralised applications, provides real-time updates on leading NFT projects and marketplaces.
Can you make money with NFTs?

The use of blockchain technology to transact in digital assets remains a relatively new and untested frontier with a limited operating history. You should do your own research, evaluate the level of risk you are prepared to accept before investing. And never invest money you cannot afford to lose.
Read more: ANJI coin price prediction: will an investment pay dividends?