Netflix shareholders: Who owns the most NFLX stock?
Subscribe to Weekly Highlights
The major market events for the week ahead right in your inbox.
Subscribe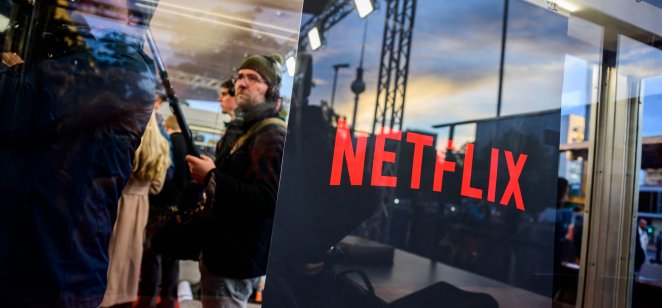 Content
Changes in the macroeconomic backdrop, increasing competition from other streaming platforms, the upcoming introduction of an ad-supported subscription and a recent decline in the number of paid members are some of the headwinds that have pushed the performance of Netflix (NFLX) stock into negative territory this year.
Thus far in 2022 (as of 29 September), NFLX has shed 63% of its value, making this tech stock one of the worst performers of the Nasdaq 100 Index. Who owns the most shares of Netflix and how are they responding to this latest weakness in the stock's performance?
In this article, we share further details about the company's ownership structure and other data that investors may find useful.
What is Netflix (NFLX)?
Netflix is the parent company of one of the world's most popular streaming platforms. The firm was founded in 1997 as a DVD rental service by current CEO Reed Hastings and Marc Randolph.
| | |
| --- | --- |
| Long position overnight fee | -0.0308% |
| Short position overnight fee | -0.0137% |
| Overnight fee time | 22:00 (UTC) |
| Spread | 0.17 |
| | |
| --- | --- |
| Long position overnight fee | -0.0064% |
| Short position overnight fee | -0.0059% |
| Overnight fee time | 22:00 (UTC) |
| Spread | 0.05 |
| | |
| --- | --- |
| Long position overnight fee | -0.0242% |
| Short position overnight fee | -0.0203% |
| Overnight fee time | 22:00 (UTC) |
| Spread | 0.110 |
| | |
| --- | --- |
| Long position overnight fee | -0.0064% |
| Short position overnight fee | -0.0059% |
| Overnight fee time | 22:00 (UTC) |
| Spread | 0.11 |
In little more than 5 years, the company's subscriber base exceeded one million. In 2007, Netflix introduced its flagship streaming platform. By the end of the second quarter of 2022, Netflix boasted 220.7 million paid members and generated revenues of almost $8bn.
Reed Hastings has led the company to where it is since it was founded. However, the firm appointed Ted Sarandos in July 2020 as Co-CEO after he'd spent years as the company's Chief Content Officer. Headquartered in Los Gatos, California, Netflix employs over 11,000 people.
What is your sentiment on NFLX?
Vote to see Traders sentiment!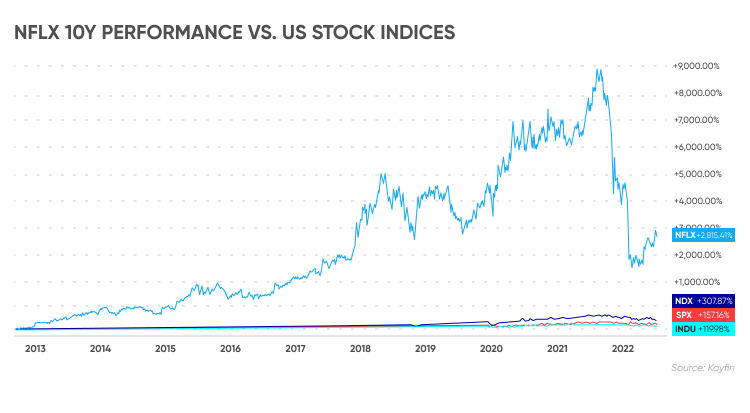 Netflix stock was officially listed on the Nasdaq Stock Exchange in 2002 at $1 a share. In the past 10 years, and despite the latest weakness, the stock has gained 2,815%. That compares to the 307.8% and 157.2% of growth the Nasdaq 100 Index (US100) and the S&P 500 Index (US500) achieved, respectively, over the same period.
Who are the shareholders of Netflix?
According to Netflix's latest annual report filed with the US Securities and Exchange Commission (SEC), 2,548 stockholders of record held the company's common stock, as of December 31, 2022.
Who are Netflix's biggest shareholders? Netflix's most prominent stockholders are brokerage firms that own the stock on behalf of their customers. As of 27 September 2022, the Vanguard Group, State Street, Capital Group, Fidelity Investments, and Blackrock owned roughly a quarter of all Netflix shares, according to data from GuruFocus.
NFLX shares have voting rights, meaning that all Netflix shareholders have a say in the company's affairs in line with the proportion of ownership they hold.
Individuals who buy Netflix stock through a broker can appoint them as a proxy, meaning that the broker can vote on their behalf. However, they can also opt to cast a vote on the company's key decisions at Netflix shareholders' meetings.
Institutional Netflix shareholders
The following is a list of Netflix major shareholders, according to data from GuruFocus, as of 27 September 2022.
Capital Group owns the largest number of Netflix shares through a combination of three of its subsidiaries: Capital Research Global Investors, Capital International Investors, and Capital World Investors. This large asset management firm was founded in 1931. It oversees assets of more than $2trn for investors.
The Vanguard Group – 7.8%
The Vanguard Group is the world's second-largest asset management firm, with assets exceeding $8 trillion. This company offers a wide range of investment products, services, and solutions, including exchange-traded funds (ETFs) and mutual funds. Vanguard is listed among the top Netflix shareholders.
BlackRock Inc. (BLK) – 6.3%
Another one of Netflix's biggest shareholders is BlackRock, the world's largest asset management firm. BlackRock's assets under management exceed the $10trn mark. The firm offers exposure to the US stock market through its iShares family of investment vehicles.
State Street Corporation (SSgA Funds Management) – 3.9%
State Street (STT) is another American asset management company, with assets under management exceeding $4trn. Its vast portfolio of exchange-traded funds (ETF) and other similar vehicles make the firm a commonly top-listed owner of many of the country's leading corporations. HState Street acts as a custodian for shares owned by its customers.
Fidelity Investments – 3.8%
Founded in 1930 by Edward C. Johnson, Fidelity is one of America's oldest financial institutions. The company offers a wide variety of financial solutions, ranging from guided-investing products to index and sector-specific ETFs and mutual funds. Fidelity manages over $5trn in assets for its customers.
Netflix major shareholders among insiders
The following individuals are considered the most prominent Netflix shareholders among the company's insiders, according to data from GuruFocus. This list includes the firm's top executives and members of the Board of Directors.
Leslie J. Kilgore – 35,196,000 shares

David A. Hyman – 31,610,000 shares

Gregory K. Peters – 13,090,000 shares
Data from GuruFocus points to insiders owning around 0.14% of all outstanding common shares in Netflix.
These shares are typically granted to insiders by the company via stock options as part of their compensation packages.
Leslie J. Kilgore
Leslie Kilgore is Netflix's Chief Marketing Officer and a member of the company's Audit Committee. Kilgore has occupied the position since 2000. He previously served as Director of Marketing for Amazon.com. Kilgore oversees the firm's strategy to attract new subscribers and foster loyalty among existing clients. She holds an MBA from Stanford University and a BS from The Wharton School of Business.
David A. Hyman
David Hyman has been Netflix's Chief Legal Officer since 2002. He also serves as the Board's Secretary. Before joining the video streaming giant, Hyman worked at Morrison & Foerster in San Francisco and was General Counsel at e-commerce business Webvan.
Gregory K. Peters
Greg Peters is Netflix's Chief Operating Officer. He was appointed to that position in July 2020 and previously served as the company's Chief Product Officer. Before he joined Netflix, he held senior management roles at Macrovision Solutions and Mediabolic. Mr. Peters holds a BS degree in physics and astronomy from Yale University. Peters is also on the board of DoorDash.
A company's shareholder composition should not be the key reason behind your decision to buy a stock. Whether NFLX is a good investment for you should depend on your investment goals, risk tolerance, and the size of your portfolio. It is important to do your own research before making any investment or trading decision. And never invest or trade money that you cannot afford to lose.
FAQs
How many Netflix shares are there?

According to the latest second-quarter earnings report from Netflix, the company had a weighted average of common shares outstanding of 450.17 million on a fully diluted basis. Data from MarketBeat, as of 27 September, indicated that the number of outstanding shares stood at 444.71 million.
How many shareholders does Netflix have?
Who owns Netflix?

A quarter of Netflix's outstanding shares are owned by five brokerage firms. These companies are the shares' custodians, as the actual NFLX shareholders are the clients they serve. Data from GuruFocus indicates that 83% of Netflix shares are owned by institutions and 0.14% by insiders.
Related reading