Netflix Q4 Earnings: Has cheaper plan increased subscribers as much as expected?
Subscribe to Weekly Highlights
The major market events for the week ahead right in your inbox.
Subscribe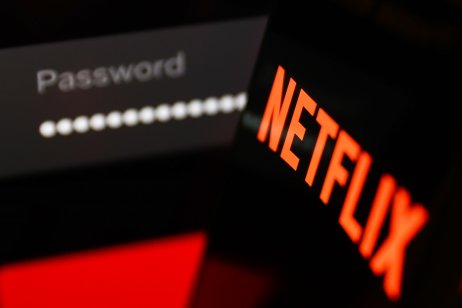 Content
The Q4 earnings season is in full swing now as it kicks off with some of the big names in the banking industry, including Morgan Stanley and Goldman Sachs. The overall feeling heading into this reporting season is that of weakness in growth, and therefore expectations have been set pretty low.
One industry that has struggled the most in 2022 is the tech sector, with the Nasdaq composite dropping over 17% in the year after a stellar performance in 2021. Interest rate rises, soaring inflation, and a stronger US dollar have contributed to US stocks' weakness throughout 2022. But companies have been cutting costs to preserve their margins and so with lower costs and demand proving resilient, there is a strong chance that we see better-than-expected results from a few of the big names.
Tech sector earnings calendar:
w/c 16/01
w/c 23/01
Microsoft - 24/01
Tesla - 25/01
Apple - 26/01
w/c 30/01
What is your sentiment on NFLX?
Vote to see Traders sentiment!
Alphabet - 02/02
Amazon - 03/02
Netflix: Q3 recap
Netflix beat estimates on earnings and revenue in Q3 after adding 2.4 million subscribers in the quarter, a significant rise on the 1 million anticipated. As the world's leading online streaming platform the number of subscribers is a key metric of its performance and something investors keep a close eye on.
Netflix's earnings still declined 2.8% year-over-year to $3.10 but that was expected given the change in the covid-19 landscape which saw most restrictions to mobility lifted, and this was apparent in the performance of the stock, which jumped over 16%.
During the earnings call, the chief financial officer, Spencer Neumann, said that despite building momentum the company was still not growing as fast as they'd like. Some of the key headwinds for Netflix have been a sluggish economy, increased competition, and password sharing. On this last point, one of the key takeaways from the earnings call was the intention to crack down on password-sharing in 2023.
Netflix: Q4 preview
As mentioned earlier, the bar has been set pretty low for this earnings season so it's likely that we see a good amount of positive surprises that will engage positive momentum in the market. The improved fundamental outlook will have likely helped Netflix in Q4, alongside a weaker US dollar, which was one of the headwinds in Q3.
The online streamer is also expected to see a small boost from its new advertising business as it gradually grows its membership base, allowing for more revenue and improved margins. The content offer is also expected to have captured new subscribers amidst a highly competitive landscape.
The consensus forecast for its Q4 earnings is around $0.57 per share, a 58% drop from the $1.33 reported a year ago, and an 82% drop from the previous quarter. Meanwhile, earnings are expected to have grown 1.5% to $7.8B from a year ago.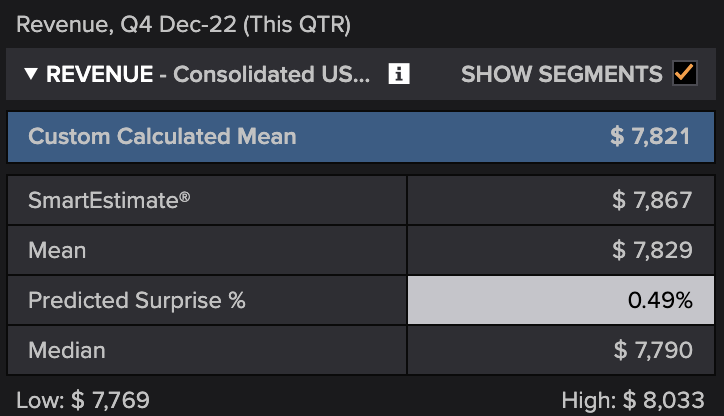 Netflix revenue expectations. Source: refinitiv
As usual, one of the key metrics investors will be monitoring closely is subscriber growth, with Q4 estimates at 4.5 million new subscribers. One of the key efforts to increase this number is the crackdown on password sharing which will force people who have been borrowing accounts to create their own. But given this is mostly expected to take effect in 2023, the Q4 subscriber growth will have benefitted from the launch of the basic plan in November, which is an ad-supported subscription plan that allows viewers to enjoy their content at a lower monthly rate with around 5 minutes of ads per hour of content.

Netflix subscriber growth. Source: refinitiv
Technical analysis
Netflix shares have been steadily rising in the first weeks of 2023 as the general market sentiment improves. The stock managed to break away from its sideways consolidation back in October when the Q3 earnings showed better-than-expect EPS and revenue. The current price is edging towards the December highs at $330 where buyers are encountering some resistance, but a better-than expect-result on Thursday is likely to provide the momentum for another bounce higher and edge towards $400.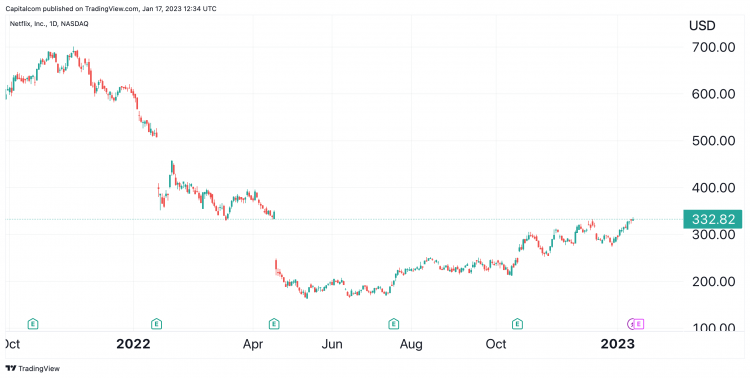 Netflix daily chart. Photo: capital.com. Source: tradingview
Analyst recommendations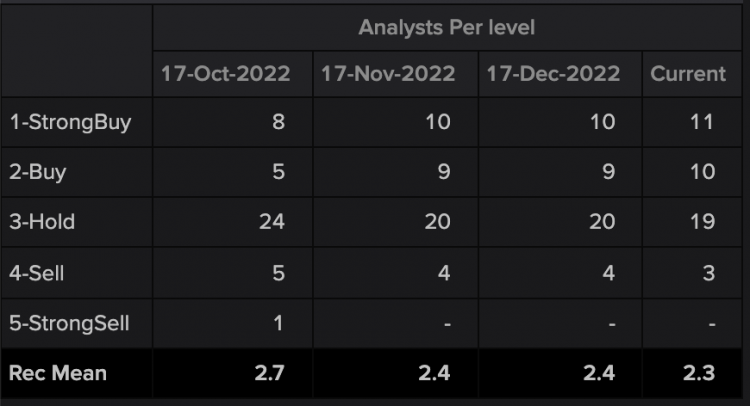 Analyst recommendations. Source: refinitiv