Mullen Automotive shareholders: Who owns the most MULN stock?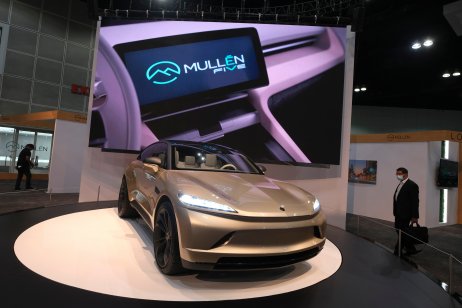 Mullen Automotive lost over 90% of its value this year amid the sentiment shift for growth companies. The Electric Vehicle (EV) maker is at risk of delisting from Nasdaq as it's been trading below $1 since late July.
Despite the rumours of Mullen's bid to acquire competitor Last Mile Electric Solutions (ELMS), and the upcoming "Strikingly Different" tour, MULN stock is failing to regain momentum.
How are its investors feeling? Here we take a look at the biggest Mullen Automotive shareholders to evaluate how they could be affected by the stock's decline.
What is Mullen Automotive?
Headquartered in Brea, California, Mullen Automotive is a car manufacturer. The company owns and partners with several businesses that work towards creating clean and scalable energy solutions.
The company's first electric crossover, the Mullen FIVE, was scheduled for delivery in 2024. It is said to offer a range of 325 miles on a 95-kilowatt hour battery pack, for an estimated pre-tax price of $55,000. Mullen also plans to launch two new commercial electric vans, the Mullen DragonFly and Mullen ONE.
Mullen Automotive trades on the Nasdaq stock exchange under the stock ticker symbol 'MULN'. The company went public on 5 November 2021 by completing an acquisition of Net Element in a reverse merger transaction on 4 November 2021. The name change and listing of the resulting entity Mullen Automotive came into effect the day after.
Since going public, MULN shares have been on a downward trajectory, losing over 90% of their value, as of 29 September.
Mullen Automotive acquired EV truck maker Bollinger Motors in September 2022. The takeover marked Mullen's first EV acquisition and pushed the automaker into the medium-duty truck classes 3-6, along with the B1 and B2 sport utility trucks.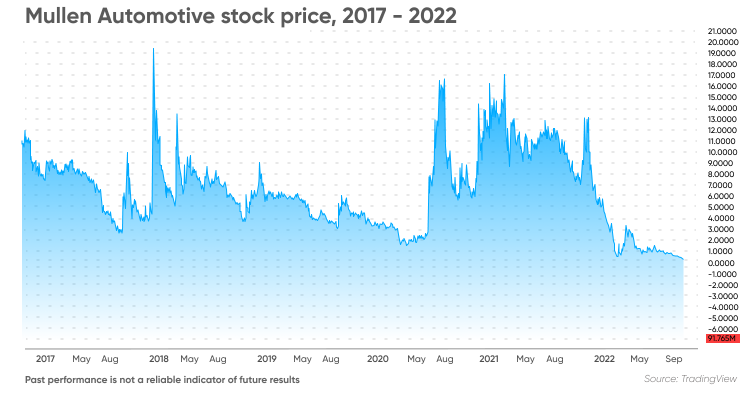 Who owns Mullen Automotive?
As of 29 September, the American automaker had a total of 509 million shares outstanding.
Data compiled by WallStreetZen showed that the majority of the Mullen Automotive stock was owned by retail traders (73.76%).
Company insiders were the second biggest holders (19.57%), followed by institutions (6.64%).
Largest individual Mullen Automotive stock owners
Kenges Rakishev, David Michery and Mike Zoi were the top three largest insider shareholders of MULN stock, WallStreetZen data as of 29 September. Meanwhile, Nasdaq data showed that 17 million shares have been traded by insiders over the last year.
Kenges Rakishev
Kenges Rakishev, Mullen Automotive's chairman, held a 3.87% stake in the company, amounting to 19.7 million shares valued at $6.54m as of 29 September.
The Kazakh businessman is a heavyweight technology investor and is also the co-founder of global venture fund Singulariteam. He has previously worked as an advisor for the Kazakhstan Interior Ministry and the Department of Education.
David Michery
David Michery is Mullen Automotive's CEO. Michery held a 3.11% stake, amounting to 15.8 million shares worth $5.26m as of 29 September.
Michery purchased Mullen Motors from company president Arthur Allen in 2021. He has led Mullen Automotive and its divisions since its inception in 2014.
Mike Zoi
Mike Zoi, who was a director of Mullen Automotive between 2012 and 2014, owned 2.70% of the company stock, or 13.8 million shares worth $4.57m as of 29 September.
Previously, Zoi served as a director of ENER1 and Net Element, the predecessor of Mullen Automotive.
Nurlan Abdouv
Nurlan Abdouv is the company's fourth largest individual shareholder. Abdouv owned a 2.28% stake, or 11.6 million shares valued at $3.95m as of 29 September.
Anashkhan Gabbazova
Anashkhan Gabbazova is the fifth largest individual shareholder. Gabbazova held a 1.89% stake in the company, or 9.6 million shares valued at $3.29m.
Mullen Automotive shareholders: Institutional
Among institutions, Vanguard Group, Blackrock (BLK) and Susquehanna International Group were the biggest shareholders, according to data compiled by WallStreetZen as of 29 September. Overall, Mullen Automotive had 97 institutional shareholders that held a total of 33.8 million shares.
Vanguard Group
Pennsylvania-based investment management company Vanguard Group is the largest shareholder among institutional investors. Vanguard held 12.7 million shares of Mullen Automotive stock valued at $4.5m, as of 29 September.
Vanguard is the second-biggest asset manager in the world with total assets under management (AUM) of $8.1tn. Founded in 1975, the company offers investment options and advice, retirement services, and in-depth insights into retail and institutional investing. Vanguard's index-tracking exchange-traded funds (ETFs) are popular among retail investors.
Blackrock
Headquartered in New York, Blackrock (BLK) is the world's largest asset manager and the second-biggest investor among MULN holders. Blackrock owned 7.9 million Mullen shares worth $2.8m, WallStreetZen data as of 29 September showed.
Blackrock has been a provider of investment, advisory, and risk management solutions to a combination of institutional and retail clients since 1988. The firm managed $9.57tn of assets, as of 31 March.
Susquehanna International Group
Susquehanna International Group was the third-largest institutional shareholder, holding 2.9 million shares of Mullen stock valued at $1m as of 29 September.
The Pennsylvania-based proprietary trading firm was founded in 1987. The firm offers trading of all asset classes, with a focus on derivatives, with its expertise lying in "probabilistic thinking and game theory".
Geode Capital Management LLC
Geode Capital Management was the fourth-largest institutional shareholder of Mullen Automotive, holding 2.6 million shares of the automaker's stock, valued at $948,000 as of 29 September.
Geode Capital Management is a systematic asset manager, headquartered in Boston. The firm offers core beta exposure across a range of equity and niche asset classes, with a focus on risk-adjusted performance.
The company had been founded in 2001 and had $833bn in AUM, as of 30 June, 2022.
State Street Corp
Financial services company State Street (STT) was the fifth-largest institutional shareholder of the automaker, holding one million shares of the Mullen Automotive stock, valued at $366,000 as of 29 September.
The firm provides services such as investment management, servicing and administration, research and trading, and financial data analytics for institutional investors.
Final thoughts
Stock ownership data can provide an important insight as the biggest holders typically can have more influence over the share price movement when they acquire or sell off their position. It shouldn't be used as a substitute for your own research.
You should always conduct due diligence on the Mullen Automotive stock price before trading looking at the latest news, a wide range of analyst commentary, technical and fundamental analysis. Note that past performance does not guarantee future returns, and never trade money you cannot afford to lose.
FAQs
How many shares of MULN are there?

Mullen Automotive had 509 million shares outstanding according to data from Nasdaq as of 29 September.
Who is the largest shareholder of Mullen Automotive?

Kazakh businessman Kenges Rakishev held the most stock, as of 29 September among Mullen shareholders, WallStreetZen data showed. Rakishev held 19,706,143 shares of Mullen Automotive, valued at $6.54m.
Does MULN stock pay dividends?

Mullen Automotive does not pay dividends as of 29 September.