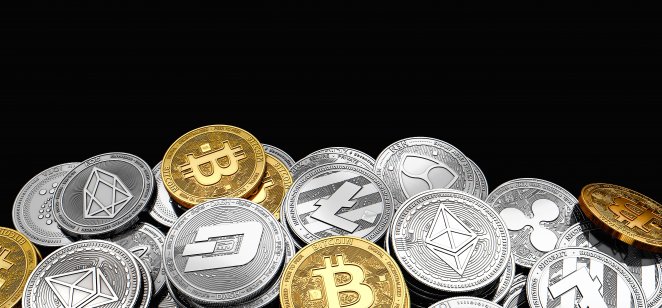 Content
The first two weeks of January have brought a reawakening of the bulls. Bitcoin surged forward all the way to $8,700. Investors' renewed confidence resulted in some feverish trading activity – culminating in the all-time high of $176bn on January 15. Let's see which coin was the most traded cryptocurrency in January 2020.
1) Tether (USDT)

Currency pairs with USDT dominate volume rankings on most exchanges: for instance, on Binance the top five pairs are all USDT markets (with BTC, ETC, BCH, ETH and EOS). BTC/USDT is usually the number-one pair by volume on most exchanges where it's offered. Tether remains controversial, since the market still has no solid proof that all USDT coins are fully backed by US dollars. Nevertheless, investors continue to rely on USDT as a hedging coin, as traditional assets such as stocks become unreliable. The growing geopolitical uncertainty can be a positive factor for the crypto market outlook in 2020 – especially for Tether..
2) Bitcoin (BTC)

Most experts agree that Bitcoin has finally bottomed out and a new uptrend is beginning. It's not just the spot market that is booming, though. CME reports record open interest for its Bitcoin futures, with more than 5,300 contracts for a total of almost $240m as of January 16. Both CME and FX have recently launched BTC options, which will probably give another boost to the Bitcoin derivatives market.
3) Ethereum (ETH)

On January 14, ETH daily trading volume virtually doubled, going from circa $8.4bn to $16.7bn. The volume then set a new record of $17+ billion on Jan 16. This made it the third most traded crypto in January. At the same time, the price rose by more than 24 per cent in the first two weeks of January. ETH still has a long way to go to the 2019 high of $360. The first formidable obstacle it faces is the 200EMA.
4) Litecoin (LTC)

After Ethereum, there is a huge drop-off in the rankings, with Litecoin's total volume constituting less than 40 per cent of that of ETH. Still, its 36 per cent price hike from $41.3 to $56.2 is more impressive than in the case of BTC and ETH. How much of this growth is genuine is a different matter, though. Japanese analyst Koji Higashi claims that more than 90 per cent of altcoin trading volumes (including LTC, ETH and EOS) could be fake, and that market tracker data shouldn't be trusted.
5) Bitcoin Cash (BCH)

On January 14, something very interesting happened: the daily trading volume of Bitcoin Cash suddenly increased by 250 per cent, from circa $1.9bn to $6.6bn. Overall, the price grew by a whopping 66 per cent in the first half of January – and 27 per cent in one day on January 14. Part of the rally can be due to the ongoing BSV (Bitcoin Satoshi's Vision) pump, though. The wash trading scheme to propelled BSV into the top five by market cap apparently involves mining BCH and selling them for USDT. Therefore, BCH investors should be cautious.
6) EOS (EOS)

| | |
| --- | --- |
| Long position overnight fee | 0.0235% |
| Short position overnight fee | -0.0428% |
| Overnight fee time | 21:00 (UTC) |
| Spread | 0.03 |
| | |
| --- | --- |
| Long position overnight fee | -0.0157% |
| Short position overnight fee | 0.0056% |
| Overnight fee time | 21:00 (UTC) |
| Spread | 0.18 |
| | |
| --- | --- |
| Long position overnight fee | -0.0138% |
| Short position overnight fee | 0.0041% |
| Overnight fee time | 21:00 (UTC) |
| Spread | 1.5 |
| | |
| --- | --- |
| Long position overnight fee | -0.0500% |
| Short position overnight fee | 0.0140% |
| Overnight fee time | 21:00 (UTC) |
| Spread | 0.00600 |
The price of EOS grew by 40 per cent in the first two weeks of January – from $2.60 to $3.77. The rally on January 14 was particularly impressive, with a growth of more than 20 per cent in one day. However, this is still 84 per cent below its all-time high of $22.98, reached in April 2018. But with dApps on the rise – EOS raked in $6bn in transaction volume in 2019 – we can expect more growth in 2020.
7) Bitcoin Satoshi's Vision (BSV)

BSV was the first great pump of 2020. In just one month, its price increased five times and the relatively unknown Bitcoin fork stormed into the CoinMarketCap top five – and became the seventh most traded cryptocurrency of January. After peaking at $422 on January 14, the price went into correction (or possibly a dump), losing 26 per cent in one day. Many think that gambling billionaire Calvin Ayre is behind the pump. Most of the BSV volume comes from dubious small exchanges. Since the price is likely to fall further, BSV is hardly a good buy.
8) Ripple (XRP)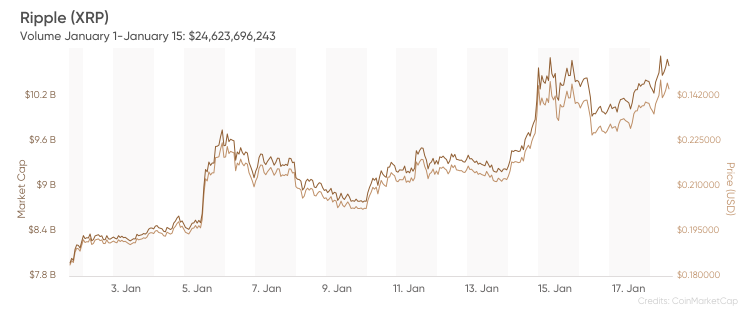 XRP didn't experience an extreme price rally in the first half of January, growing by "only" 21 per cent. On the other hand, the trading volume doubled on January 14, from $1.32bn to $2.64bn. 2020 should bring more clarity from the US regulators as to the status of Ripple. Is it a commodity or a security? The chairman of the Commodity Futures Trading Commission (CFTC) said that it's still undecided. If XRP is found to be a commodity like BTC, it will open doors to futures trading and more growth.
9) Ethereum Classic (ETC)

Like other alts, ETC went into overdrive on January 14. The volume doubled – and then grew by 50 per cent more on January 15. Meanwhile, the price grew by an amazing 77 per cent between January 1 and 15: from $4.5 to almost $8. This wasn't due to market manipulation, though. On January 12, Agartha hard fork was successfully completed. It brings better interoperability with Ethereum. Another important moment for ETC will come in mid-March, when the block reward will be cut by 20 per cent. This can spur more price growth.
10) TRON (TRX)

TRON saw its price increase by 30 per cent in the first two weeks of January. Partly the price was buoyed by good news: on January 9, it was announced that TRON is now officially the number-two blockchain by the number of dApps built on it (669 as opposed to 668 on EOS and 2,100+ on Ethereum). At the same time, the total daily transaction volume of TRON dApps is going down. Now it's less than a quarter of EOS apps' total volume. On a brighter note, Binance Futures has just launched a TRX/USDT perpetual contract. This could provide TRON with a much-needed boost.
Now you know which coins made the list of the 10 most actively traded cryptocurrencies in the first half of January 2020 – and the stories behind their success. While the top 10 mostly consisted of the "usual suspects", we had one breakout (BSV), which is most likely a pump-and-dump scheme. The new bull trend can bring more unexpected turns – follow our articles!
Contributor: Alisa Orlova