Microsoft share price forecast: significant growth but at what price?
By A.G.
17:39, 19 August 2020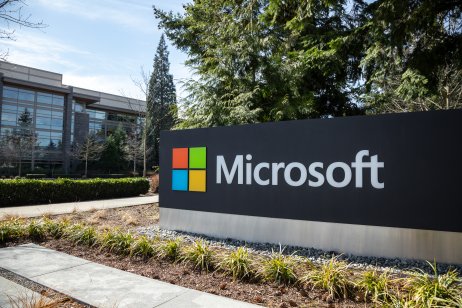 Microsoft: recent technology trends and news
Microsoft (MSFT) needs no introduction. We all know what Windows, Microsoft Office and Surface products are. However, the company has changed significantly in recent years.
Under the guidance of its current CEO, Satya Nadella, Microsoft shifted focus to services and software, and particularly to growing its cloud business. In the Covid-19 environment, these changes have positioned the business to be a major beneficiary. Since the beginning of the year, Microsoft share price trend has been bullish, up 31 per cent by the time of writing, August 17, outperforming the broader market.
The last several months have made it abundantly clear that digital technology is crucial to business success and, in some cases, survival. Companies that can build out their digital capabilities have been more resilient during the crisis and will come out of it more robust.
Examples like curbside food pickup, contactless shopping and telemedicine are all powered by technology, cloud and AI. With technology spending as a percentage of GDP expected to double in the next decade, Microsoft is well positioned to capture that growth.
Another trend that supports our Microsoft stock analysis is entertainment, and particularly gaming, as people everywhere turned to gaming to connect, socialise and play with others during Covid-19 lockdowns. While we may not usually associate Microsoft with gaming, its Xbox hardware, Xbox Game Pass and Minecraft have seen tremendous engagement and interest during the pandemic.
Besides, the latest research shows that gaming time is up around 40 per cent during the pandemic and that a growth rate of approximately 14 per cent over pre-pandemic usage can be sustained. Gaming is also much more diverse than most people realise, with an average age of 37 and 45 per cent female gamers. Compared to a decade ago, graphics, gameplay, characters and storylines are much better today.
What is your sentiment on AMZN?
Vote to see Traders sentiment!
Microsoft share price forecast: does TikTok matter?
Potentially the biggest story in technology over the last few weeks has been the fate of TikTok's US operations. TikTok's parent company, ByteDance, has 90 days from August 14 to divest the US business or it will be completely shut down by the US government.
Microsoft has been in talks with ByteDance since early August and many analysts believe that it's the only American company capable of handling this acquisition. Facebook (FB), Alphabet (GOOGL) and Amazon (AMZN) all face multiple antitrust investigations into their business practices and are unlikely to receive US government's approval to buy TikTok. The main challenge of this acquisition is a technical one, as 15 million lines of software code, responsible for Tik Tok's artificial intelligence, have to be transferred to the US. ByteDance, for example, has 10,000 software engineers and, according to the negotiations with the US government, it might take Microsoft a year to safely transfer the code.
According to the Wall Street Journal, TikTok has 100 million US users and internal projections show revenues of $1 billion this year and $6 billion projected for next year. While the value of the deal hasn't been discussed yet, Microsoft is in a good position as the only viable buyer. In more recent MSFT stock news, Fox Business News reported that Microsoft is also interested in TikTok's UK unit if ByteDance chooses to sell.
Amid all the speculation, it's unclear what Microsoft will do with TikTok if it does end up acquiring it. For example, in the case of LinkedIn, Microsoft hasn't been able to monetise that asset effectively outside of selling ads. Monetising the 100 million TikTok users through ads is undoubtedly an option, and would affect our Microsoft stock predictions. However, some analysts argue that Microsoft might be buying TikTok to bolster its Azure cloud business as TikTok would become their biggest customer overnight.
Q2 result: is MSFT stock a buy or sell now?
Microsoft stock performance in 2020 and over the last year has been impressive as it continued to benefit from the growth in its cloud business. Shift to remote work amid the Covid-19 pandemic only reinforced the strong tailwinds helping the company.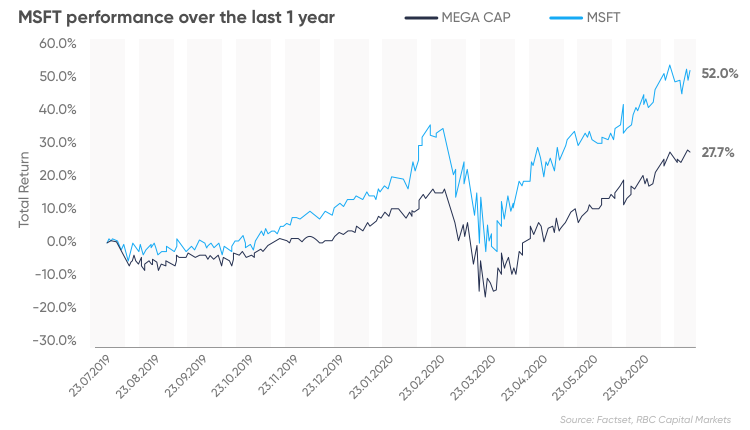 According to the latest Microsoft share price news, the company delivered a solid result for its fourth quarter, ending June 30, although some analysts were disappointed with the Azure revenue growth rate.
Let's briefly run through the numbers.
The commercial cloud segment surpassed $50 billion in revenue for the first time;

Azure revenue grew 47 per cent, lower than 61 per cent growth in the previous quarter. Overall, over the last four quarters, Microsoft closed a record number of multi-million-dollar cloud agreements;

Revenue in the personal computing business increased by 14 per cent, which is quite unprecedented. This was driven by the benefit of work, learn and play from home;

Gaming was genuinely exceptional for Microsoft, with revenue growth of 64 per cent. It noted increased sales of the Xbox consoles, up 49 per cent, and record engagement during the quarter;

And we can't forget about Microsoft Teams, its competitor to Zoom and other collaboration tools. Users logged more than five billion minutes during the quarter alone Sixty-nine companies have more than 100,000 users on Teams and even the National Health Service in the UK chose Teams to provide collaboration tools to its 1.2 million employees.
On a negative side, LinkedIn was weak, as economic weakness affects hiring and advertising spending.
Microsoft stock price forecast for the rest of the year and beyond
Many analysts are bullish on the company long term. However, MSFT stock forecast suggests a somewhat limited upside over the next 12 months. FactSet consensus MSFT stock price prediction is currently at $231 based on ratings from 32 sell-side analysts.

Even though most analysts see a limited short-term upside, 29 of them have a Buy rating on the stock with only three Hold ratings. Dan Ives, the analyst at Wedbush, has the highest Microsoft stock forecast with the price target of $260, while Citi has the lowest target on the street at $208. The range of price targets is quite narrow and there appears to be a consensus that Microsoft is well positioned to benefit from the long-term, structural tailwinds.
The typical bullish MSFT stock analysis centres on the Azure cloud business. The total addressable market for cloud computing is estimated to be $600 billion by 2022. Analysts at RBC believe that Microsoft's "Azure can scale to multiples of its current size". The pandemic is also forcing companies of all sizes to adopt cloud at a much higher rate.
In addition to the cloud, analysts at Macquarie see gaming as the next hyper-growth engine for Microsoft as the gaming market is set to reach $180 billion by 2021. They believe that Microsoft's gaming services powered by Azure put it in pole position to monetise on this growth. Macquarie has recently increased its price target from $215 to $225.
Coupled with more than $20 billion in annual buybacks and dividends, Microsoft is likely to deliver consistent shareholder returns in the coming years.
The bear thesis, although it's hard to find an analyst bearish on Microsoft, seems to be based on valuation. MSFT stock currently trades at 10-11 times sales and almost 31 times earnings. While on the absolute basis these levels are expensive, relative to other mega-cap technology peers, they are in line. Furthermore, many argue that Microsoft deserves to trade at a premium given its long-term growth potential and exposure to secular tailwinds around the future of work and cloud.
Read more: Tesla share price forecast: will Tesla stock go up past ,000?