Metaverse tokens are outperforming metaverse-oriented tech stocks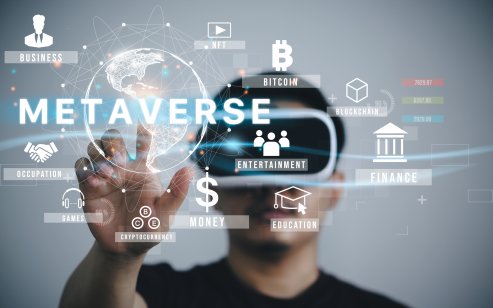 The metaverse has become a potent symbol of modern investment since the concept was first thrust into mainstream attention last year with Facebook (FB) CEO Mark Zuckerberg announcing he has renamed Facebook 'Meta' and introduced his vision of interaction between 3D avatars in a realistic virtual world.
Stocks in existing 3D virtual and gaming blockchain platforms, as well as their native cryptocurrency tokens, have also benefited from the Meta hype.
Four months on, it appears that currency tokens tied to these metaverse environments have outperformed metaverse-related equities in February, according to research by cryptocurrency market data-provider firm Kaiko.
Zuckerberg-fuelled metaverse tokens soar
Metaverse-related cryptocurrency tokens surged after Zuckerberg's October presentation and have continued to gain in 2022. While these types of digital tokens were not shielded from the sell-off in the cryptocurrency market of 2022, they still outperformed the broader cryptocurrency market in February.
As examples, the value of native cryptocurrency tokens for blockchain gaming platform Gala Games (GALA), non-fungible token (NFT)-based online video game Axie Infiinity (AXS) and 3D virtual-world platform Decentraland (MANA) have all surged more than 15,000% in 2021, also outperforming every other major cryptocurrency except shiba inu (SHIB) so far this year.
GALA, AXS and MANA soared by 44,900%, 16,055% and 15,979% in 2021, respectively.
"Gala Games's GALA jumped over 27% since the start of the month after the platform announced it will invest $5bn [£3.67bn, €4.4bn] within the next year to boost its NFT offerings and build a theme park," said Claire Medalie, Kaiko head of research, in a note.
"Theta Network's token THETA is still up 3% in February after inking a partnership with Samsung to offer digital collectibles. Decentraland's MANA and Axie Infinity's AXS lost some of their gains following last week's sell-off and are down 3%," she added.
What is your sentiment on META?
Vote to see Traders sentiment!
Chart showing impact on GALA token price after Gala Games announced it will invest $5bn in NFT offerings and a VR theme park – Credit: Kaiko
Tokens taking the lead ahead of battered tech stocks
In the months following Zuckerberg's presentation, many technology companies have come forward with metaverse plans of their own.
In 2022, the technology sector has been hit hard as inflation continues to soar and investors readjust their portfolios to account for rising interest rates, with many switching out of high-growth, riskier and indebted tech stocks. On a year-to-date basis, tech stock-heavy Nasdaq is trading down 14%.
Despite tech stocks' keenness to jump on the metaverse bandwagon, however, it appears not to be having the expected impact on earnings. As Medalie notes, "Last week, gaming platform Roblox [RBLX] followed Meta in reporting disappointing earnings and plummeted by more than 25% in a single day."
By contrast, online gaming cryptocurrency tokens related to the metaverse are clearly thriving. Added Medalie: "Since the start of the month, Meta's stock price has fallen more than 30% in a sign that investors lack confidence in the company's pivot towards the metaverse.
Meanwhile, she noted, "metaverse-related crypto tokens – encompassing the intersection of decentralised gaming, NFTs and virtual worlds – have performed better, with several up for the month or recording limited losses."