MaticVerse price prediction: Will it rise again?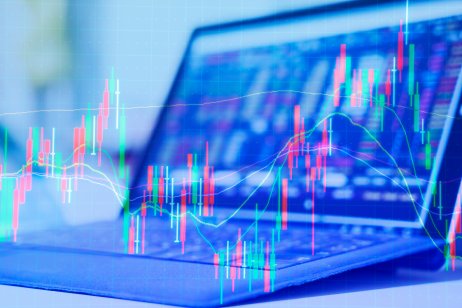 The popularity and use cases of non-fungible tokens (NFTs) have exploded in 2021. And now the cryptocurrency industry has spawned a new category – play-to-earn NFT games.
MaticVerse (Mverse), a play-to-earn NFT game, spiked in July, when it reached a peak of $0.05. At the time of writing, on 24 November 2021, it is down 99.9% from that all-time high at $0.00005 according to CoinMarketCap statistics.
Maticverse is a digital NFT Universe inspired by superheroes, where players can deploy their superhero-themed NFTs in various activities.
Through play-to-earn games, the MaticVerse Universe demonstrates the capabilities of the blockchain technology while simultaneously providing players with an opportunity to earn rewards.
In this article we take a look at the fundamental analysis of the token, reviews its functionality, and major news and developments that are shaping MaticVerse price prediction.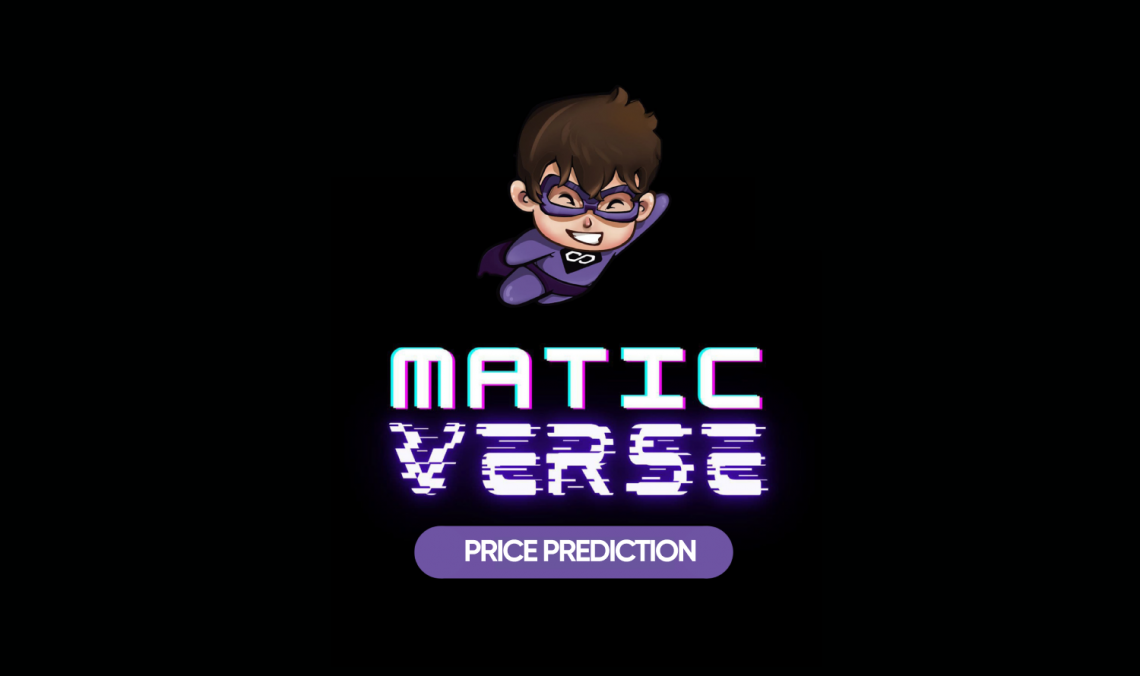 Mverse price analysis: technical view
The cryptocurrency market exploded in early November 2021. For example, bitcoin hit an all-time high of $68,789.63 on 10 November, according to CoinMarketCap.
The market has lost some of its ground since then, however with bitcoin trading at around $56,700 at the time of writing.
Similarly, Mverse has had an enormous pullback this week. The price plunged from $0.00015 last week (17 November) to 0.000036 this week (23 November), representing a nearly 76% decrease over this period.
Since the steep drop, prices have recovered slightly, and the Mverse token is now trading at $0.00005 (24 November).
On the other hand, prices have risen by more than 7,000% from the cryptocurrency's all-time low of $0.0000007, which it hit on 13 September 2021.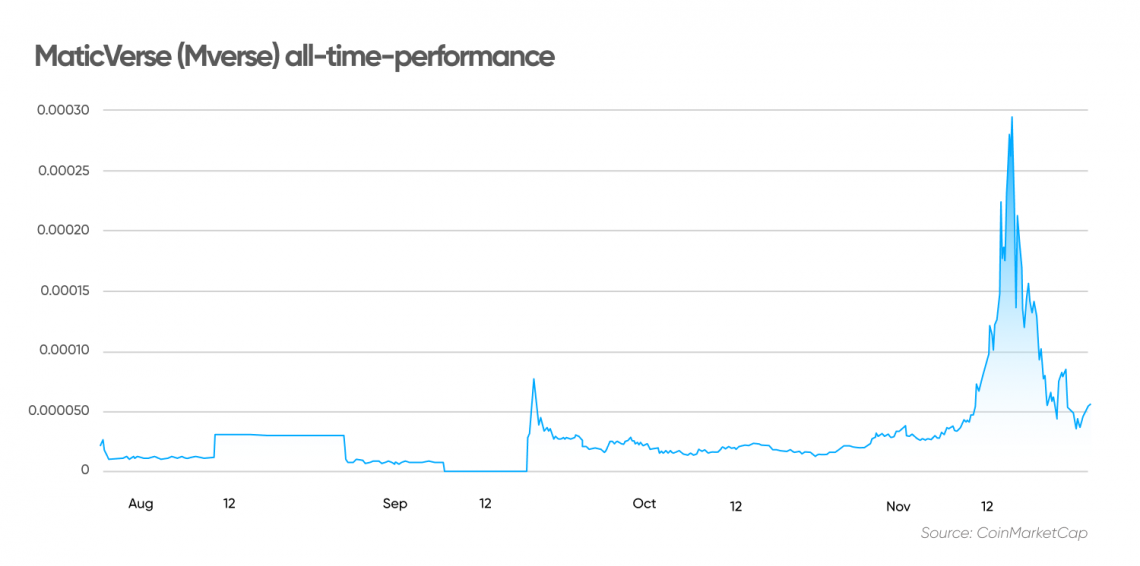 Maticverse crypto news and price drivers
To try to build a plausible Mverse price prediction, we should take a look at some of the latest project's developments and market news, which might serve as price drivers for the token's future performance.
In September 2021, MaticVerse, formerly BabyMatic, partnered with Polygon, one of the top 20 cryptocurrency projects by market capitalization. As a result of this collaboration, MaticVerse players began to be rewarded in MATIC tokens.
MaticVerse launched Baby Vengers NFTs on its NFT marketplace, including 18 distinct superheroes with a range of attributes and rarity tiers that users could discover by minting them from their NFT crystals.
In the third quarter of 2021, DappRadar reported that NFT transaction volume had reached $10.67bn, an increase of 704% over the same period in 2020. The rising popularity of NFT games is one factor contributing to the rising volume of trade. In-game items generated $2.3bn in trade volume during the third quarter, accounting for 22% of the total NFT volume. This contributes positively to the prospects of Mverse and other play-to-earn NFT games, such as Axie Infinity.
Integration into Binance Smart Chain
MaticVerse recently integrated Chainlink VRF into the Binance Smart Chain mainnet, providing the MaticVerse team with a tamper-proof and auditable source of randomness for generating random numbers to determine the outcome of each combat, thereby making the user experience more transparent and fraud-proof.
What is MaticVerse (Mverse) coin?
MaticVerse is a play-to-earn gaming token used in conjunction with its game, The Baby Vengers – to distribute MATIC reward tokens. Mverse NFTs are listed on their own marketplace and can be acquired or sold to participate in the game.
Along with creating a cross-chain network between Polygon and BSC, the platform has already achieved several significant milestones, including the release of NFTs, acquiring over 10,000 followers on its Telegram channel, and listing on Pancakeswap.
Mverse has a maximum total supply of 100 billion coins and charges a transaction fee of 15% on sales and 10% on purchases.
The proceeds of the sale are allocated as follows: 7% allocated as MATIC incentives, 3% to liquidity pools, and 5% to marketing.
Whereas revenues from purchases are allocated as follows: 4% as MATIC incentives, 2% to liquidity pools, and 4% to marketing.
The transaction tax helps the MaticVerse team continue delivering MATIC to its users in the community they serve.
When trading volume is low, the company's team develops a dynamic system that raises the tax, allowing token holders to reap the advantages of the cryptocurrency.
This revenue-sharing arrangement can benefit its community while also providing appropriate benefits for token holders.

Maticverse price prediction: analyst sentiment
MaticVerse is a young project, which makes it difficult to build MaticVerse predictions. Commenting on the MaticVerse token price beyond 2021, Capital.com's analyst Mikhail Karkhalev said:
"It is too early to make predictions about this cryptocurrency, as even trading volumes are very low [$417,597 as of 24 November]. The metaverse hype is gaining momentum, which contributes to the growing public interest in the project. However, there is not enough information to correctly assess the fundamental value of the project. Therefore, it should be viewed with caution".
Meanwhile, some algorithm-based forecasting services share bullish MaticVerse (Mverse/usd) forecasts. As of 24 November 2021:
DigitalCoin believes the Mverse price could reach $0.000077 by the end of 2021, $0.000094 by the end of 2022, $0.00011 by the end of 2023, and $0.00015 by the end of 2025. Although the forecasting tool does not provide price targets for 2030, its longer-term Mverse prediction suggests the price could hit 0.00023 by 2028.

WalletInvestor, another algorithmic forecasting tool, is also bullish about Mverse crypto price prediction. By the end of 2021, it anticipates that the average Mverse coin price will be $0.000092 per coin. WalletInvestor estimates that Mverse will be worth $0.00054 by the end of 2022, $0.0010 by the end of 2023, $0.0014 by the end of 2024, $0.0019 by the end of 2025, and $0.0023 by the end of 2026.

GovCapital forecasts that the price of Mverse may reach $0.000091 by the end of this year, hit $0.00051 by the end of 2022, $0.0014 by the end of 2023, and finally 0.0016 by the end of 2025.
When looking for MaticVerse crypto price predictions, it's important to bear in mind that forecasts can be wrong. Algorithm-based projections for MaticVerse are based on making a fundamental and technical study of the crypto's historical performance. However, past performance is no guarantee of future results.
It's important to do your own research, and always remember that your decision to trade depends on your attitude to risk, your expertise in the market, the spread of your investment portfolio and how comfortable you feel about losing money. You should never invest money that you cannot afford to lose.
FAQ
Will Mverse coin go up or down?

Mverse token has experienced tremendous volatility in 2021. Keep in mind that the cryptocurrency market is highly unpredictable and long-term crypto forecasts may be wrong. Conduct your own analysis before engaging in a trade and remember that past performance never guarantees future results.
Is MaticVerse a good investment?

MaticVerse is a young project in the highly popular NFT gaming sector. It might be too early to evaluate the project's fundamental value, however. Conduct your own due diligence, before making any investment decision.
Read more: Dogecoin price prediction: is it set for a new rally?