Livepeer (LPT) coin price prediction: Decentralised video streaming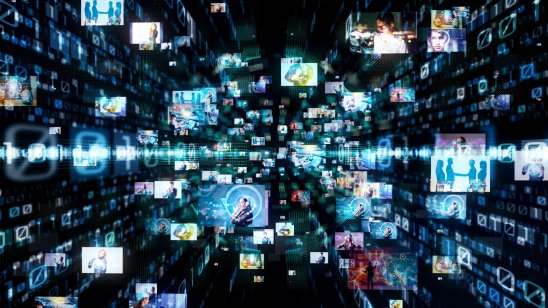 Livepeer is an open-source decentralised and scalable platform for transcoding of live or on-demand video streams. With the ambitious goal of improving reliability of video broadcasting while significantly reducing streaming costs, the project is building a peer-to-peer infrastructure secured by Ethereum blockchain.
The Livepeer protocol can be used by broadcasters such as Twitch or YouTube to reduce high bandwidth and cloud-service costs associated with video transcoding – a process of turning a raw video file into different formats to fit the target device.
In 2021, the Livepeer coin (LPT) enjoyed a bull run, doubling its value to the record high in November 2021 amid higher adoption, partnerships and acquisitions. The coin has since erased some of the gains amid a wider cryptocurrency market slump. Yet can it regain the momentum in 2022 and what is shaping the Livepeer price prediction?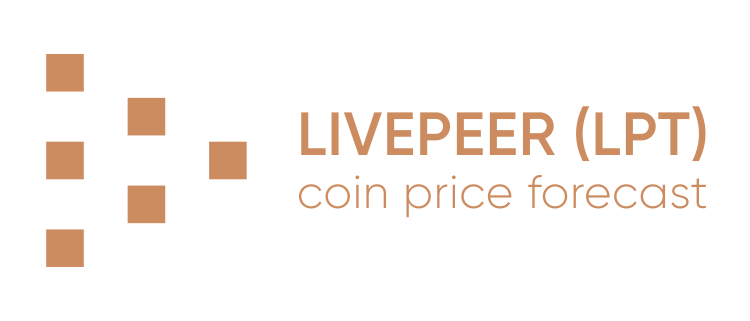 Transcoding is crucial functionality for optimal user experience as some devices may not support the original format, or have limited storage capacity that require smaller file sizes.
Livepeer aims to cut costs of transcoding with a decentralised network of users – or nodes – who contribute their processing power and bandwidth for video encoding on the platform. In return, nodes earn Ethereum's ether (ETH) paid to them by broadcasters.
The functionality can also be handy for developers who want to add a video element to their applications. For that, Livepeer introduced the Livepeer Media Server (LPMS), an open-source implementation that can be used by DApp developers and existing broadcasters.
What is the Livepeer token?
Livepeer (LPT) is an Ethereum token that powers the Livepeer network. LPT is used by nodes to perform the work of transcoding and distributing video while ensuring the network is cost-efficient and secure.
Yet the Livepeer token is not a medium of exchange, as nodes are rewarded in Ethereum's ethers ETH, not LPT. In turn, nodes are required to stake LPT to work on the platform. The more LPT nodes own, the more work they're able to perform in exchange for fees. In theory, the demand for LPT should grow in line with the network's usage.
As nodes join the platform, they receive the initial amount of LPT tokens to be able conduct their work. New tokens are minted every "round", which equals 5,760 Ethereum blocks, or approximately 21.98h. LPT is an inflationary token so that additional coins are distributed at an inflation rate, which as of today's round stands at 0.0237%. The inflation rate adjusts automatically depending on how many tokens are staked out of the total supply.
Livepeer coin price analysis
The coin launched in December 2018 at $8.8, and traded between $8.9 and 0.55% for the next two and a half years.
The real breakthrough happened in March 2021 when the coin started to rapidly gain momentum, climbing to its first major peak of $43.88 on 10 May 2021.
The coin then struggled through volatility, partially wiping the gains and slumping to $11.13 by 20 July 2021.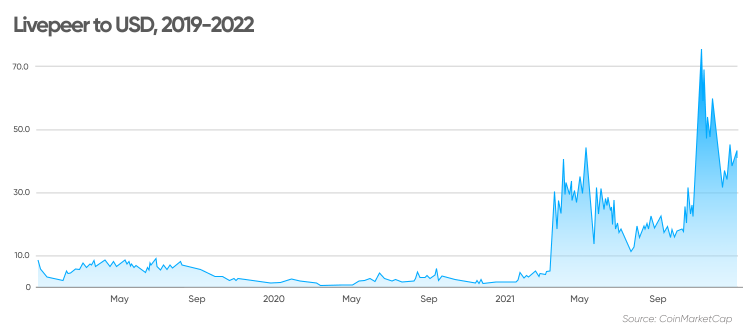 Yet in October 2021, the sentiment shifted once again, with the coin exceeding the May 2021 peak and soaring from $32.5 on 5 November to the record-high of $74.99 on 10 November – more than doubling its value in just five days.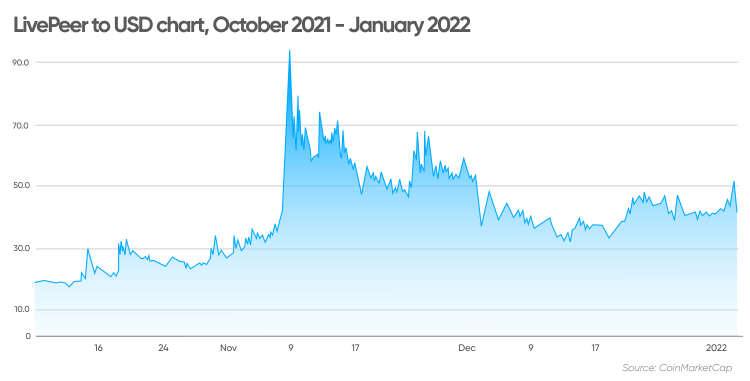 In 2022, the LPT coin wiped out those record highs and is trading at $36 at the time of writing (7 January 2022). The coin lost 15.41% in the last month amid the wider cryptocurrency market slump. Yet long term, LPT coin pleased its investors with an annual 1,882.31% gain and 474.32% return since inception.
Growing adoption of Livepeer platform
In the latest Livepeer coin news, the platform has transcoded a record-breaking 3.6 minutes of video in the first week of October 2021 – 10 times higher than at the start of the year.
September and November also enjoyed all-time high transcoding volumes – 10.5 minutes of video content. The rapid growth of network usage is good news for the Livepeer coin as its demand heavily depends on the wider adoption of the project.
This year also saw the Livepeer coin being listed on the major cryptocurrency exchanges including Binance, Coinbase, Gemini, Kraken, OKEX, Liquid and Huobi.
More funding secured
In August 2021, the project raised $20m (£14.3m), which will be invested in Livepeer's next stage of growth. Among the lead investors are Digital Currency Group, Northzone, Coinbase Ventures, CoinFund, Mike Dudas's Six Man Ventures and Warburg Serres Investments.
The company plans to use the money to boost its reach across multiple blockchains, add new functionality and broaden the service offering. In a press release, Livepeer said:
"The team will also add functionalities such as scene classification, object recognition, song-title detection, video fingerprinting, and video stack expansion.These new capabilities will advance the project further toward its goal of making Livepeer a full-service architecture for video app developers."
New partnerships and acquisitions
This year, Livepeer has collaborated with Filecoin to enable Filecoin miners to become Livepeer video nodes, simultaneously powering infrastructure for both networks. Among other partnerships is The Graph, with Livepeer now using its indexing protocol as one of the first 10 mainnet migration partners.
Most recently, in October 2021, the company purchased MistServer, a deployable media server, marking Livepeer's first-ever acquisition. The integration will add MistServer functionality, "from additional video ingest and origin protocols, VOD and streaming workflows, and low latency solutions", into the Livepeer ecosystem.
Livepeer (LPT) price prediction 2023-2029
According to the algorithm-based forecasting service WalletInvestor, which uses past performance to estimate future price action, "LPT is an awesome long-term investment".
WalletInvestor's forecasting system predicted the price to open January 2023 at $72.177, close to the record high achieved in November 2021. WalletInvestor gave a positive LPT/USD forecast for 2024, 2025, 2026 and 2027, too – seeing the price reach $103.5, $134.9, $166.4 and $197.8 respectively.
DigitalCoinPrice, however, provided a more modest Livepeer crypto price prediction, forecasting the coin trade between $52.84 and $59.93 in 2023 and 2024, yet then climbing to $83.38 in 2025. Then, the coin is predicted to slump slightly to $70.96 in 2026 before rising to $98.45 in 2027, $128.26 in 2028 and $159.32 in 2029.
Note that algorithm-based price predictions can be wrong as historic price performance does not guarantee future gains. Forecasts shouldn't be used as a substitute for your own research. Always conduct your own due diligence before investing. And never invest or trade money you cannot afford to lose.
FAQs
Is Livepeer coin a good investment?

Whether LPT coin is a good investment should depend on your risk tolerance, the size of your portfolio and individual circumstances. Factors that will shape the LPT price in future include adoption of the network, quality of the product and leadership as well as wider cryptocurrency market sentiment.
How high can the Livepeer coin go?

According to algorithm-based forecasting services such as WalletInvestor and DigitalCoinPrice, Livepeer coin is expected to go over $100 in the next six years at the time of writing (2024 for WalletInvestor and 2028 for DigitalCoinPrice). Yet you should note that forecasting services can be wrong. Forecasts shouldn't be used as a substitute for your own research. Always conduct your own due diligence before investing. And never invest or trade money you cannot afford to lose.
How many Livepeer coins are there?

There are currently 21,164,655 LPT coins out there, which represents 92% of the maximum supply.