Faster, smarter crypto rules debated by US lawmakers
Subscribe to Weekly Highlights
The major market events for the week ahead right in your inbox.
Subscribe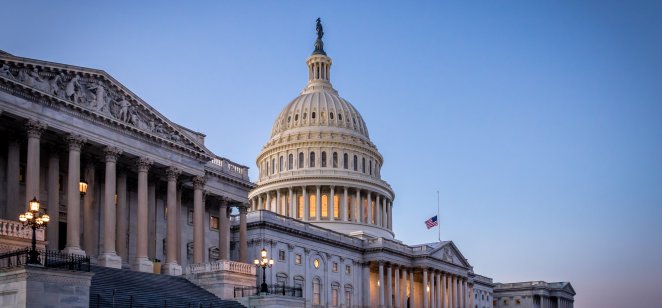 Content
Comprehensive regulations of cryptocurrency and other digital assets should be a priority as their popularity and quick growth poses a threat to investors and the broader financial system, members of the US Congress' Joint Economic Committee heard Wednesday.
In an effort to demystify cryptocurrency, committee chair Don Beyer, a Virginia Democrat, said the majority of US Congressional members are unaware of the basics of cryptocurrency and digital assets, but it is "vital" legislators provide guidelines for regulators, adding he'd be "thrilled" if Congress passed a meaningful bill next year.
How to handle digital assets and cryptocurrency is an issue all of Washington is grappling with, from Congress to the Securities and Exchange Commission (SEC) to the Treasury Department, much to the frustration of Republicans and the industry.
The Joint Economic Committee is one of four standing joint committees of the US Congress and is responsible for reporting the current economic condition of the United States and for making suggestions for improving the economy.
Bills linger in committees
Several cryptocurrency bills have been introduced but linger in committees. Republicans claim too much regulation on the industry will weaken innovation and drive companies overseas. They also want the SEC to define whether cryptocurrency is a commodity, a security or a currency.
Democrats say some regulation is needed for the protection of small investors and the US financial system.
One such bill was introduced this summer by Beyer. The comprehensive bill, HR 4741, seeks to define which cryptocurrency tokens are commodities and which are securities. Additionally, the bill gives the Treasury Department the power to approve stablecoins, a fiat currency-backed commodity. The bill also allows the Federal Reserve to create its own digital dollar.
Four months after its introduction, the HR 4741 has not received any co-sponsors or a companion bill in the Senate, a sign of the unpopularity of cryptocurrency bills in Congress. Beyer is in discussion with a number of House Finance Services Committee members about adding their name to the bill.
Traction required
Even bills with bipartisan support are failing to gain traction.
| | |
| --- | --- |
| Long position overnight fee | -0.0500% |
| Short position overnight fee | 0.0140% |
| Overnight fee time | 22:00 (UTC) |
| Spread | 0.00255 |
| | |
| --- | --- |
| Long position overnight fee | -0.0500% |
| Short position overnight fee | 0.0140% |
| Overnight fee time | 22:00 (UTC) |
| Spread | 60.00 |
| | |
| --- | --- |
| Long position overnight fee | 0.0388% |
| Short position overnight fee | -0.0625% |
| Overnight fee time | 22:00 (UTC) |
| Spread | 0.006 |
| | |
| --- | --- |
| Long position overnight fee | -0.0172% |
| Short position overnight fee | 0.0062% |
| Overnight fee time | 22:00 (UTC) |
| Spread | 1.8 |
Earlier this week, Democrat Ron Wyden (Oregon) and Republican Cynthia Lummis (Wyoming) introduced a bill to fix the definition of a digital asset broker.
Under current law, anyone who is involved in digital asset mining or staking, providing digital asset hardware or software wallets, or developing digital asset protocols could fall under the definition of "broker" for tax purposes, and would be subject to certain Internal Revenue Service reporting requirements.
The Wyden-Lummis bill defines "broker" to exclude miners and stakers, as well as wallet providers and developers, and would ensure that only those digital asset intermediaries that actually have access to material customer information are required to report to the IRS.
This bill was originally a failed amendment to the $1trn infrastructure bill.
Impact
The growth of cryptocurrencies has been staggering in recent years, going from $200bn in January 2020 to nearly $3trn last week, according to Beyer.
"However, recent price volatility in digital assets has erased four hundred billion dollars in value in the last seven days, an amount roughly equal to the entire size of the market just one year ago," he said during the hearing.
For many investors understanding cryptocurrency is a mystery, he said. "Just trying to learn about it, so that we can legislate on it, is a challenge."
Read more: Crypto farms: what's the hype all about?