Jervois Global stock forecast: JRV shares on back foot but cobalt miner's future remains bright amid EV demand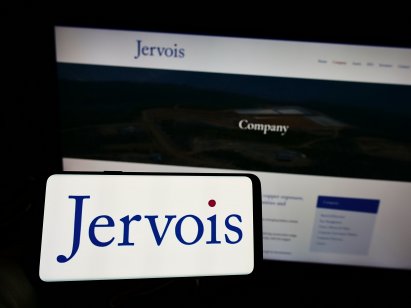 Shares in Jervois Global (JVR), the Australian cobalt and nickel supplier, have endured a turbulent year but will they benefit from strong electric vehicle demand? The company's stock price is currently around AU$0.45, as of 11 November, although it's been down to AU$0.38 and as high as AU$1.02 in the last 12 months.
What's next for the business, which this week announced a fully underwritten AU$231m equity raising to help support its future ambitions? Here we take a look at the company's latest news, examine its recent results and consider the Jervois Global stock forecast of analysts.
What is Jervois Global?
Jervois Mining was founded in 1962. It listed on the Australian Securities Exchange (ASX) on 1 December, 1980 under the ticker 'JRV'.
In June 2019, Jervois Mining merged with TSXV listed M2 Cobalt and subsequently changed its name to Jervois Global. As well as its primary listing on the ASX, it's also listed on the TSX Venture Exchange in Canada, as well as being on the OTCQB Venture Market in the US under the JRVMF ticker.
The company operates in various areas: cobalt refining in Finland; mine development in the US; mineral processing in Brazil and mineral exploration and evaluation in Australia.
Jervois has declared its vision is a world transformed by the mass adoption of electric vehicles.
"Our mission is to become the leading supplier of responsibly-sourced battery minerals products and to provide a secure supply to customers," it stated.
What is your sentiment on Nickel?
Vote to see Traders sentiment!
JVR stock price analysis
Investors in Jervois Mining have had a tough 2022. The JRV stock price was trading at AU$0.405, as of 11 November, down over 30% year-to-date.
However, a closer inspection of the figures reveals deeper peaks and troughs. The year had actually started brightly with the stock having risen 68% to AU$1.01 by 19 April. The stock then gave up most of these gains by falling 62% to AU$0.38 by the beginning of August. Since then, it's had a relatively rocky ride back to its current level.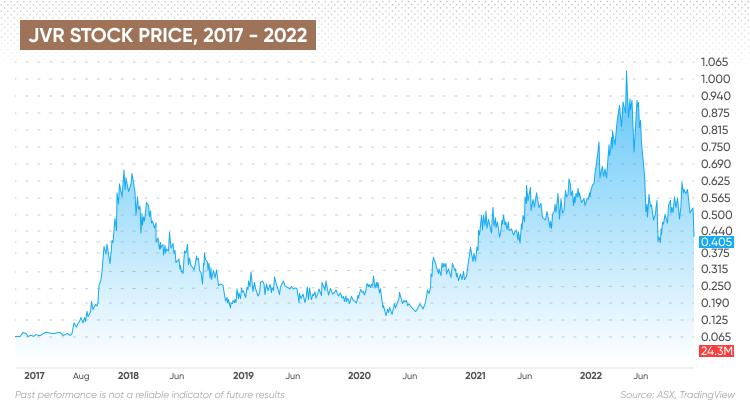 However, the longer term picture for JRV shareholders is more positive, with the stock price having risen 78% over the past two years, up from its AU$0.28 level in November 2020. The company has generated trailing returns of 39.32% over the past three years, according to Morningstar, as of 11 November.
Third-quarter earnings
Any JRV stock forecast needs to examine recent performance and the company generated revenue of US$84.6m in the third quarter to 30 September – slightly down on the previous quarter's US$91.2m.
Adjusted earnings before interest, tax, depreciation and amortisation (EBITDA) came in at a loss of -US$0.6m, compared to a positive US$11.9m in the second quarter of 2022. The company ended the third quarter with US$52.3m cash, US$157.6m in physical cobalt inventories, and total drawn debt of US$200m.
In a statement, the company said the cobalt market had stabilised after the recent downturn, which saw the global macroeconomic situation and Covid-related lockdowns temporarily dampen demand.
"Risks of disruptions to global supply from the Democratic Republic of Congo are re-emerging," it added. "This may trigger re-stocking by downstream users which would favourably impact prices, should this occur."
The company insisted the outlook remained positive for 2023 and beyond, concluding:
"The growth in battery sector demand is poised to accelerate, the consumer electronics sector is expected to recover, while demand in traditional industrial uses is expected to grow broadly in line with global GDP."
In a subsequent call with investors, James May, Jervois Global's CFO, responded to analysts' questions over whether the company had too much on its plate. He pointed out the company was "blessed" by owning 100% of its core assets and had a balance sheet that is able to support it moving forward.
"We are obviously a growing company and we'll look to continue to explore all options in terms of what the right funding mix is for the various activities we want to pursue in 2023," he said.
Jervois Global equity raising
A key element of our Jervois Global stock forecast is the company's AU$231m (US$150m) equity raising, which it announced this week was fully underwritten.
In a presentation, the company said the proceeds would be used to reopen the São Miguel Paulista refinery (SMP), ramp up Idaho Cobalt Operations in the US and for general corporate purposes. In a separate statement, the company stated that the first production at SMP was expected in the first quarter of 2024, noting:
"Funding further de-risks Jervois, allowing it to maintain 100% control of three cash generating assets, all expected to be online early 2024, and ensures commercial negotiations with downstream supply chain occurs from a strong position."
The statement noted that Mercuria, Jervois' third largest shareholder and one of the world's largest independent energy and commodity traders, would invest AU$16.2m (US$10.5m).
Jervois directors and senior management figures will invest a further A$2.0m (US$1.3m), although they can't participate in the placement component of the equity raising.
Record demand for electric vehicles
Electric vehicles are the key technology to decarbonise road transport, a sector that accounted for 16% of global emissions, according to the International Energy Agency as of September 2021.
It found that electric car sales reached a record high in 2021, despite supply chain bottlenecks and the impact of the Covid-19 pandemic.
In a report, the agency stated the increased enthusiasm had lifted the total number of electric cars on the road to 16.5 million. Sales in 2021 were highest in China at 3.3 million, followed by Europe with 2.3 million. In the US electric cars doubled their market share to 4.5% in 2021, with 630,000 sold.
The report also revealed how consumers across the world spent an estimated US$250bn on electric vehicle purchases in 2021 and highlighted how sales were driving investment in electrification, adding:
"Moving beyond cars, investment is also being directed towards electrification of buses and heavy-duty trucks."
Jervois Global stock forecast: Where will the price go next?
The JRV stock price has been forecast to rise to AU$0.78 by November next year, according to the Jervois Global stock forecast for 2023 from TipRanks, as of 11 November.
What are the Jervois Global stock predictions of industry observers? Well, Andrew Hines, an analyst with Shaw and Partners, had a 'buy' recommendation on the stock, a position he reiterated in late October 2022.
According to the algorithmic forecasts of Wallet Investor as of 11 November, the stock was a "very good long-term" investment. It predicted the stock could reach AU$0.64 in a year's time.
Meanwhile, the site's Jervois Global stock forecast for 2025 suggested the stock could hit AU$0.94 by November, a rise of 88% over the current AU$0.50 level.
Note that analysts' and algorithm-based Jervoice Global share price forecasts can be wrong and shouldn't be used as a substitute for your own research. Always conduct your own due diligence before trading, looking at the latest news, technical and fundamental analysis, and a wide range of commentary. Remember, past performance does not guarantee future returns, and never trade money you cannot afford to lose.
FAQs
Is Jervois Global a good stock to buy?

Whether Jervois Global is a good stock to buy will depend on your opinion of its business model and prospects. It could also be influenced by the longer term demand for electric vehicles and its success in putting the money from its equity raising to effective use.

How you invest is a personal decision depending on your risk tolerance and investing strategy. You should do your own research to take an informed view of the market and decide whether an asset is an appropriate fit for your portfolio. Remember to never invest or trade more money than you can afford to lose.
Will Jervois Global stock go up or down?

No-one knows for sure. The stock price has been volatile over the past 12 months and can be affected by a variety of factors. However, The JRV stock price has been forecast to rise 55.34% to AU$0.78 by November next year, according to the JRV stock forecast for 2023 from TipRanks.
Should I invest in Jervois Global stock?

This will depend on your personal circumstances and your view on the company. It's important to acknowledge that analysts can get it wrong with their Jervois Global stock forecast. You must carry out your own research. And only invest what you can afford to lose.