Is Litecoin a good investment? Proceed with caution
Subscribe to Weekly Highlights
The major market events for the week ahead right in your inbox.
Subscribe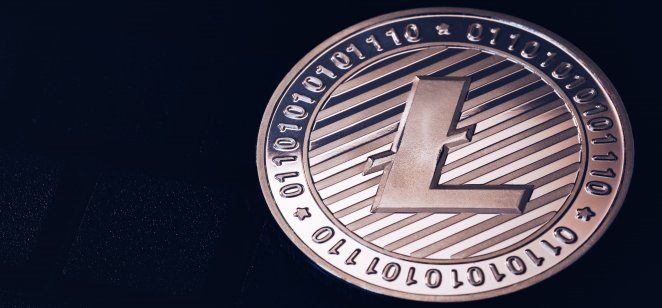 Content
Litecoin has been seeing some downward pressure lately, after the cryptocurrency reached a post-pandemic high in mid-August at almost $70 per coin. This was as a result of a weaker US dollar and Bitcoin's rally towards the $12,000 level, which resulted in increased interest in cryptocurrencies as a whole.
The broad-market sell-off seen in early August took a toll on the value of the cryptocurrency, which moved to as low as $45 per coin in a matter of days, only a couple of weeks after reaching those highs.
Since then, Litecoin has been trading in a relatively stable range between $45 and $50 per coin, although an uptrend seems to be emerging, with the cryptocurrency posting higher lows in the past few sessions.
Is it worth investing in Litecoin? Let's analyse price action to find out.
Is Litecoin a good investment?
First of all, investors should understand that a Litecoin investment is a risky play given the inherent volatility associated with cryptocurrencies and the level of volatility that the financial markets as a whole are seeing lately.
That doesn't mean money cannot be made by investing in Litecoin, but traders should be cautious about how they approach their trades, especially when it comes to risk management and profit-taking.
That said, traders can see Litecoin potential as a short-term trade by analysing the latest price action and using technical analysis tools and indicators.
What is your sentiment on EA?
Vote to see Traders sentiment!
Is now a good time to invest in Litecoin?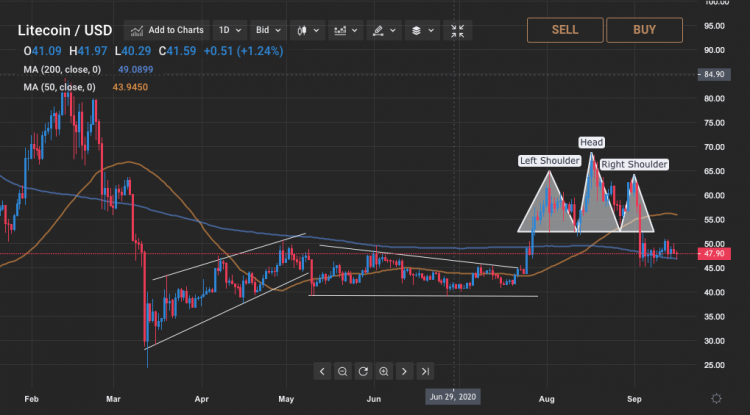 This head-and-shoulders pattern seen in Litecoin's 1-day price action is discussed in the article short-term crypto predictions, although the cryptocurrency found support at a higher level than anticipated, which is a good sign.
The $45 level seems to have served as a floor for the sell-off and this is a good thing because any other subsequent bearish moves could also use that level as both a technical and psychological barrier.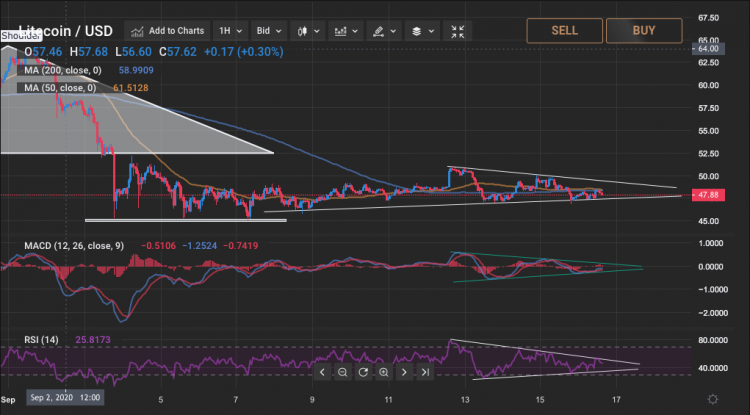 Meanwhile, the hourly chart gives us a bit more information about how the price has fluctuated after the sell-off and the charts seem to show that an uptrend has emerged right after the coin made a double bottom at $45.
Since then, the price action has been making higher lows and lower highs, which are creating a symmetrical triangle pattern that is leading to a consolidation around the $48 level.
This pattern is confirmed by both the RSI and the MACD, with the latter showing that positive momentum seems to be building up for the coin although the oscillator is still in negative territory.
It is important to note that symmetrical triangles are unbiased, which means that a break could come at any point, either above or below the trend lines.
However, the MACD seems to be pointing to positive momentum and since there are no indications of a divergence or any other negative technical element, a bullish breakout is more likely than a bearish one.
| | |
| --- | --- |
| Long position overnight fee | 0.0548% |
| Short position overnight fee | -0.0820% |
| Overnight fee time | 22:00 (UTC) |
| Spread | 0.005 |
| | |
| --- | --- |
| Long position overnight fee | -0.0164% |
| Short position overnight fee | 0.0059% |
| Overnight fee time | 22:00 (UTC) |
| Spread | 3.3 |
| | |
| --- | --- |
| Long position overnight fee | -0.0500% |
| Short position overnight fee | 0.0140% |
| Overnight fee time | 22:00 (UTC) |
| Spread | 0.00404 |
| | |
| --- | --- |
| Long position overnight fee | -0.0500% |
| Short position overnight fee | 0.0140% |
| Overnight fee time | 22:00 (UTC) |
| Spread | 66.00 |
You can use this information, along with other sources, to decide if this is a good time to invest in Litecoin or if you would rather wait until the price action around this symmetrical triangle provides further indication of where the next move may be headed.
How to invest in Litecoin?
Investing in Litecoin at this point requires a risk management strategy and a profit-taking target, to make sure you can get in and out of the trade without overexposing your capital to more risks than needed.
If we look at the charts we can see that the latest uptrend has been finding support thathe 38.2 Fibonacci and there's some significant upside potential if the price manages to move to that next level at the top of that quadrant in the next few weeks.
Litecoin is still trading above its pre-August levels which indicates that there is still positive sentiment towards the coin and this could add up to the bullish trend.
Since the coin is trading right at the 38.2 Fibonacci, traders can perhaps enter a position at this level if they are expecting a bullish breakout, which could be headed to the top of that Fibonacci quadrant – at $54 per coin.
Meanwhile, based on the latest price action, a stop-loss could be set at $45 per coin, a level that has served as support during the recent sell-off.
All said and done, there's a potential upside of $9 per coin and a potential downside of roughly $2.8 per coin based on today's closing price of $47.8, which is a good ratio. Traders can make roughly three times more than what they stand to lose if the price moves against them.
One of the most interesting and perhaps appealing aspects of this trade is that the coin has already reached those levels recently, which makes it easier for market participants to jump in if the price action moves higher.
Additionally, the RSI seems to be finding support at 40, as it has done on many other occasions, which is a positive sign that a rebound could come next.
Bottom Line: Litecoin worth investing
Is Litecoin a good investment? In the short-term, there appears to be some upside potential for this cryptocurrency.
However, the latest price action has shown that its value is highly correlated with the performance of broad-market indexes and other financial assets, which means that another meltdown in the Nasdaq or the S&P 500 could lead to a sharp sell-off in Litecoin as well.
As long as the crypto token continues to post higher lows in the hourly, chances of another bull run will continue to grow. However, any move below that level or below the $40 support could trigger a big move and bears will probably take over from there.
Read more: To hodl, or not to hodl: is Ripple a good investment heading into 2021?