Huobi token price prediction: What is huobi token (HT)?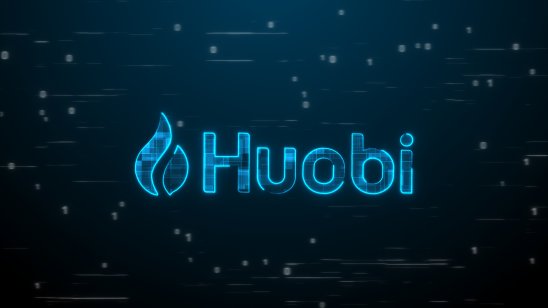 The recent sale of the Huobi crypto exchange has boosted the price of its native token, but what is huobi token (HT)?
Let's take a look, and also examine some of the huobi token price predictions that were being made as of 22 December 2022.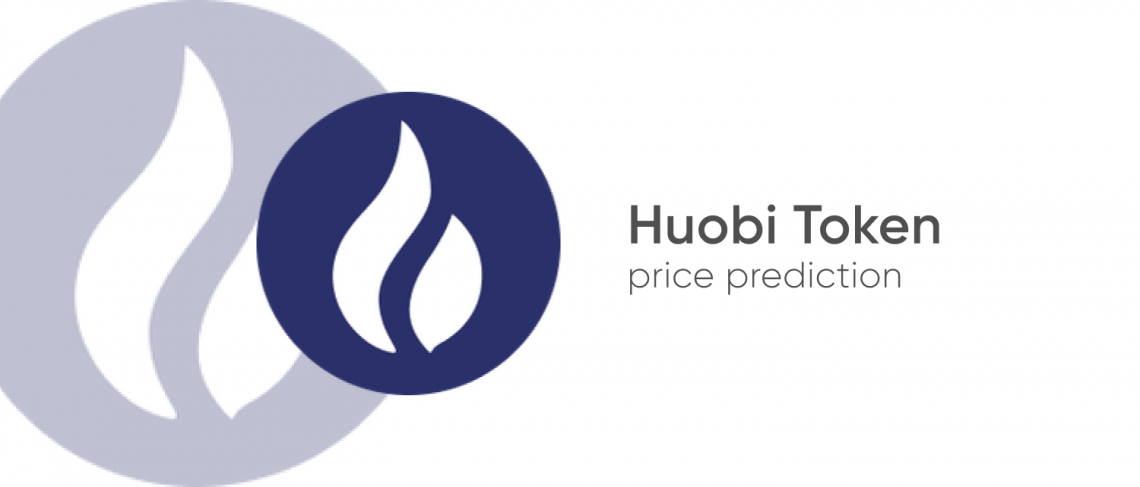 Huobi token explained
Huobi is a cryptocurrency exchange based in the Seychelles. It is based on the (ETH) blockchain, with offices in Singapore, the United States, Japan, Korea and Hong Kong, and operates in more than 130 countries. According to CoinMarketCap, as of 22 December 2022 it was the 17th largest cryptocurrency exchange out of 242 in terms of trading volume.
The Huobi exchange has its own native cryptocurrency, the conveniently named huobi token, also known by its ticker handle of HT. It can be traded for other popular cryptocurrencies in the market and offers exchange users 65% off trading fees. Users can stake their HT to get access to new tokens.
The amount of HT in circulation is designed go down every month as coins get burned. This will help to support the price of HT in the market and keep inflation low.
What is your sentiment on HT/USD?
Vote to see Traders sentiment!
According to Huobi: "Token burn events happen when Huobi repurchases and destroys the token. Huobi allocates 20% of its revenues each month to buy back and destroy HT. More specifically, 15% of its revenues go to burning HT from circulating supply, and the remaining 5% is spent to burn HT team incentive rewards."
Huobi token price history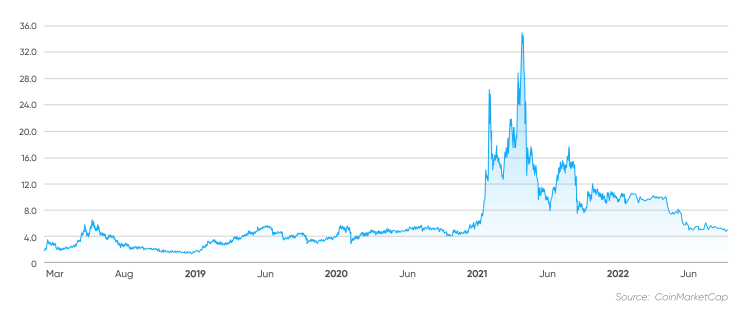 Let's now cast our eyes over the huobi token price history. While past performance should never be taken as an indicator of future results, knowing what the token has done in the time it's been trading can help us when it comes to either interpeting a huobi token price prediction or making one of our own.
Based on the earliest available price data from 2018, HT token's price rose from $1.20 on 5 February to $5.96 on 5 June, an increase of 396%. However, in the second half of the year, bears took the lead, and HT fell to $1.05 on 16 December 2018. It closed the year at $1.07.
After that, though, while there were some ups and downs, things remained pretty stagnant for the token. for the next two years, until early 2021 saw the market enter a boom period, and HT was one of many coins and tokens which benefited from a growing interest in crypto, with it reaching an all-time high of $39.81 on 12 May before the price went on a downturn, finishing the year at $9.37.
So far, 2022 has been a poor year for cryptocurrency and huobi token has ended up being one of many tokens which have suffered along with the market.
Initially, things did not look so bad because, albeit with some peaks and troughs, following the launch of its Contract Master contest, with 100,000 tether (USDT) up for grabs, it rallied to a high of $10.19. Even though the token dropped after that, it still broadly outperformed the market over the following few months and was trading at $9.63 on 5 May 2022.
After that, though, the depegging of the UST stablecoin and the collapse of the associated LUNA cryptocurrency saw HT fall to a low of $6.03 on 12 May. June's news that the Celsius Network (CEL) crypto-lending platform had cancelled withdrawals confirmed the bear market and triggered a further collapse, with HT sinking to $4.30 on 1 and 2 July.
Since then, despite a recovery to $5.70 on 14 August, the token sank to $3.84 on 2 October, before news that it had been sold to About Capital saw it making a recovery to $9.55 on 26 October.
Following that, though, the collapse of the FTX (FTT) exchange caused a market crash, with HT sinking to a low of $3.91 on 13 November after it was revealed that a wallet linked to Huobi had transferred ETH10,000 to Binance and OKX deposit wallets. Since then, there has been something of a recovery, and on 21 November 2022 the token was worth about $5.
Seemingly resisting the bearish momentum which is dominating the market at this time, the token is currently trading at $5.41, as of 22 December 2022.
At that time, there were 153,357,694 HT in circulation out of a total supply of 500 million. This gave the token a market cap of around $824m, making it the 41st largest crypto by that metric.
Huobi token price predictions
With that all said and done, let's now cast a look at some of the huobi token crypto price predictions that were being made as of 22 December 2022. Remember that price forecasts, especially for something as potentially volatile as cryptocurrency, often turn out to be wrong. Also, long-term price predictions are often made using an algorithm, which means that they can change at any time.
First, CoinCodex had a rather mixed short-term huobi token price prediction, suggesting it could rise to $5.55 by 21 January 2023, but suggests sentiment remains largely bearish. The site states: "Based on data from 22 December 2022, the general huobi token price prediction sentiment is bearish, with 10 technical analysis indicators signaling bullish signals, and 22 signalling bearish signals."
Next, PricePrediction.net made an HT price prediction which suggested a potential recovery to an average of $8.24 in 2023, $11.85 in 2024 and $16.89 in 2025. The site then said HT could be worth $24.31 in 2026 and $36.01 in 2027, before potentially continuing to rise to $50.33 in 2028 and $68.99 in 2029. The site made a huobi token price prediction for 2030 which saw it trade at a potential $100.24 before possibly reaching $142.85 in 2031.
Meanwhile, CoinArbitrageBot had a huobi token price prediction for 2023 that suggested it could continue growing, reaching $10.97 at some point that year and $19.52 in 2024. The site made a huobi token price prediction for 2025 that gave a potential price of about $31.58.
Finally, WalletInvestor had an HT price prediction that said that the token had a tough 12 months ahead of it, suggesting it could possibly fall to $0.520 by December next year.
When considering an HT token price prediction, it's important to keep in mind that cryptocurrency markets remain extremely volatile, making it difficult to accurately predict what a coin or token's price will be in a few hours, and even harder to give long-term estimates. As such, analysts and algorithm-based forecasters can and do get their predictions wrong.
If you are considering investing in cryptocurrency tokens, we recommend that you always do your own research. Look at the latest market trends, news, technical and fundamental analysis, and expert opinion before making any investment decision. Keep in mind that past performance is no guarantee of future returns, and never trade with money that you cannot afford to lose.
FAQs
Is huobi token a good investment?

It is hard to say. We shall have to see if the token can continue to recover from the recent market crash. A lot will depend on how the crypto market performs in general.

Remember, you should always carry out your own thorough research before making an investment. Even high-market-cap cryptocurrencies have proved vulnerable to the current bear market, so investors should be prepared to make losses and never purchase more than they can afford to lose.
Will huobi token go up or down?

It is difficult to tell. While sites like CoinArbitrageBot are optimistic, the likes of WalletInvestor are gloomier in their forecasts. It is important to remember that price prdictions often turn out to be wrong, and that prices can go up as well as down.

In volatile cryptocurrency markets, it is important to do your own research on a coin or token to determine if it is a good fit for your investment portfolio. Whether HT is a suitable investment for you depends on your risk tolerance and how much you intend to invest, among other factors. Keep in mind that past performance is no guarantee of future returns, and never invest money that you cannot afford to lose.
Should I invest in huobi token?

HT is one of many tokens linked to crypto exchanges. Since it is a very busy market, you will need to research that particular sector.

Ultimately, though, this is a question that you will have to answer for yourself. Before you do so, you will need to conduct your own research. Never invest more money than you can afford to lose because prices can go down as well as up.