How Wall Street drove Bitcoin's record-breaking day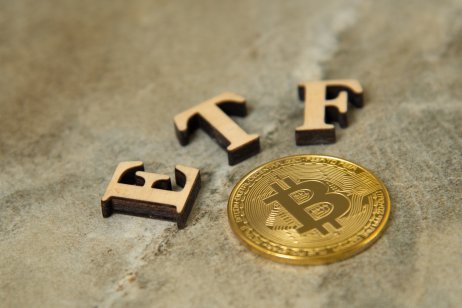 Institutional and retail investers drove Bitcoin to new record highs Wednesday after the first US Bitcoin-linked exchange-traded fund hit the market the day before, providing a new way of gaining exposure to cryptocurrency.
Bitcoin prices surged above $66,000 (£47,438) after ProShares – a provider of specialized exchange-traded products based in Bethesda, Maryland – launched the first Bitcoin ETF under the ticker "BITO." ProShares will run the fund by buying Bitcoin futures contracts and investors can then gain exposure to Bitcoin by buying the ETF through regular brokerage accounts without having to open separate crypto wallets.
"It's a milestone both in the ETF business – up there with the first bond ETF and first gold ETF – but it's also a milestone in Bitcoin's growing ubiquity in the economy," Simeon Hyman, global investment strategist at ProShares told Capital.com. "It's an indication of how bitcoin is becoming a part of the overall financial economy."
Early success
ProShares Bitcoin Strategy ETF rose about 4.9% on Tuesday to $41.94 as more than 24 million shares changed hands. The rise continued Wednesday with another 3.5% gain to $43.42.
BITO's debut is the second-largest ETF debut ever just behind BlackRock's carbon fund, which launched in April with more pre-seed investments, according to a report from Bloomberg Intelligence.
BITO is likely to be the biggest launch of all time surpassing the SPDR Gold Shares fund ("GLD"), which reached $1bn in assets under management in just three days, Bloomberg Intelligence noted. The analysts also predict it will surpass the VanEck Social Sentiment fund ("BUZZ"), which saw more than $400m worth of shares trade in its debut earlier this year.
Regulators' concerns
Some investors said they would prefer a Bitcoin ETF based off the current trading price known as the spot price. However, US regulators have not approved such ETF funds yet, even as Canada green-lit the launch of spot-price Bitcoin ETFs earlier this year.
The Securities and Exchange Commission said it is concerned that because cryptocurrency exchanges, which are used to set spot prices for bitcoin exchange-traded products, are not registered with the SEC it will be too difficult for the SEC to verify their trade flow.
SEC chairman Gary Gensler is allowing these ETFs to begin trading so long as they are tied to futures contracts on the highly regulated Chicago Mercantile Exchange and overseen by the Commodity Futures Trading Commission, the SEC's sister agency, which will provide protection to investors.
"It's still a highly speculative asset class and investors should understand that underneath, there is the same volatility and speculation," Gensler told CNBC.
Futures vs spot
Futures contracts can trade at a premium to the spot price or they can trade a deficit to the spot price, and some investors would prefer the ETF prices would track more closely to the actual price of bitcoin.
On the other hand, Hyman noted that often the futures contracts can better predict where prices are headed. For example, Bitcoin futures traded up in the lead up to this week on the anticipated volume from BITO's launch.
"The futures market is arguably a place of better price discovery where information prices faster than the spot market itself," Hyman said. "We think we're not only first but we did it right, and we think that will stand up as a valuable alternative to folks even as other products come to market."
Alternatives set to launch
ETF and mutual fund manager VanEck said it plans to launch its own Bitcoin futures ETF next week, according to a Wednesday filing with the SEC.
Valkyrie Investments and one of the largest operators of ETFs, Invesco, are also expected to launch Bitcoin futures ETFs in the coming weeks after an SEC review period.
All of these companies say they will continue to explore different innovations in this space, which could include ETF futures contracts for different coins such as Ethereum.
Read more: Bitcoin surges to new record high above ,000