How many Decentraland tokens are there? MANA crypto circulation analysis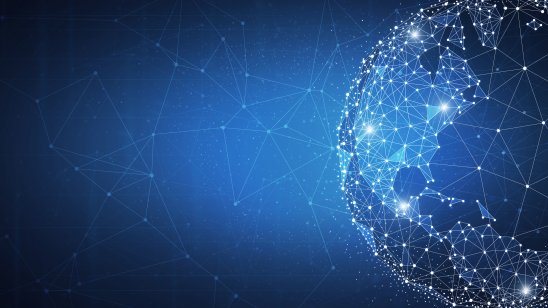 In 2021, Play-to-Earn (P2E) games, non-fungible tokens (NFTs) and the metaverse attracted lots of interest. Much is attributable to Facebook's rebranding as Meta in October 2021.
Meta announced plans to invest $10bn in the metaverse in the past year alone and to accomplish a full transition within the next five years. Consequently, several metaverse projects are currently in development, with many already operational.
On 25 November 2021, Decentraland (MANA), a blockchain-based virtual world, reached an all-time high of $5.90. MANA was trading at $0.641, as of 28 October, approximately 89% below its all-time high, according to CoinMarketCap.
Decentraland live price chart
As with most things, however, not all metaverses or metaverse projects will deliver on their promises, but a select few could exceed expectations.
In light of this, let's take a deeper look at how many decentraland tokens are there and other news affecting the token's supply.
What is Decentraland and how does it work?
Decentraland (MANA) is a cryptocurrency that enables users to buy, develop, and exchange virtual land in a decentralised way.
Ariel Meilich and Esteban Ordano started the project in 2017. The Decentraland team promoted the concept as the first virtual environment controlled by its users, where anybody could develop, enjoy and monetise content and apps.
Decentraland's mission is to establish an open-source system that allows people to construct anything they want inside this decentralised virtual world. This includes virtual storefronts, online casinos and social networking platforms.
The Decentraland platform is built on the Ethereum (ETH) blockchain as an ERC-20 token, allowing it to use smart contracts.
The implementation of smart contracts provides a high degree of decentralisation since all transactions on the platform are logged on the blockchain and can be verified by anybody.
Decentraland's decentralised autonomous organisation (DAO) is one of the platform's key features, ensuring completely decentralised governance. Users have total control over the content and experiences created on a particular piece of virtual real estate.
Users can also have total control over the revenues from transaction fees to provide value to other users. Decentraland has no hidden costs, commissions, or fees for intermediaries or Decentraland itself.
Two types of tokens govern Decentraland's activities:
LAND: Decentraland's LAND tokens are intended to track ownership of virtual land on the network. Users who hold LAND tokens control a parcel of real estate on Decentraland because each LAND token represents a piece of virtual land on the platform.
MANA: A cryptocurrency that permits the purchase of LAND and virtual products and services in Decentraland.
MANA can also be used to acquire various virtual commodities and services inside Decentraland. These include in-game goodies, avatar modifications and access to premium content.
What is your sentiment on MANA/USD?
Vote to see Traders sentiment!
How many Decentraland tokens are there?: Decentraland tokenomics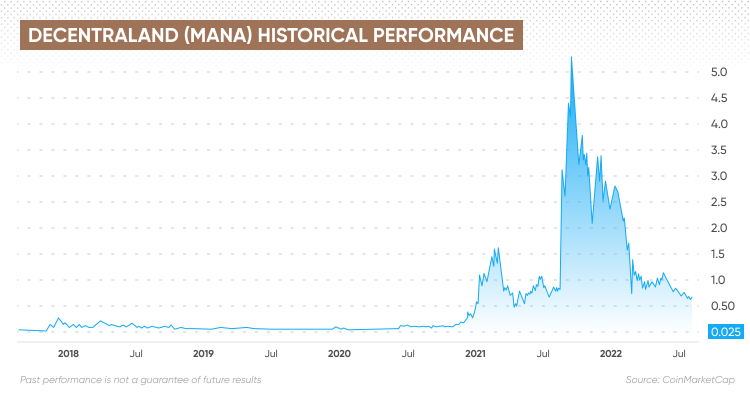 According to ICO Drops, Decentraland's initial coin offering (ICO) concluded in August 2017 at $24 for 1,000 MANA tokens. According to CoinMarketCap, MANA has generated a return on investment (ROI) of 2,437% for its early investors since its inception.
How many Decentraland tokens are in circulation? As of 28 October, 1.86 billion MANA tokens are in circulation out of a total supply of 2.19 billion tokens.
In all, 40% of MANA's initial supply was distributed through crowd sales based on the first allocation. According to CoinGecko, $25.5m was raised in a public offering in August 2017 at an average price of $0.028, and $500,000 was raised through a funding round in October 2018 at an average price of $0.07.
Furthermore, 20% of the token supply was assigned to the Decentraland Foundation, which governs and monitors the project's progress.
And 20% of the supply was assigned to the founding team and early contributors, which included early-stage developers and other significant stakeholders.
The remaining 20% was then distributed to the community and partners. These may be early-stage institutional investors or private organisations.
Who owns the most MANA tokens: Decentraland whales and top holders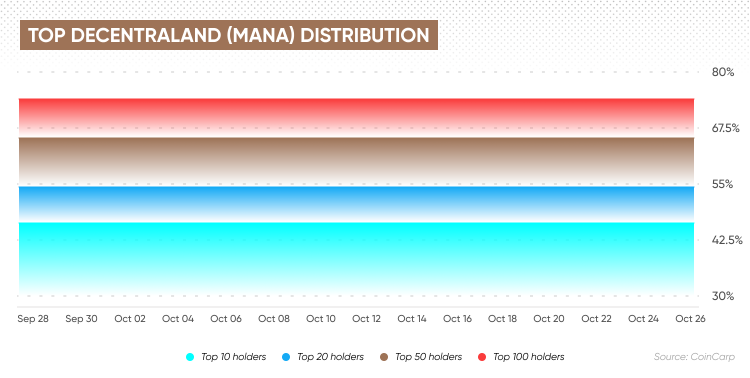 According to CoinCarp statistics, there were 270,860 MANA token holders, as of 28 October, up over 1% from 267,880 on 28 September, suggesting a slight increase in token holders over one month.
The fact that the top 10 holders possessed over 46.32% of the MANA supply and the top 100 held over 73.83% makes the token vulnerable to pump-and-dump tactics.
Who owns the most total number of Decentraland tokens? Binance (BNB), the largest cryptocurrency exchange in the world, was the largest holder of MANA, with over 261 million tokens. Binance held these tokens in many wallets, bringing its total to 11.93% of the MANA supply.
Binance US was also a big MANA holder, holding over 23 million tokens, or 1.05% of the total supply.
CoinCarp statistics further suggested that one anonymous wallet had 215 million MANA tokens, or 9.84% of the total supply. Another wallet owned 173 million MANA tokens, or 7.89% of the total supply, making it the third biggest holder.
Since crypto wallets are anonymous, the identities of these MANA whales were inaccessible to the public. Depending on the initial allocation criterion, this might include MANA investors, employees, or developers.
Kraken, another notable cryptocurrency exchange, held 30 million MANA tokens, or 1.37% of the total supply.
Polygon (MATIC), one of the most significant layer 2 platforms, held more than 4 million MANA tokens, representing 0.19% of the supply.
Remember that although exchanges like Binance and Kraken may hold these assets, the vast majority of these assets belong to small and individual investors with accounts on these exchanges.
Decentraland news and price drivers
MANA underwent a few milestones lately that may have a significant impact on the project's potential in the future.
Performance and stability issues
Several users experienced performance and stability difficulties in September 2022, compromising the appearance of certain avatars, messaging and voice chat functions, and general site navigation.
In its defence, the Decentraland team said that in preparation for the introduction of Decentraland's communication service v3, the tech team had previously conducted a stress test with the new version, which resulted in no reported or recognised faults.
However, a third-party vendor's credentials changed unexpectedly, forcing the team to decide whether to delay the new version by weeks or release it early.
The team released early since the stress test went well, and wanted to provide the Decentraland community with a better experience. Unfortunately, the new version wasn't ready to handle Decentraland's communications, causing performance and stability concerns.
In response, the team issued a formal apology and noted the need to rebuild outdated portions of the code.
Launch of BeatBlox
Decentraland launched BeatBlox in October 2022, a project that includes a music district in Decentraland, an NFT marketplace and an academy.
BeatBlox's three primary pillars are their Metaverse Music District, a venue in Decentraland where musicians can perform; an NFT marketplace, where fans can purchase melodies from their favourite artists; and the Academy, where individuals can learn about the blockchain world.
The project arose from a funding request resubmitted by the BeatBlox team in late 2021. The grant enabled the founding team, headed by CEO Emiliano Zapata, to create a virtual experience based on the most recent metaverse and NFT technological breakthroughs.
The bottom line
How many Decentraland tokens are there? Knowing who owns the tokens and other crucial facts are important for accessing the project's tokenonomics. However, you should always conduct your own due diligence. Look at the latest news, technical and fundamental analysis, and a wide range of analysts' opinions before making any trading decision.
Keep in mind that past performance is no guarantee of future returns. And never trade or invest money that you cannot afford to lose.
FAQs
How many Decentraland tokens are available?

As of 28 October, there was a reported circulating supply of almost 1.86 billion MANA tokens, out of a total supply of 2.19 billion, according to CoinMarketCap.
How many Decentraland tokens are mined per day?

Unfortunately, MANA mining is currently impossible. MANA is based on the proof-of-stake (PoS) consensus mechanism, which eliminates the possibility of conventional mining.
Who owns the most Decentraland tokens?

According to CoinCarp data as of 28 October, Binance, the world's largest cryptocurrency exchange, was the biggest MANA holder with over 261 million tokens or 11.93% of the MANA supply.