FuelCell Energy stock forecast amid the green transition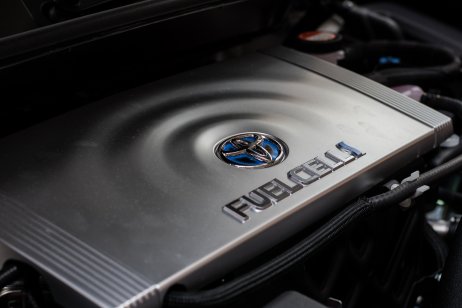 FuelCell Energy (NYSE: FCEL) stock has gone through something of a rollercoaster ride so far in 2021.
Shares in the Connecticut-headquartered manufacturer of direct fuel solutions surged around tenfold at the beginning of this year as the market hunted for clean energy companies that could benefit from the US government's green investment.
Despite being loss making and having revenues of under $100m, FuelCell's market capitalization hit almost $10bn as its share price peaked at $27.96 in February.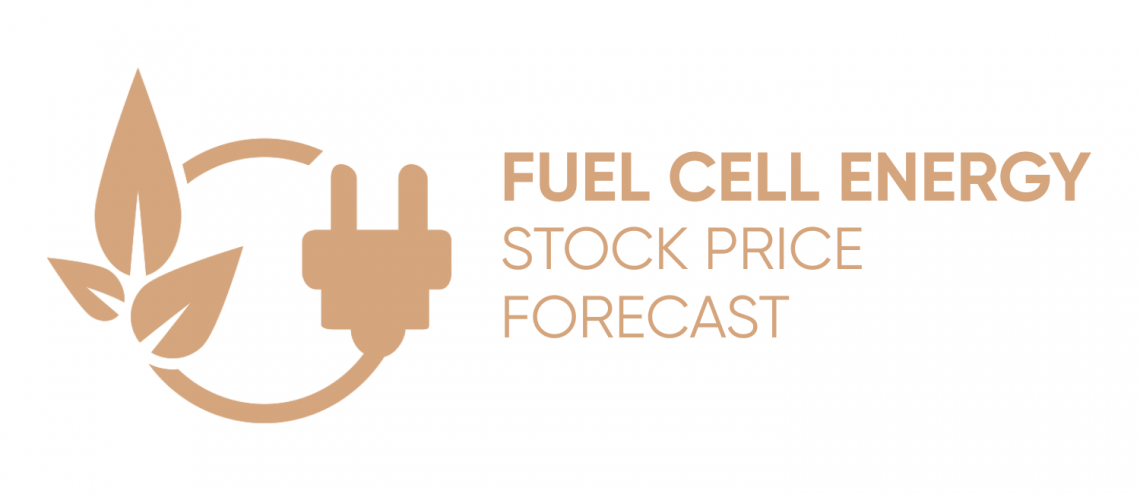 As the year rolled on, the market became more discerning over clean energy investments. FCEL's price stalled. It then suffered a heavy correction following the publication of a worse-than-expected loss for the first quarter, which took the stock below $20.
Since then, FuelCell stock has experienced multiple jumps, most recently a 24% surge last week after Congress passed the $1tn infrastructure investment bill.
That came on the heels of similarly positive legislation in California and Connecticut, with the former's Fuel Cell Net Energy Metering program signed into law in September. It grants relief from paying standby and departing load charges to customers who install fuel cell systems of up to 5 megawatts.
FuelCell energy stock predictions have attracted a range of different opinions. Given the growth currently underway in the green energy market and forthcoming governmental support, could FCEL return to its highs of earlier this year?
A bumpy 2021 for FuelCell
As exuberant markets moved into 2021, FuelCell rode a wave of investor optimism for seemingly anything and everything related to renewable energy. The stock rose from just over $10 at the turn of 2021 to a high of nearly $28 on February 9.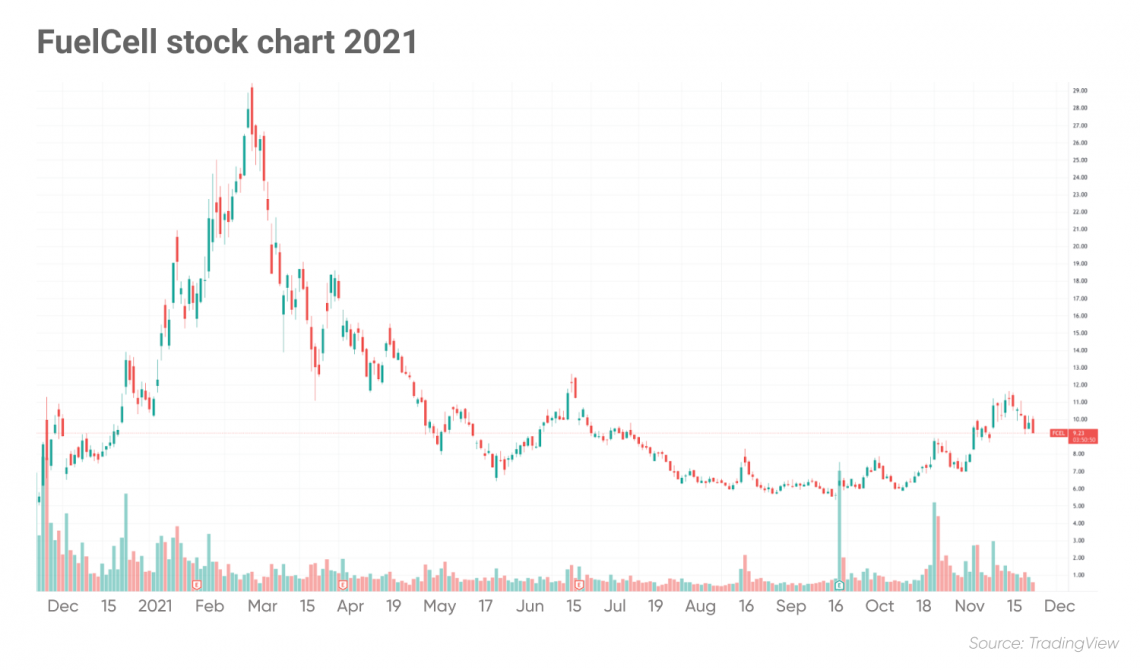 That positivity quickly soured as the company revealed a net loss of $46.8m in the first quarter of 2021, kicking off a long correction in which the stock dropped to $5.72 by August, a fall compounded by a broader equities selloff.
While that price was still above the $5.10 level of a year ago, poor results and the slump hit sentiment hard, with multiple brokerages revising their price targets.
As the summer came to an end, FuelCell published better than expected third-quarter 2021 results. Revenues rose from $18.7m in the prior year period to $26.8m. Profit and loss (P&L) swung from a loss of $3.1m to a gross profit of $1.1m. Investors took another look, and the stock began to climb.
Good news in the form of the aforementioned legislation on fuel cells in California and Connecticut helped further gains. But it was the passing of the Biden administration's infrastructure bill with its provisions for hydrogen fuel technologies that gave the stock a boost.
The stock (as of 23 November) trades at around $9.12, down more than half from its 2021 high, but well above its price this time last year.
Q3 earnings change the tide
FuelCell Energy's top line revenues rose 43% year over year in the third quarter to $26.8m, helping to push the company to a gross profit of $1.1m.
Increased revenue was mainly driven by a 102% rise in service agreements and licence income to $14.3m. The company attributed the rise to more module exchanges during the quarter, which contributed $13.4m compared to $6m in the prior year.
As the company continues to invest in its operations, the overall loss stood at $10.5m, down 2% on the same period in 2020. Net loss fell from $15.3m to $11.9m, equivalent to a 43% lower loss per share of $0.04.
Jason Few, the company's President and CEO, said in a news release accompanying the results that FCEL was making progress with its product line as the world takes meaningful steps to invest in the green energy transition.
"We have increased our investment in innovation and are making progress towards the availability of our Advanced Technologies solutions, including distributed hydrogen, long duration energy storage, and hydrogen production via our solid oxide platform," he said.
"These offerings will complement our commercially available carbonate fuel cell platforms that provide a scalable solution to deliver against the increasing requirements of clean, distributed power and hydrogen generation to strengthen and supplement the grid power and enable the hydrogen economy.
"The global energy transition continues to accelerate, and we believe FuelCell Energy is positioned to answer these opportunities with our patented portfolio of platform solutions."
FuelCell Energy stock forecast
The FuelCell Energy share price forecast is fundamentally difficult to call, given that the company remains in its investment stage, but the technology it provides has the potential to play a significant role in the global transition to green energy.
Analysts rating FuelCell Energy stock buy, sell or hold currently have a conesus rating of 'hold', according to six analysts' recommendations compiled by MarketBeat.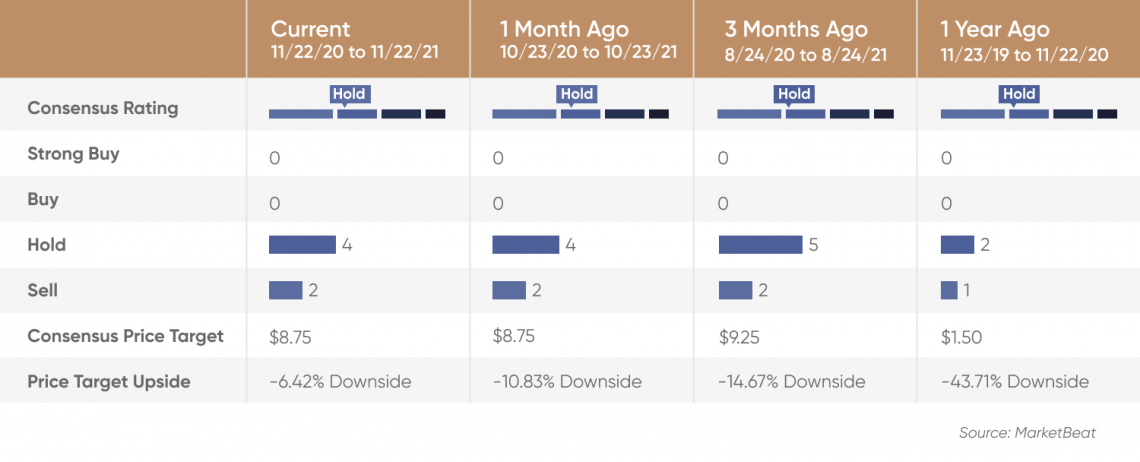 The current FCEL stock price target consensus is $8.75, which represents a 14.55% drop on the stock's price as of 18 November, and down from a consensus price target of $9.25 three months ago. Price projections vary from the high of $9 to the low of $8.
The highest price target comes from Canaccord Genuity, which set a range of $9 to $13.50 in a recent update with a 'hold' recommendation, and a low of $8 from B Riley's Christopher Souther.
Note that analyst predictions can be wrong. Forecasts shouldn't be used as a substitute for your own research. Always conduct your own due diligence before investing. And never invest or trade money you cannot afford to lose.

Risks ahead for clean energy
As many investors in FuelCell Energy have learned this year, putting your money into renewable energy stocks with uncertain prospects can be a highly risky venture. It's difficult to provide a FCEL stock forecast 2022-2025, as the market for green energy changes rapidly.
A quick glance at the stock's ups and downs over the past year tell the tale that while this company has the potential to play a role in the transition to clean sources of energy, it's not the only name in the market, and it remains loss making.
FuelCell Energy stock news this year has veered between the highs of signing partnerships with the likes of Exxon Mobil to the lows experienced by shareholders in the first quarter as market enthusiasm turned to swift disappointment after one set of underwhelming results.
While there may be plenty of reasons to be bullish on green energy, it pays to be cautious about sudden rallies and meme-hyped stocks.
FAQs
Is FCEL stock a good buy?

FuelCell Energy shares have lost 10% of their value year to date, but are up nearly 89% over the past year. In that period, the stock has hit increases as high as 24% in a single day's trading.

Whether FCEL stock is a good investment for you should depend on your attitude to risk, your expertise in this market, the spread of your investment portfolio and how comfortable you feel about losing money. Remember that stock markets can be volatile. And never invest money you cannot afford to lose.
Will FCEL stock price go up or down?

FuelCell Energy stock is rated as a consensus 'hold' based on six analysts' views collected by MarketBeat, with four 'hold' recommendations and two 'sell'. Price targets for the stock range from $8 a share to $9.

Note that analyst predictions can be wrong. Forecasts shouldn't be used as a substitute for your own research. Always conduct your own due diligence before investing. And never invest or trade money you cannot afford to lose.
Why did FuelCell Energy stock drop?

FuelCell Energy shares fell 6% on 18 November after surging as much as 24% over the previous week as the Biden administration passed the infrastructure spending bill, which is set to provide huge incentives for investment in renewable energy.
Read more: Microsoft (MSFT) stock 5 year forecast: what's next for the Big Five's 'M'?